Route Overviews for the Camino de Santiago
The Camino Francés is inevitably the first Camino for most pilgrims. But by all means, it's not the only way to get to Santiago de Compostela. In addition to the routes ending in Santiago, there are numerous others throughout Europe and the world providing support and inspiration for pilgrims.
Maybe you're wondering which route to take for your first pilgrimage, or you've already gone and are looking for more. Either way, this resource will help you expand your awareness of other routes.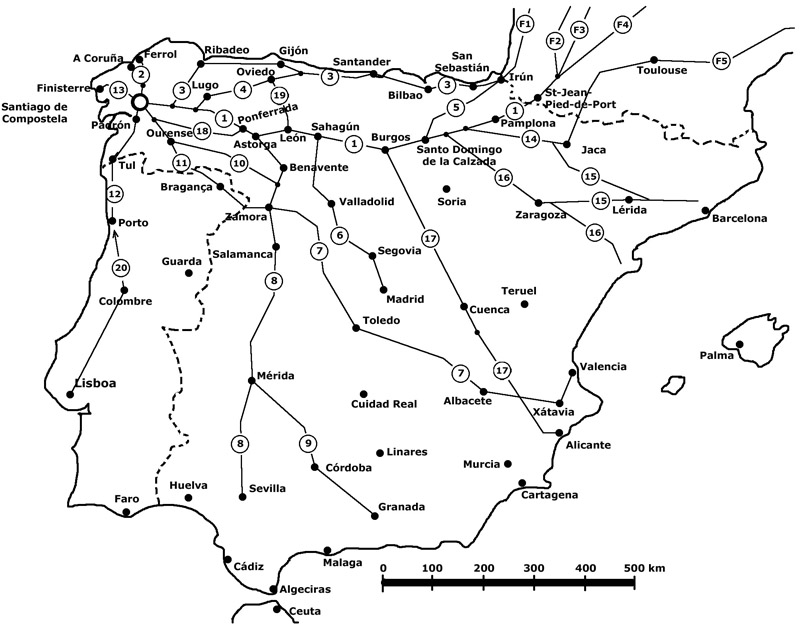 The map above sketches most of the routes on the Iberian Peninsula, as well as those leading into Spain from France.
The Camino Francés is by far the most popular. It covers 800 kilometers (~500 miles) from St. Jean Pied de Port, France to Santiago de Compostela, Spain. Many people travel this distance, but there are also other popular starting points for the Camino Francés, including Pamplona, Burgos, León, Ponferrada and Sarria.
As you'll note on map, there are also many other routes originating elsewhere in Spain, connecting with either the Camino Francés or the Camino Portgués. Still others avoid both of these routes and carve their own path.
The links below will help you decide which route is best for you. They are not meant to be exhaustive guides, but rather an overview to help you decide if you'd like to further explore a particular route.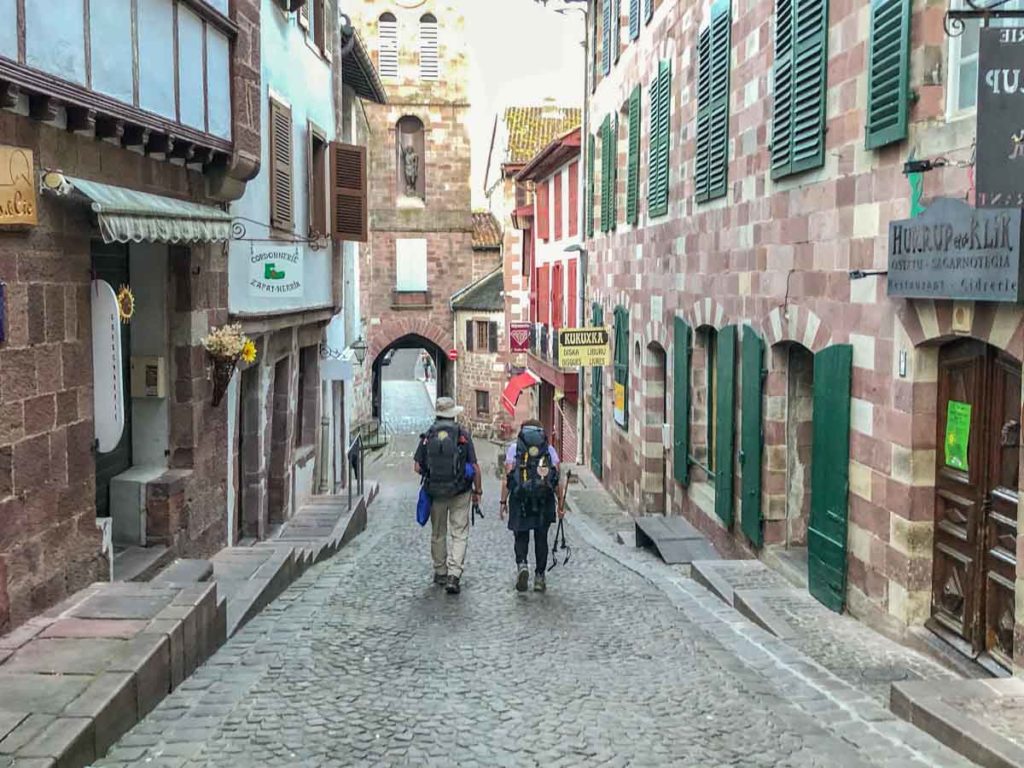 The Top 6 Most Popular Camino de Santiago Routes
The link will take you to a more detailed description of each route.
Camino Francés (800 kilometers from St. Jean Pied de Port to Santiago)
Camino Portugués (629 kilometers from Lisbon or 245 kilometers from Porto to Santiago)
Camino del Norte (853 kilometers from Irún to Santiago)
Camino Primitivo (316 kilometers from Oviedo to Santiago)
Finisterre and/or Muxía (~90 kilometers from Santiago to Finisterre or Muxía)
Camino Inglés (113 kilometers from Ferrol or 74 kilometers from A Coruña to Santiago)
Other Camino Routes Originating in Spain & Portugal
Routes with Southern Origins
Via de la Plata (997 kilometers from Seville to Santiago, via Astorga on the Francés or Ourense on the Invierno)
Via de la Plata/Sanabrés (400-kilometer variant from Zamora to Santiago)
Via de la Plata/Portguése (382-kilometer variant from Zamora to Bragança, connecting to the Portgués)
Ruta de Madrid (323 kilometers from Madrid to Sahagún, connecting to the Francés)
Camino Mozárabe (396 kilometers from Granada to Merida, connecting to the Via de la Plata)
Via Augusta (173 kilometers from Cadíz to Seville, connecting to the Via de la Plata)
Camino de Levante (800 kilometers from Valencia to Zamora, connecting to the Via de la Plata)
Ruta de la Lana (700 kilometers from Alicante to Burgos, connecting to the Francés)
Routes with Northern Origins
Camino Argonés (172 kilometers from Somport to Puenta la Reina, connecting to the Francés)
Ruta del Túnel (211 kilometers from Irún to Santo Domingo de la Calzada, connecting to the Francés)
Camino del Salvador (145 kilometers from León to Oviedo, connecting to the Primitivo)
Camino de Invierno (267 kilometers from Ponferrada to Santiago, via Ourense and the Via de la Plata)
Camí de Sant Jaume/Camino Catalán ( 270 kilometers from Barcelona or El Port de la Selva to Montserrat, connecting with the Argones)
Ruta del Ebro (432 kilometers from Deltebre-La Ràpita to Logroño, connecting to the Francés)
Camino Olvidado (523 kilometers from Bilbao to Cacabelos)
Camino Batzán (110 kilometers from Bayonne to Pamplona, connecting to the Francés )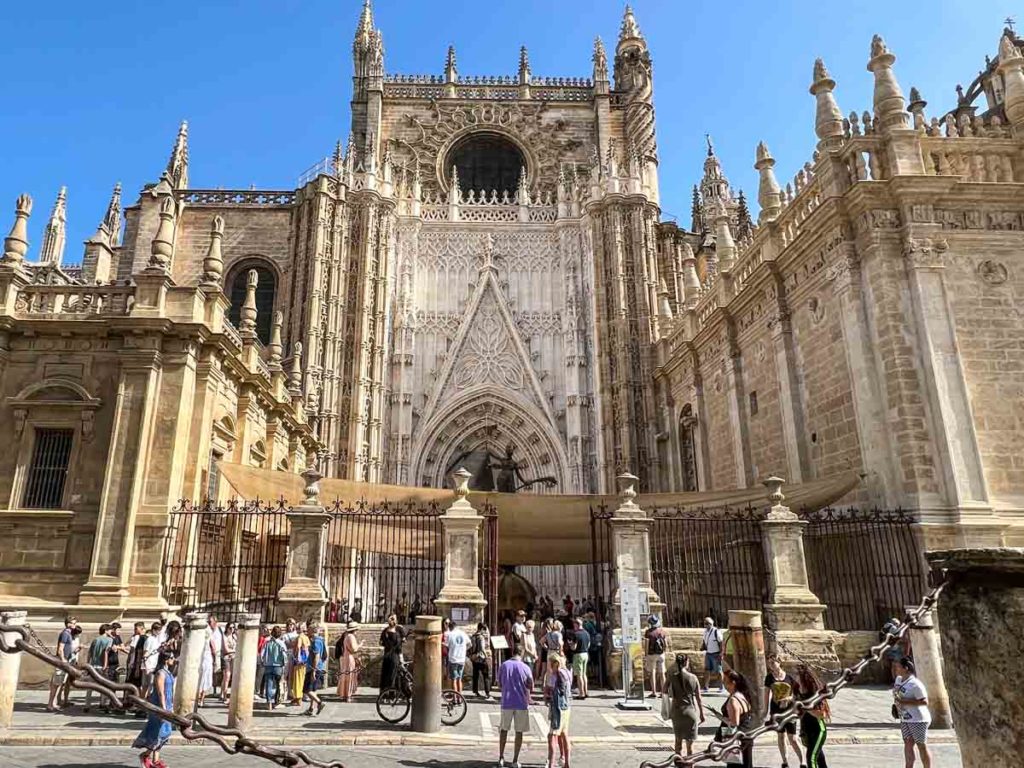 Other Camino de Santiago Routes With French Origins
Voie Littorale (~350 kilometers from Pointe de Grave, joining the Norte in Irún)
Via Lemovicensis (~900 kilometers from Vézelay, joining the Le Puy and then the Francés in St. Jean Pied de Port)
Via Podiensis (762 kilometers from Le Puy-en-Velay to St. Jean Pied de Port, connecting to the Francés)
Via Tolosana (778 kilometers from Arles to Somport, connecting to the Argonés)
Via Turonensis (1,021 kilometers from Paris to St. Jean Pied de Port, connecting to the Francés)
Chemin Piedmont (517 kilometers from Carcassonne to St. Jean Pied de Port, connecting to the Francés)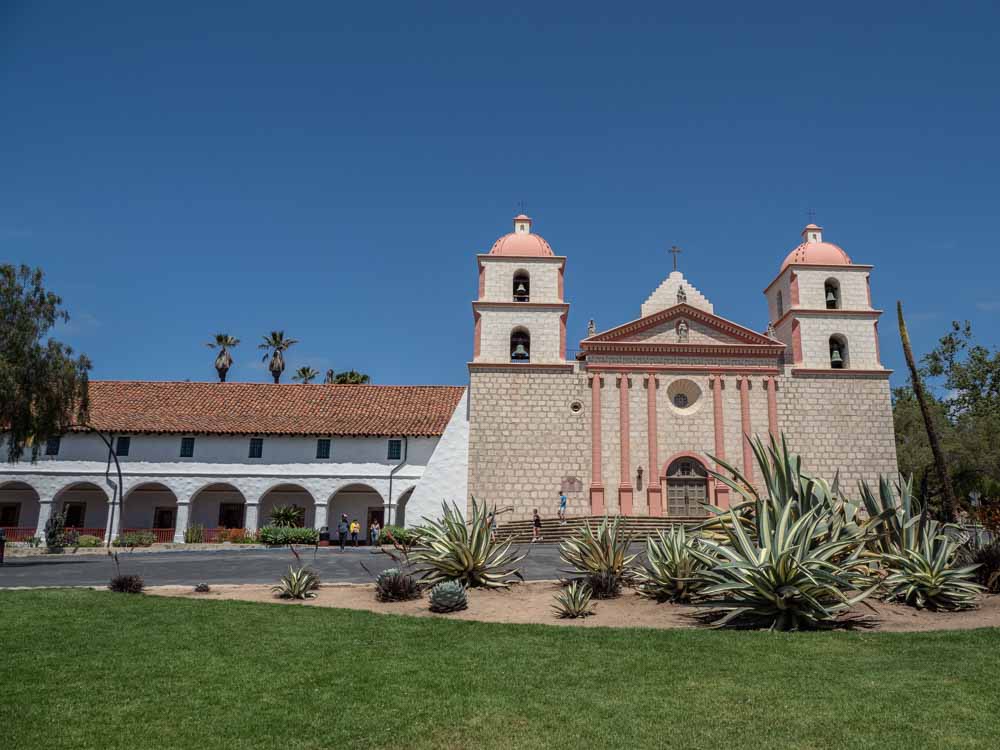 Other Pilgrimages Around the World
Many of these routes can be combined with a pilgrimage in Spain to earn the Compostela.
The United States
The Santuario de Chimayó, New Mexico: During Semana Santa thousands of pilgrims journey to El Santuario de Chimayó, a tiny shrine in northern New Mexico. The destination of the pilgrims, El Santuario de Chimayó, is believed to hold the power to heal mind and body.
The California Missions Trail, During the colonization of California, the Spanish built a series of 22 compounds, or "missions," from San Diego to Sonoma, a distance of 800 miles.
The United Kingdom
The Way of St. Andrews: St. Andrews is the patron saint of Scotland and the town where his relics were kept on the east coast of Fife overlooking the North Sea was established as a pilgrimage site over 1,000 years ago. There are eight routes that converge in St. Andrews.
Canterbury Cathedral: The Cathedral's history goes back to 597 CE when St. Augustine arrived in Kent, having been sent from Rome by Pope Gregory the Great to bring Christianity to the Anglo-Saxons. There are two routes ranging from 90 to 153 miles.
The British Pilgrimage Trust: The British Pilgrimage Trust is a nonprofit organization dedicated to revitalizing the concept of pilgrimage in Britain. The site provides information on a route network of more than 250 routes across Britain, including popular walks like St. Cuthberts, Old Way, Two Saints Way, St. Hilda's Way and the Hadrian's Wall Pilgrims' Way.
The North Wales Pilgrims' Way: The North Wales Pilgrims' Way (Taith Pererin Gogledd Cymru) is a walking route of about 130 miles that runs along the northern coast of Wales. The route links ancient churches dedicated to the saints of the 6th century.
Ireland
Ireland Pilgrim Paths: Ireland boasts 12 major pilgrim paths spread throughout the country, from Donegal in the north to Cork in the south.
Poland
There are a series of routes in Poland considered part of the Way of St. James. There are 34 marked trails connecting pilgrim routes in Germany and the Czech Republic.
Norway
St Olav's Way: This route transits 580 kilometers from the Baltic sea in the East to the Atlantic Ocean in the West, going from Selånger in Sweden to Trondheim in Norway.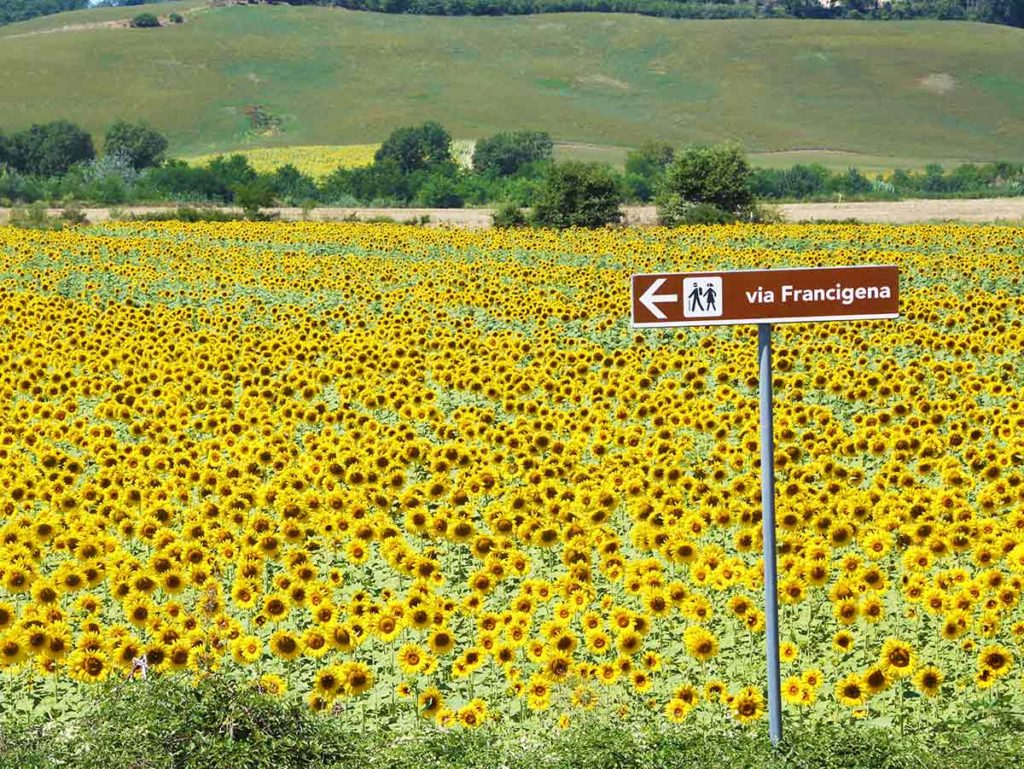 Italy
The Via Francigena: This 2,000-kilometer route begins in Canterbury, England and transits France and Switzerland before landing in Rome. It was first documented by a 10th-century English archbishop and is the ancient pilgrimage route starting in Canterbury.
This site has good information on routing, accommodation and rules for receiving the "Testimonium" (the Via Francigena's equivalent of a Compostela). Also, the Pilgrims to Rome site in the UK also has logistical information.
Via Postumia: The Italian path to Santiago de Compostela is 931 kilometers from Aquileia to Genoa through six regions of Italy: Friuli-Veneto-Lombardia-Emilia-Piemonte-Liguria. The site also has links to a huge list of pilgrimage routes elsewhere in the world.
Pan-European
The European Peace Walk: Officially launched in July of 2014, the European Peace Walk is a transnational, cross-border initiative set on creating an integrated tourist path along the borders of Central Europe. Open to all, the European Peace Walk is a 550‑kilometer permanent walkway with supporting services and accommodation provided along the way. The European Peace Walk starts in Vienna-Bratislava, and then passes Sopron, Szombathely, Maribor, Slovenj Gradec and Kranj before ending at the Mediterranean Sea in Trieste, Italy.
The Sultan's Trail: This 2,500 kilometer route runs from Vienna to Istanbul and is named after Sultan Suleiman I who ruled from 1520CE to 1566 CE in the powerful Ottoman Empire. The trail will lead you through nine countries: Austria, Slovakia, Hungary, Croatia, Serbia, Romania, Bulgaria, Greece, and Turkey.
Budapest to Santiago: As in Poland, this is not a single named path, but is a string of paths that connect Budapest, Hungary to Santiago, Spain. This long itinerary crosses five countries over a distance of more than 4,000 kilometers. The path passes 15 UNESCO sites and is marked with yellow arrows.
Turkey
The Saint Paul Trail: The Saint Paul Trail follows the route walked by St. Paul on his first missionary journey in Asia Minor. It is a 500-kilometer, way-marked footpath from Perge to Yalvac.
The Sufi Trail: The Sufi Trail is an 800-kilometer hiking and biking trail from Istanbul to Konya.
Israel
The Jesus Trail: The Jesus Trail is a 65-kilometer hiking trail from Nazareth to Capernaum, connecting important sites from the life of Jesus as well as other historical and religious sites.
Japan
The Shikoku 88 temple route is a 1,200-kilometer circular pilgrimage, transiting temples, Buddhist sites and abundant natural surroundings. The Shikoku tourism bureau offers a good overview with history, logistical information and links to other resources. And the Shikoku 88 site goes even deeper with profile maps, gear guides, transportation logistics and cultural guidance.
The Kumano Kodo pilgrimage is a sister-pilgrimage with the Camino de Santiago, and is on the UNESCO World Heritage List. Pilgrims who complete both the Camino de Santiago and the Kumano Kodo can obtain a special "dual pilgrim" certificate.
Mexico
The Basilica de Guadalupe, la Cuidad de México: The enormous basilica of Nuestra Senora de Guadalupe in Mexico City is the most visited pilgrimage site in the Western Hemisphere.
Plan More of Your Camino
Join the community by becoming a member of American Pilgrims on the Camino, engaging with one of our more than 55 local chapters or joining our active Facebook group. And don't forget to request your pilgrim credential from us!
---
Rev 04/07/2023