Camino Route Overview: Camino Finisterre (and Muxía)
Are you considering the Camino de Finisterre? This route overview for a popular Camino extension will give you some information on where it starts (and ends), routing options, distances, key towns, when to go and some tips on how to get there.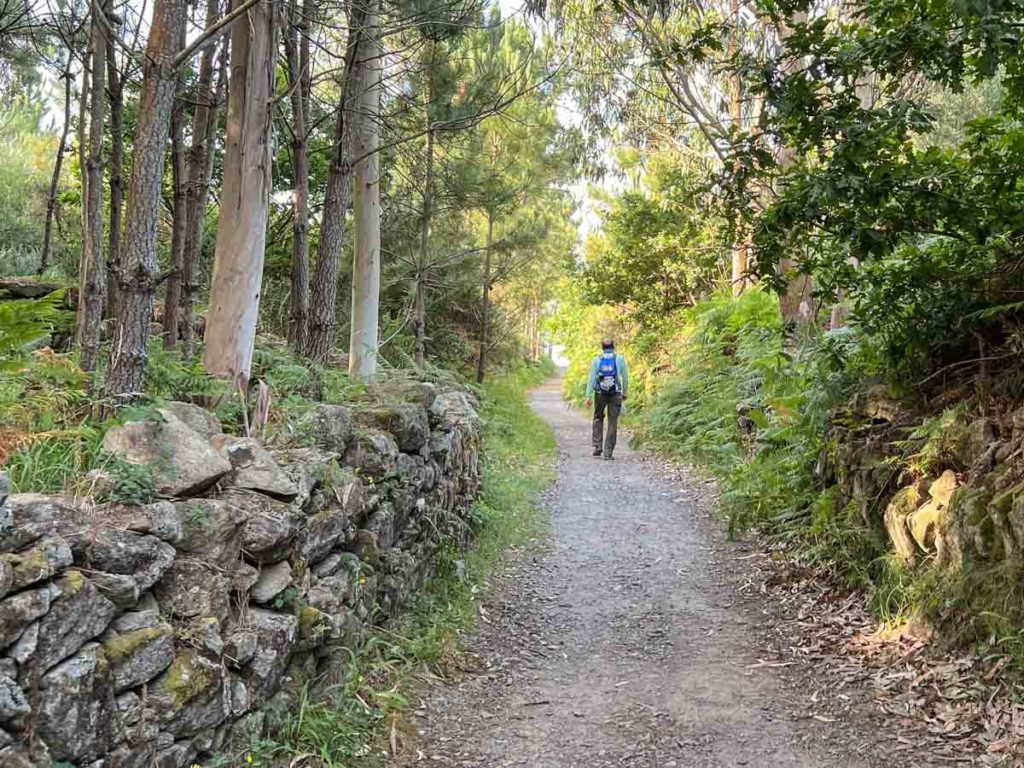 About the Camino Finisterre (and Muxía)
Walking to Finisterre and/or Muxía is a common extension of the many routes that end in Santiago de Compostela. The route is essentially a triangle between Santiago, Finisterre and Muxía. The more popular Finisterre option is 93 kilometers and ends at the lighthouse at Cape Finisterre. It's another 28 kilometers to continue on to Muxía.
The route goes through Negreira, Olveiroa, Cee and Concubión to the port of Finisterre and on to the lighthouse.
This route is popular for pilgrims for the lovely coastal views at the end. Finisterre means "the end of the world" or "land's end", which makes it a fitting place for many to finish their pilgrimage. Both Finisterre and Muxía are also peaceful coastal towns and nice places to relax after a long pilgrimage.
Starting Point of the Camino Finisterre
All Camino de Santiago routes end in Santiago de Compostela. Santiago is therefore the logical starting point for a pilgrimage to Finisterre and Muxía.
Routing Alternatives
There are a few ways to do this triangle of a route. You can go one way to Finisterre, and then on to Muxía. You could do the reverse. Or you could do the whole triangle, ending up back in Santiago.
To Finisterre: 93 kilometers, 4-5 days
From Finisterre to Muxía: 28 kilometers, 1-2 days
To Muxía: 88 kilometers, 4-5 days
Triangle route: 209 kilometers, 8-10 days
How to Get Onto the Camino Finisterre Route
If you aren't already in Santiago and are coming just to go to Finisterre/Muxía, you can fly to Santiago de Compostela (SCQ) from both Madrid and Barcelona, as well as multiple other cities in Spain. There are also nonstop flights from other major European cities including Dublin, London, Geneva, Paris, Brussels, Amsterdam, Zurich, Milan and more.
You can also use the high-speed AVE train between Madrid and Santiago.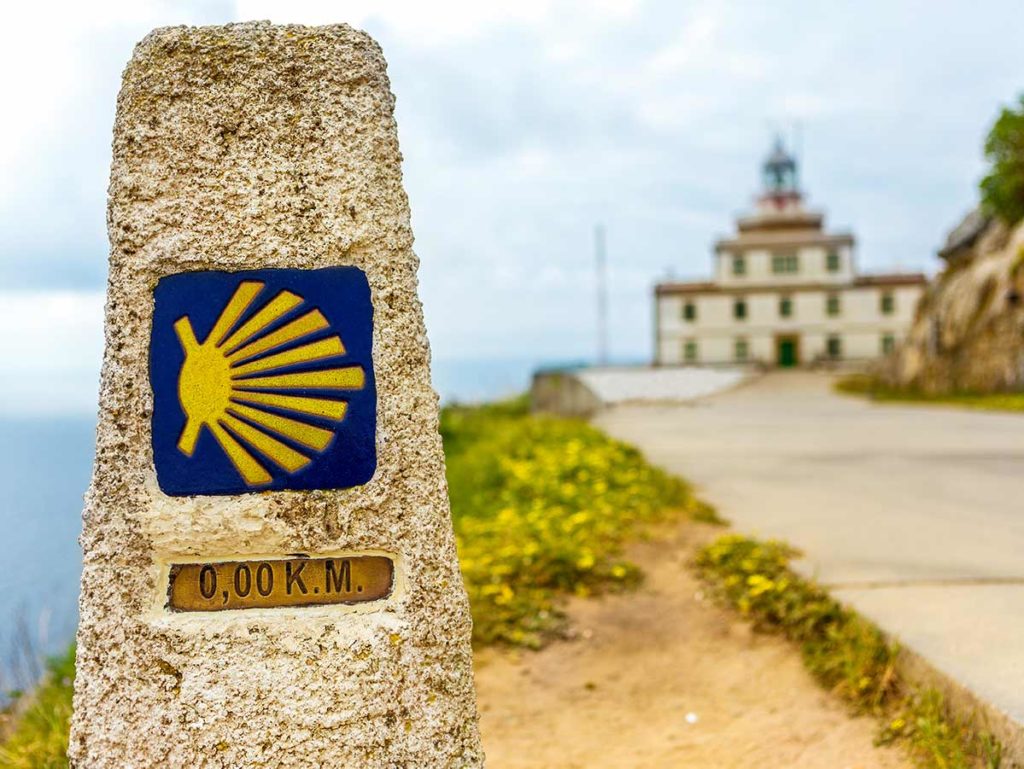 Camino Finisterre Waymarking
Galicia has done an excellent job of maintaining its Camino waymarking. And like other routes, you'll find a mix of concrete bollards, painted arrows, embedded shell symbols and wooden trail signs. The trail split that demarcates Finisterre from Muxía is very well marked.
Notable Stops
The Ponte Maceira is a beautiful 13th-century bridge across the Río Tambre. It's a lovely place to stop and soak your feet in the cool river water. Santa Mariña has a lovely historic church and graveyard. Once in Finisterre, drop your pack and carry on out to the lighthouse on the cape. This is you'll find the 0.0-kilometer marker and it's a nice spot to see the sunset.
Terrain on the way to Finisterre & Muxía
The terrain is a mix of sidewalks, quiet country roads, dirt farm roads and forest trails. There are some river crossings and drainages, and there's a descent as you arrive in Finisterre.
When to go to Finisterre & Muxía
The region has a cool coastal climate and year-round temperatures don't vary much. The chance of rain does vary, and the driest months are May-September.
Accommodations
The route is well-served by both albergues and private lodgings. The guidebook stages tend to recommend several long days on the way to Finisterre, but it's not because of lack of lodging. Some of the smaller towns with albergues may not have other services like restaurants and pharmacies.
Camino Finisterre Guidebooks
Most of the guidebooks and apps attach the Finisterre/Muxía route to their Camino Francés guidebook. You can also get information from the Galician Xunta (government) — their guide includes a list of albergues and notable natural and historical sites. And check out our guidebook page for an exhaustive list of guidebooks.
More Camino Resources
Get your pilgrim credential from us in advance of your Camino.
Explore other Camino routes.
Be sure to check out our FAQs on planning your Camino and what to expect while on the trail. If you want some inspiration, check out our list of books, movies and podcasts which feature folks sharing their experiences.
If you have more questions, be sure to connect with one of our more than 55 local American Pilgrims chapters or join us in our Facebook group.
---
Rev 04/07/2023