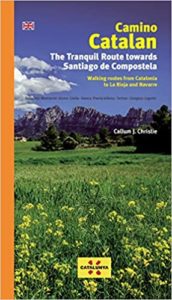 Christie, Callum J., (2021) Camino Catalan: The Tranquil Route Towards Santiago de Compostela. Editorial Piolet. Paperback

ISBN-13:

978-8412188059.

The Camino de Santiago trails and routes in this Camino Catalan guide are amongst the quietest and most attractive of any in Spain. Contains over 1600km detailed route notes, 62 color maps and contour guides, detailed city and town maps, information on pilgrim hostels, albergues and hotels, over 100 color photos and illustrations and historical notes on places of interest.  These largely unknown pilgrim routes connecting Catalonia to the Camino Francés are now in one guide: over 62 stages along 6 different interconnected routes. Routes covered: El Port de la Selva/Le Perthus-Tàrrega-Barcelona-Montserrat-Tàrrega-Puente La Reina-Tàrrega-Pina de Ebro-Tortosa-Logroño-Les-Berbegal.

Aist, Rodney (2020) 

Jerusalem Bound: How to Be a Pilgrim in the Holy Land

. Cascade Books. Paperback 

ISBN-13:

978-1725255265

. Kindle 

ASIN:

B08HSPPJ2C. Jerusalem Bound offers the traveler biblical, historical and contemporary images of pilgrim life. Integrating historical sources, on-the-ground experience and the voices of global pilgrims, author Rodney Aist presents an approach to pilgrimage, explores pilgrim identity and the Holy Land experience, offers ideas for Holy Land travel and encourages pilgrims to focus upon the Other as much as themselves. The book discusses material that is seldom addressed: the motives of Holy Land pilgrims, the history of the Christian Holy Land, understanding the holy sites, pilgrim practices, material objects and the challenges of Holy Land pilgrimage.

Ashmore, Jean-Christie (2011) Camino de Santiago: To Walk Far, Carry Less. Walk Far Media. ISBN-13: 978-0983758006 (paperback), ASIN: B005NKNB0I (Kindle). Author Ashmore has written a book devoted entirely to the subject of what to wear and what to carry on the Camino. Learn how to choose backpacking gear and clothing that will work best for you considering the route you've chosen and the time of year you'll be walking. The book considers a multitude of choices: poncho or rain jacket? water bottles or backpack hydration system? sleeping bag or sleeping sheet? mobile phone or other tech-devices? Rather than telling you what to pack, the author provides you with the questions you'll need to answer to make your own decisions.

Bahrami, Beebe (2019) Moon Camino de Santiago: Sacred Sites, Historic Villages, Local Food & Wine. Moon Travel. ISBN-13: 978-1640493285 (paperback), ASIN: B07G75MZ27 (Kindle). This Moon publication provides a walking guide, ideas for enriching your experience, local cuisine, suggestions for detours, festivals and villages, planning information, insight on the history, photos and detailed maps and Spanish and French phrasebooks, visa information, volunteer opportunities, plus tips for seniors, women traveling alone, religious and secular travelers and LGBTQ travelers.

Bonville, William (2013) A Traveler's Highway to Heaven: Exploring the History and Culture of Northern Spain on El Camino de Santiago. SynergeBooks. ISBN: 978-074432082-4. A narrative motor/walking guide to the cultural record and history encountered between Roncesvalles and Santiago de Compostela. It also involves side trips into Asturias, plus other less distant diversions from the French Road. The author says he wrote the book for those who, for reasons of time, age, disability or children tagging along, are unable to cope with an 800-kilometer hike, but still yearn for the El Camino experience.

Born, Anne (2017) 

Buen Camino!: Tips from an American Pilgrim

. CreateSpace Independent Publishing Platform. ISBN-13:

978-1974252817 (paperback) and 

ASIN:

B078HF48YR (Kindle)

. A collection of Camino preparation essentials and a companion to your walk. Not a guide book, no maps, not a step-by-step, no long-winded history - just lots of little stories and helpful tips from a veteran American pilgrim. Intended for the first-time pilgrim and anyone interested in traveling on The Way. How to plan, where to stay, how to pack, what not to miss and how to have a ¡Buen Camino!

Brierley, J. The Findhorn Press publishes numerous guides and map collections by John Brierley. These are updated regularly and include guidebooks to the Francés, the Portugués, the Norte and Finisterre routes, as well as collections of maps in book form for the Francés and the Portugués.

Chinn, Paul & Babette Gallard (2014) The Lightfoot Guide to the via Francigena - Four Volume Set. Pilgrimage Publications. ISBN: 978-2-917183250, 978-2-917183267, 978-2-917183274, 978-2-917183090. The set comprises the 3 Lightfoot Guides from Canterbury to Besançon, Besançon to Vercelli and Vercelli to Rome with the Companion to the via Francigena which will relate all the details of the historic and cultural sites that you will pass. The GPS coordinates of  significant intersection are available for downloading. Each of the volumns is available for separate purchase.

Confraternity of Saint James (London) Pilgrim Guide Series. The Confraternity publishes a comprehensive series of guides to the routes in Spain as well as those in France, England and selected routes in Germany and Switzerland. The guides are lightweight and, although they have no pictures or maps, they have all of the essential information. The most popular guides are updated annually in late winter and some that are not updated annually have supplementary information available online. Some of the guides are available online in PDF format for a donation. Available through the CSJ bookshop on their website: csj.org.uk/product-category/guides.

Dintaman, Anna & David Landis (2017) Camino de Santiago (Village to Village Guide): Camino Frances: St Jean - Santiago – Finisterre. Village to Village Press. ISBN-13: 978-0984353385 (paperback) and ASIN: B06Y3HPN67 (Kindle). Updated annually, this lightweight, comprehensive guide to the Camino francés and Finisterre cites as its features: Full-color detailed topographical stage maps of each day's walk with GPS files online; more than 100 detailed city and town maps; practical information on transport, accommodations and services; overviews of historic pilgrim sites, with information about the historical context of the pilgrimage; and advice on hiking gear, packing and daily Camino life. Companion website caminoguidebook.com has extended free planning and travel information.

Higginson, John (2012) The Way of St James Cyclist Guide: Le Puy en Velay to Santiago de Compostela. Cicerone Press. ISBN-13: 978-1852844418 paperback, ASIN: B00AA8BX44 Kindle. A guidebook to cycling the 1,570 km cycle route along the Way of St James pilgrim route from Le Puy in France to Santiago de Compostela in Spain. Uses roads with a good surface for touring cyclists and averages only 50 km per day. Also includes routes from Santiago to Finisterre and Padrón.

Jaén, José Maria Anguita (2010) The Way of Saint James: the Pilgrim's Practical Guide. Everest. ISBN-13: 978-8444131467. The package contains the guidebook itself and 48 separate cards with the stages of the Camino francés, the extensions to Fisterra and Muxia and the Aragon route as well as the Northern and Portuguese roads, the Camino inglés and the Via de la Plata. Each card includes a map of a stage with the elevation profile, resources (lodgings, restaurants, bikes repairs, sport stores, hospitals, etc), the description of the stage and a QR code that leads the smartphone-equipped peregrino to further information. Very expensive and heavy at over 1.5 lb.

Joos, Raimund (2016) Outdoor: The Way of St. James, Camino Francés. Paperback ISBN-13: 978-3866865174; Kindle ISBN-13: 978-3-86920-0118; App ISBN: 978-3-86920-012-5. This is the first English Camino guide by the author of the most popular guides in German. The guide features detailed descriptions of refuges, quality, prices and equipment as well as descriptions of the route for planning of daily stages. 288 pages. Click HERE for a look inside the book.

Lang, Tex (2018) 
Camino de Santiago Journey 2019: Helps, Hints and Tips for Peregrinos
. Independently published. ISBN-13: 978-1792771804 (paperback); 
ASIN:
B07M9PCF7N
. Tex Lang's book provides up to date helps, hints and tips for anyone considering walking the Camino. Written by a pilgrim who walked portions of the Camino in 2018, the book includes a special section for older peregrinos and those with physical limitations. Camino de Santiago Journey 2019 gives attention to many of the little details of ones daily journey which are overlooked in most books on the topic.

Martin Garcia, Juan (2019) Camino Quick Guide. Walking the Way of Saint James: Services & accommodations for pilgrims to Santiago, a book to plan the stages. Published independently. ISBN-13: 9781794616578 (paperback); ASIN: B07N14VPY6 (Kindle e-book). To walk the Camino is a crazy but rewarding adventure. To do the Camino is to walk, nothing more. Walking is not running or climbing, but neither is it strolling at the mall.  A book for readers who are considering it, this book will be a help in making informed decisions and  planing it well. Tambien disponible en español.

Meya, Angelynn (2016) Lightfoot Guide to the Via Podiensis. Eurl Pilgrimage Publications. Paperback: ISBN: 978-2917183373.  The Lightfoot Guide to the Via Podiensis follows in the footsteps of pilgrims who since the 10th-Century have crossed France on their way to the shrine of Saint James.  It is a contemporary guide to one of the most popular hiking trails in France: the 774-km route from Le Puy-en-Velay to the Pyrenees, the starting point of the Spanish Camino. 
• Detailed descriptions of 34 stages and three major alternative routes
• Full-color topographical and detailed city maps
• Elevation profiles and turn-by-turn walking instructions
• Up-to-date information on accommodation
• Historical and cultural overviews
• Practical information about preparing your trip and life on the trail

Moylan, Paul (2011) Camino de Santiago Planning Guide: Your Pre-Walk Guide. Self-published. ASIN: B0170VDIS2. A two-time veteran of the Camino, author Moylan has assembled a guide that includes the historical background of the phenomenon, what one needs to consider in assembling equipment and thoughts about the spiritual aspects of the journey. The content derives from his many years' experience of delivering workshops on the Camino and of interacting with would-be peregrinos. Available at caminoplanning.com.

Nilsen, Sylvia (2013) Slackpacking the Camino Francés. Pilgrimage Publications. ASIN: B00BEIQVM8 Kindle. Doing the Camino with beds booked and baggage transferred doesn't mean that you won't get blisters, tendonitis, aching muscles and a funny tan! Slackpacking the Camino contains information on which routes to consider, how to get to the start, three walking itineraries from 10km to 25km per day and more. Lists of service providers for luggage transfers, accommodation bookings and more.

Nilsen, Sylvia and Greg Dedman (2011) Your Camino: A Lightfoot Guide to Practical Preparation for a Pilgrimage. EURL Pilgrimage Publications. ISBN-13: 978-2917183168 (paperback); ASIN: B005TAHQIA (Kindle e-book). After years of answering frequently asked questions on Camino forums, the Internet, Camino workshops and on her own Camino blog, author Sylvia Nilsen has teamed with co-author Greg Dedman to assemble what is intended to be the most comprehensive guide to the Camino. Besides providing information and maps on the many different Camino routes in France and Spain they offer advice on the best time to go and how to get there, planning daily stages, budgets and accommodation, pilgrim and trail etiquette, equipment and clothing. There are chapters on technology, weather, food and language.

Nilsen, Sylvia, & Reinette Novoa (2012) Camino Lingo: English - Spanish Words and Phrases. EURL Pilgrimage Publications. ISBN-13: 978-2917183243. The only book with Spanish words and phrases used by Camino pilgrims. This is a 'cheats' guide to speaking Spanish on the Camino. Over 650 English/Spanish words relating specifically to the Camino pilgrimage with simplified pronunciation - including a menu reader.

O'Sullivan, Mark (2018) 

Camino Ready. Backpacks, Boots & (no) Blisters: Preparing for the Camino and Other Long Treks
. Independently published. ISBN-13: 978-1724090904. Camino Ready is for anyone thinking about or planning to do a long walk, which would include the Camino. The focus is on preparation leading to the best chance to successfully reach the destination pain and injury free. Many fail to complete the walk. Mark has walked five Camino routes in France, Spain and Portugal as have the other contributors. The book will help you prepare for the Camino and similar long-distance pathways.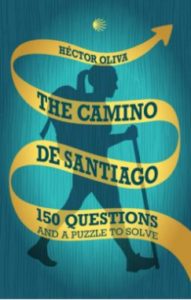 Oliva, Hector (2022) The Camino de Santiago: 150 Questions and a Puzzle to Solve. Independently published. ISBN-13: 979-8768011482. Originally published in Spanish during the Jacobean Year in 2021,

it's now available in English and eady to become a useful tool for pilgrims all around the world - before, during and after their Camino. This book is full of history, culture, religion, practical tips, and amazing facts.

Powell, Cheri (2010) Seven Tips to Make the Most of the Camino de Santiago. R. C. Linnell Publishing. ISBN-13: 978-0615381466. Not a travelogue or a guide, but rather a preparation manual that gives practical advice on the different aspects of undertaking the journey. The Seven Tips cover everything from what to take to the history of the Camino to calculating the cost. Thought provoking questions are posed to help set realistic expectations in the physical, mental, emotional, spiritual and logistical areas.

Raju, Alison (2017) The Way of Saint James (Chemin de Saint-Jacques de Compostelle): Le Puy to the Pyrenees. Cicerone Press. ISBN-13: 978-1852846084. A walker's guidebook to the 740 km Way of St James Pilgrim Road from Le Puy-en-Velay in central France to the Pyrenees – first volume of the only guide to the whole route written in English. Includes route directions and information about places to visit along the way, the history of the pilgrimage, pilgrim references and current facilities. Fully rewalked in 2009.

Raju, Alison (2010) The Way of Saint James: Via de la Plata, Seville/Granada to Santiago. Cicerone Press. ISBN-13: 978-1852844448. A walker's guidebook to the Way of St James' southern pilgrim route through Spain to Santiago de Compostela. Nearly 1,000km long, the Via de la Plata starts in Seville or Granada and leads north and then north-west through the historic towns and varied scenery of Extremadura, Castille-León and Galicia.

Starks, Richard and Miriam Murcutt (2012) A Room with a Pew: Sleeping Our Way through Spain's Ancient Monasteries. The Lyons Press. ISBN-13: 978-0762781454. Release September 2012. The authors traveled through Spain – from Barcelona in the north to Malaga on the southern Mediterranean coast – staying in ancient monasteries. As they discovered, Spain's ancient monasteries are intriguing places in which to stay—ripe with history, art and culture; peopled by a dying breed of monks and nuns; rarely visited; and open to all. The book offers a unique take on Spain that will appeal to both seasoned travelers and newcomers to that country. Though not a guide book, it does contain enough information for readers to plan a similar journey of their own.

Tandler, Ryan (2019) 

Walking to Santiago: A How-To Guide for the Novice Camino de Santiago Pilgrim
. Independently published. ISBN-13: 978-1793083609. Author Ryan Tandler covers everything needed to make informed decisions about taking on the Camino, from when to go and how to get to there to what you'll need to pack. The focus is on detailed advice learned from on-the-trail experience, including personal health and safety, packing, footwear, packs, poles, clothing, language, money and on and on. 
The 6th edition is updated for 2019 and includes a chapter on 12 of the most common routes to Santiago.

Toy, Matthew (2014) Preparedness Guide for the Camino de Santiago: Learn Exactly What to Pack, Why You Need it, and How it Will Help You Reach Santiago. My Daily Relief. ISBN-13: 978-1502471383 paperback; ASIN: B00OBS4TT0 Kindle. Not a guide to help you find your way on the Camino but a guidebook designed to give clear, up to date and honest information about how to successfully prepare your belongings for the Camino de Santiago. The author's purpose of this guide is simple: To teach you exactly what you need to take, why you need it and how it will help you in your journey.

Whitson, Dave and Laura Perazzoli (2013) The Northern Caminos: Norte, Primitivo and Inglés. Cicerone Press Limited. ISBN-13: 978-1852846817. Authors Whitson and Perazzoli, both of whom have extensive experience on these routes, have compiled a much needed English language guide to the northern Caminos: the Camino del Norte, the Camino Primitivo and the Camino Inglés. Available April 30, 2013..

Wittig, Stacey (2014) Spiritual and Walking Guide: León to Santiago. Spiritual and Walking Guides. ISBN-13: 978-0615989396. Author Stacey Wittig has written a spiritual guide for walking from León, Spain, to Santiago. What about pilgrimage helps you let go of fears and find peace that passes understanding? How can you be still and hear God's voice as you trek the ancient pilgrimage route? How will you prepare your heart for a closer walk with God on the Camino? Find answers to these and other questions in this daily devotional and walking guide. Included in this book are daily scripture readings, meditations and questions for reflection to make the most of your pilgrimage and on the more practical side, details about where to sleep, daily distances walked and essential websites, insider travel tips, how to obtain a credential, how to follow the route without maps. The book contains space to journal thoughts and revelations.

Wise Pilgrim, A Wise Pilgrim Guide to the Camino de Santiago. The Wise Pilgrim series features navigation tips, historical references, lists of available services (pharmacies, restaurants, ATMs) and dates of local fiestas city by city, a comprehensive accommodation directory, large scale maps (without pre-determined stages), elevation profiles, detours and alternative routes and quick booking links through booking.com.  Wise Pilgrim publishes guides for the francés, portugués, Norte, Vía de la Plata, primitivo, and Finisterre routes. Available in paperback and digital versions.