Packing for the Camino de Santiago
Gear up for your Camino de Santiago pilgrimage! The beauty of the Camino is that it's a simple existence. You can get by with far less than you might imagine. But, you do need to be prepared to take on varying weather and terrain.
We've got you covered with this Camino de Santiago packing list. It includes advice on what kind of pack to get, how much clothing to bring, what kind of shoes and socks to consider, and some miscellaneous bits and bobs that add utility to your walk.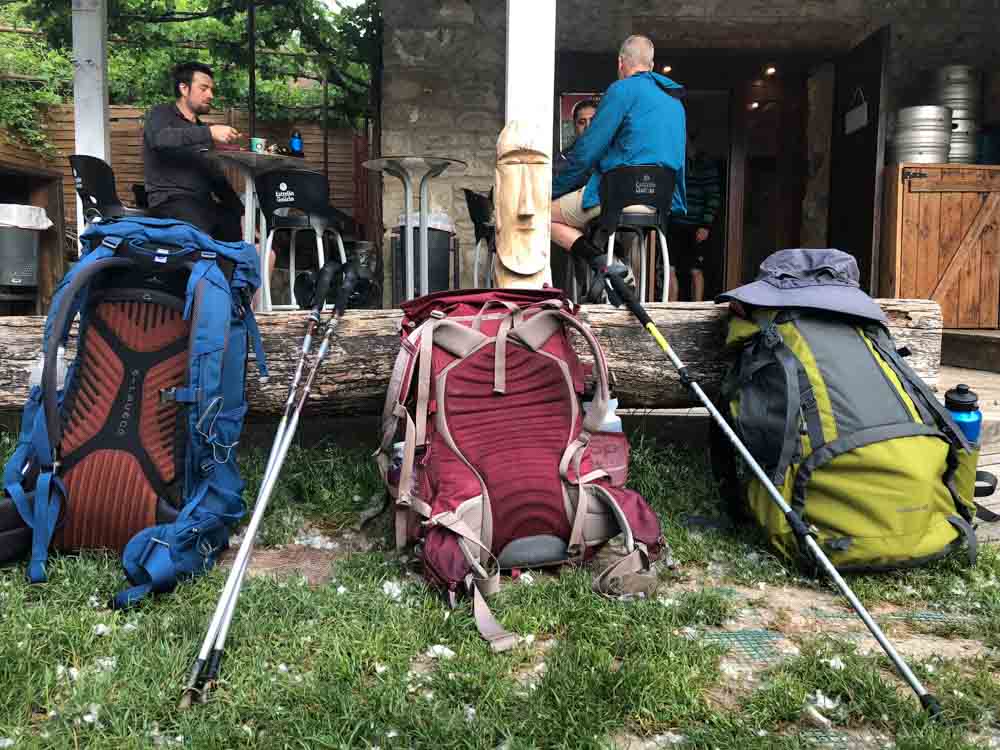 How to Pack for the Camino de Santiago
Selecting a Backpack
You do not need a large pack for the Camino. The most common pack size is 35-40 liters. If you are a smaller person or want to go ultra-light, you can get away with a 30-liter pack. If you are a larger person, you could go up to a 45-liter pack. Alternatively, if you already have a larger pack that you love, you can certainly bring it; just don't over-pack it.
You'll want an internal frame pack that sets most of the weight on your hips and not your shoulders. You'll want a pack sized for your body type (or gender). We recommend that you go to a reputable outdoor retailer, tell them that you are walking the Camino and have them fit you.
Features to look for include a compartment with an easy-to-access pack cover, side or bottom zippers, side pockets for a water bottle (or an interior bladder space), a wide padded hip belt (ideally with pockets), and compartments to hold easy-to-access items like snacks and your pilgrim credential.
How Much Should Your Pack Weigh
You aren't doing a wilderness hike on the Pacific Crest Trail and you do not need to pack for every contingency. You'll be sleeping in accommodations with beds and you'll be slowly strolling past cafes, stores and pharmacies You can keep your pack light and pick up things as needed along the Way.
Accepted guidance is to have your pack weigh no more than ~10% of your body weight. This is not a hard and fast rule as some people will carry more or less, but it's a good gauge for ensuring that you don't overpack.
What Type of Shoes and Socks to Take on the Camino
The best shoes are the ones that keep your feet dry, supported and blister-free. Regardless of what you take, be sure to trail-test them with longer back-to-back walks before you go. You'll likely want shoes one-half to one full size larger than what you usually wear.
Most pilgrims take two pairs of shoes: a hiking shoe/boot/trail runner and a sport sandal/shower flip-flop. Trail runners are popular as they are sufficient for the rough sections of the trail and they are lighter than hiking boots. There are mixed opinions regarding whether you should take waterproof footwear. Bear in mind if you are doing the Camino during the popular May-October months, you are likely to encounter warm weather and want a shoe that will wick sweat.
If you take a sport sandal, you can actually spend some of your time hiking in them. It's not required that you take a light flip-flop for the shower, but many people prefer to do that.
For socks, most pilgrims use a mix of the following in either Coolmax or Smart Wool. Consider cushioning and how the sock supports (or irritates) your trouble spots. Here are the common combinations:
A light liner with an outer sock
A toe sock (such as the Injinji brand)
A double-ayer sock (such as the Wrightsock brand)
Guidance on How Much Clothing to Pack
There are two rules of thumb for how much clothing to pack.
One to wash, one to wear: This means you have two sets of clothes. As your dirty clothes are washed and drying, you wear tomorrow's clothes as today's "evening wear."
One to wash, one to wear, one spare: This gives you an extra set of clothes (or a spare shirt, dress or bottoms) to wear in the evening or to bed.
For the list below, we are listing the "one to wash, one to wear, one spare" list, but you can adjust as you see fit.
This list works best for the May-October high season. If you will be walking in cooler weather, you should consider adding a warmer base layer, gloves, rain pants and Gore-tex shoes/boots.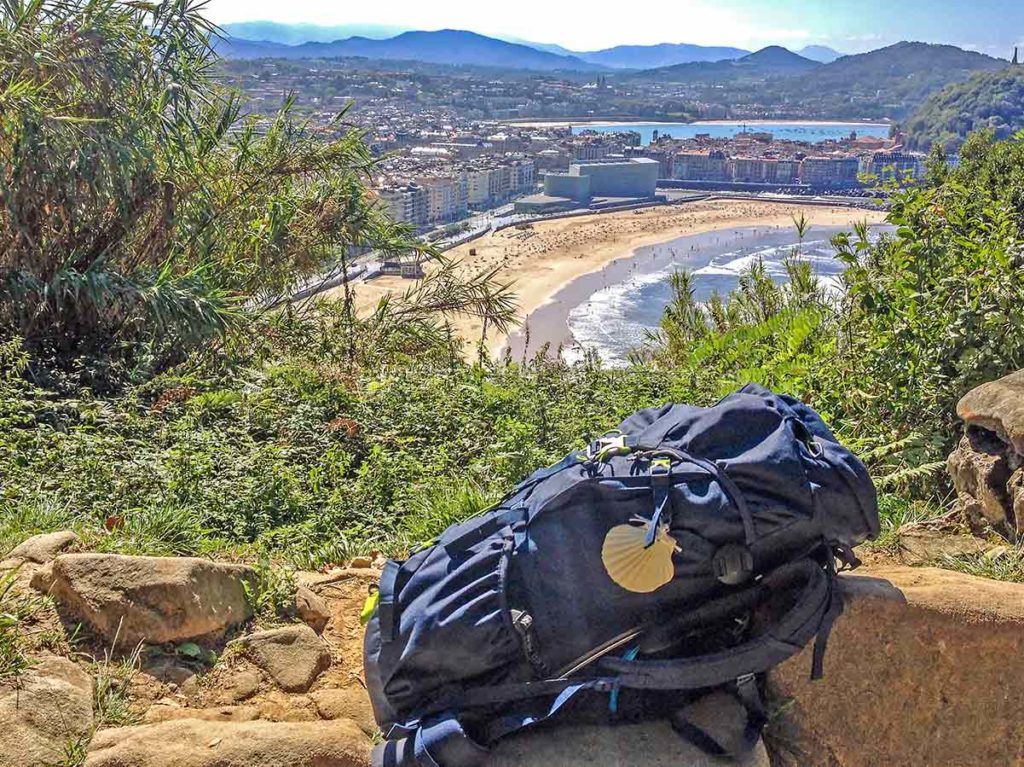 The Basic Camino de Santiago Packing List
Clothing
2 short sleeve shirts
1 light long-sleeve shirt
1 warmer long-sleeve item (lightweight fleece pullover or down sweater)
1 sleep shirt (optional)
1 pair hiking pants
1 pair hiking shorts (or a second pair of pants)
1 skirt, dress, or light shorts/pants for the evening (optional)
Rain jacket or rain poncho. If you take a poncho rather than the rain jacket, you'll also want a light windbreaker
1 brimmed hat or visor
1 buff or bandana (can be used as a warm hat, headband and neck warmer)
Light gloves. Or make sure one of your long-sleeve shirts has finger holes.
1 pair hiking boots/trail runners
1 pair sport sandals/shower sandals
2-3 pair socks
2-3 pair underwear/bras
Other Gear
Very light sleeping bag, bag liner or sleep sack. Not all albergues provide bedding.
Something for organizing and waterproofing the inside of your pack: packing cubes, compression gear bags, plastic bags.
Pillowcase (optional, or you could use your towel)
1 pack towel or small Turkish towel.
Headlamp. Optional unless you know you'll want to walk in the darker early mornings.
Water bottle or bladder
Backpack and rain cover
Walking poles (optional). They will need to go as checked baggage.
Journal, pens, tablet, e-reader (optional)
Sunglasses, prescription glasses
Prescription meds
Small toiletry kit with small portions of soap, shampoo and conditioner (can be combined), toothpaste, toothbrush, razor, deodorant, soap for washing clothes
Sunscreen
Partial roll of toilet paper or facial tissue
Small first aid kit: band-aids, first aid tape (Leukotape), blister bandages, anti-inflammatories, antiseptic wipes, blister care kit, etc)
Something for attaching things to your pack or a laundry line. Can include: clothespins, carabiners, diaper pins, twistie gear ties, or a shower hook
Small roll of duct tape
Some quart and gallon Ziploc bags
Spork, small knife. For food and snacks, can be purchased in Spain.
Smartphone (unlocked if you want to get a local sim card), earbuds, charger, EU plug adapter
Passport
Pilgrim credential (which you can get from us in advance)
More Camino Resources
---
Rev. 04/07/2023