Camino Route Overview: Camino Inglés
Are you considering the Camino Inglés? This route overview will give you some information on where it starts (and ends), routing options, distances, key towns, when to go and some tips on how to get there.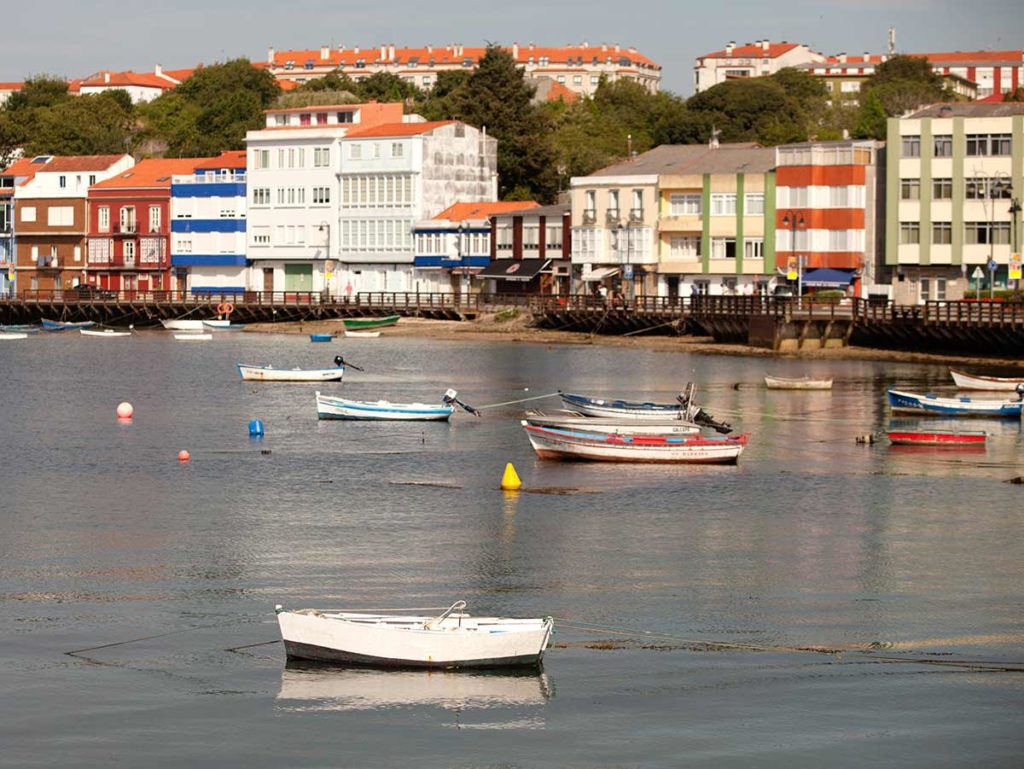 About the Camino Inglés
This route earned its name due to the number of pilgrims coming from northwestern Europe, particularly Ireland and the United Kingdom. There is evidence that the Inglés has been in use since the 11th century. Pilgrims would start in their home country, perhaps at Canterbury cathedral in England or Croagh Patrick in County Mayo, Ireland. They would then travel across the sea, landing in either Ferrol or A Coruña in Spain, and then continuing on to Santiago de Compostela.
Some pilgrims are still doing this land-sea-land pilgrimage. And others are choosing the route for the shorter distance and coastal estuary.
Starting Point and Route Alternatives for the Inglés
You can begin in either Ferrol or A Coruña. The routes converge at Hospital de Bruma.
The A Coruña route is only 75 kilometers, which is not enough for a Compostela on its own. However, if you start in your home country and get verification from your local church that you've done the additional kilometers, the Pilgrim's Office in Santiago will recognize your effort with a Compostela.
The Ferrol route is 117 kilometers and easily qualifies for a Compostela.
Some pilgrims begin in Ferrol, get to Hospital de Bruma, then bus to A Coruña and walk back to Hospital de Bruma. This adds 1-2 days and allows them to experience both routes.
How to Get to the Camino Inglés
There are nonstop flights to A Coruña (LCG) from international gateways in Madrid, Barcelona, and London-Gatwick, and seasonal service from several other European cities. There are even more flights to Santiago (SCQ).
There is frequent train and bus service from Santiago to both A Coruña and Ferrol, which takes 30-90 minutes.
Camino Inglés
The Camino Inglés is well-marked, and if you pay attention, you aren't likely to get lost. Like other routes, you'll find a mix of concrete bollards, painted arrows, embedded shell symbols and wooden trail signs.
That said, there were some adjustments made to the route and some of the old signage may still be out there.
Terrain on the Camino Inglés
The terrain is a mix of tidal estuary, woodlands and towns. The paths are a mix of dirt and quiet country lanes, with more of the latter (and more hard surface) than the former.
When to Do the Inglés
This routing sits squarely in the cool, wet Galician weather patterns. Spring is often wet and windy. Summer is warm and busy. Autumn has pretty stable weather with a less-busy vibe. You can walk this route in the winter, but expect it to be quite wet and some albergues will be closed.
Accommodations
This is not the most popular Camino route, but it is growing. The local businesses and the Galician government have been working to build out more infrastructure to support that growth. Most of the larger towns offer albergues. They may have a mix of private and municipal albergues, or just one or the other. There are also a number of small hotels and casas rurales along the way.
Some private lodgings are not right on the trail, but they will often work with you to provide a pick-up and drop-off.
Camino Inglés Guidebooks
You can get information from the Galician Xunta (government)– their guide includes a list of albergues and notable natural and historical sites. And check out our guidebook page for an exhaustive list of guidebooks.
More Camino Resources
Request your pilgrim credential from us in advance of your Camino.
Explore other Camino routes.
Be sure to check out our FAQs on planning your Camino and what to expect while on the trail. If you want some inspiration, check out our list of books, movies and podcasts which feature folks sharing their experiences.
If you have more questions, be sure to join a local American Pilgrims chapter or join our Facebook group.
---
Rev 04/07/2023