Cycling the Camino de Santiago
About six percent of pilgrims who arrive in Santiago seeking a Compostela have arrived there on a bicycle. Some folks do it because they love bike touring, others do it because they have issues that prevent them from walking, and yet other repeat pilgrims have done a mix of walking and biking. Regardless, cycling the Camino is a legitimate way to engage on the pilgrimage and cyclists are eligible for a Compostela.
If you are looking to cycle the Camino de Santiago, use this handy Camino cycling FAQ to answer your key questions and find additional resources.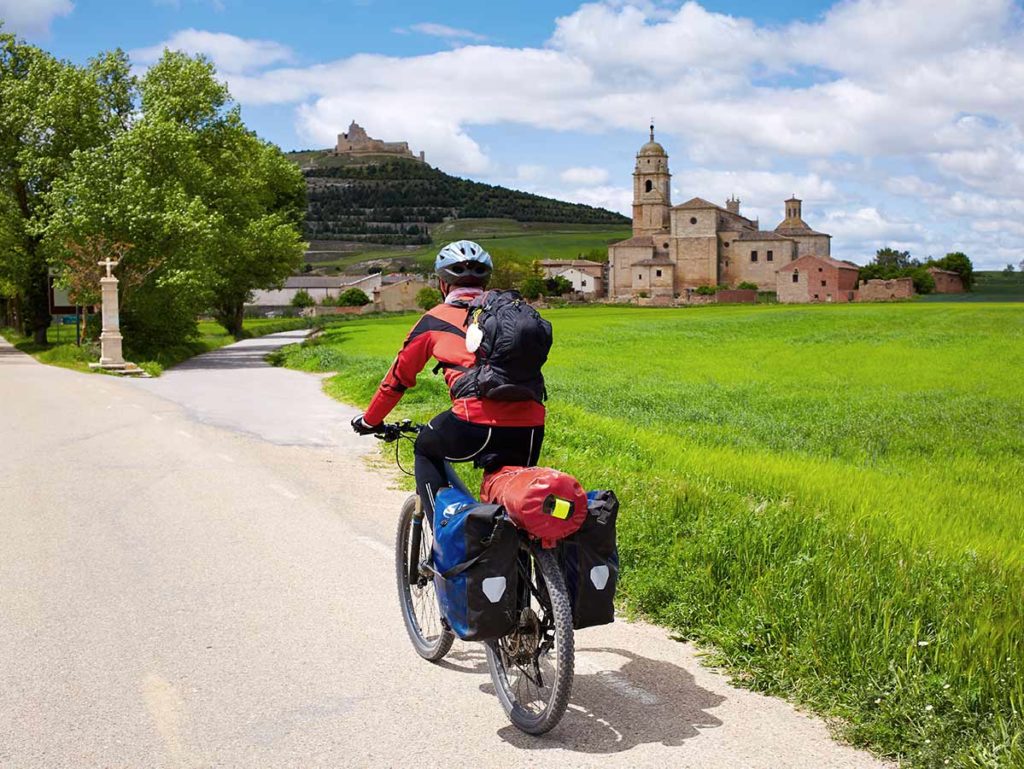 Can I Earn a Compostela By Cycling the Camino?
Yes! Bicyclists need to complete at least the last 200 kilometers to earn a Compostela. And like walkers, you'll need to produce two credential stamps (sellos) per day to show the Pilgrim's Office in Santiago de Compostela.
Here are a few Camino biking routes with 200-kilometer minimums. For convenience, we are listing the nearest town with a train station. That said, if you're renting, your starting point may be determined by where your rental company is willing to deliver your bike.
Camino Francés: 214 kilometers from Ponferrada to Santiago
Camino del Norte: 204 kilometers from Tol to Santiago
Via de la Plata: 203 kilometers from a Gudiña to Santiago
Camino Primitivo: 290 kilometers from Grado (or start further along with bus transit)
Camino Portugués: 217 kilometers from Vilarinho to Santiago
How Long Does it Take to Bike the Camino?
Your typical daily distance will vary quite a bit depending on the terrain. On a typical day, you might expect to ride ~50 kilometers. On sections that are flatter and have low rolling hills or tarmac, you may ride up to 80 kilometers a day. Many pilgrims report riding the Francés from Roncesvalles (or Pamplona) to Santiago in 11-14 days.
Which is the Best Camino to Cycle?
There is no one answer to this question. For many first-time pilgrims who want to cycle a "classic" route, the Francés is a very popular choice. The Portugués is the second-most popular Camino route. The Via de la Plata (which starts in Seville) is nice for a flatter, more forgiving terrain and quiet vibe – but it would be very hot to do in the summer.
Ask yourself the following questions when choosing a route:
How much time do I have?
How many miles/kilometers can I realistically do in a day (assuming a mix of road and trail, hills and flats)?
Do I want to get a Compostela?
Do I want to reach Santiago de Compostela?
What time of year can I go?
Check out our Camino routes page for more information on the most popular routes along the Way.
Is the Camino More Dirt Paths or Road Biking?
All of the traditional Camino walking routes have a wide mix of road walking, hard surface trails, farm tracks, dirt trails and steep rocky pathways. As a cyclist you can ride all of that, pushing your bike on the rocky or super steep sections.
Or, you can do a mix of traditional paths and road riding in order to avoid either the super-steep trails or the narrow sections where bicyclists and walkers are likely to collide. Consider your own abilities and tolerances when you map your route.
If you choose a route where you are sharing a lot of trails with walkers, please bring (and use!) a bell for your bike, and be sure to shout out a hearty "Buen Camino" as a way to alert the walkers.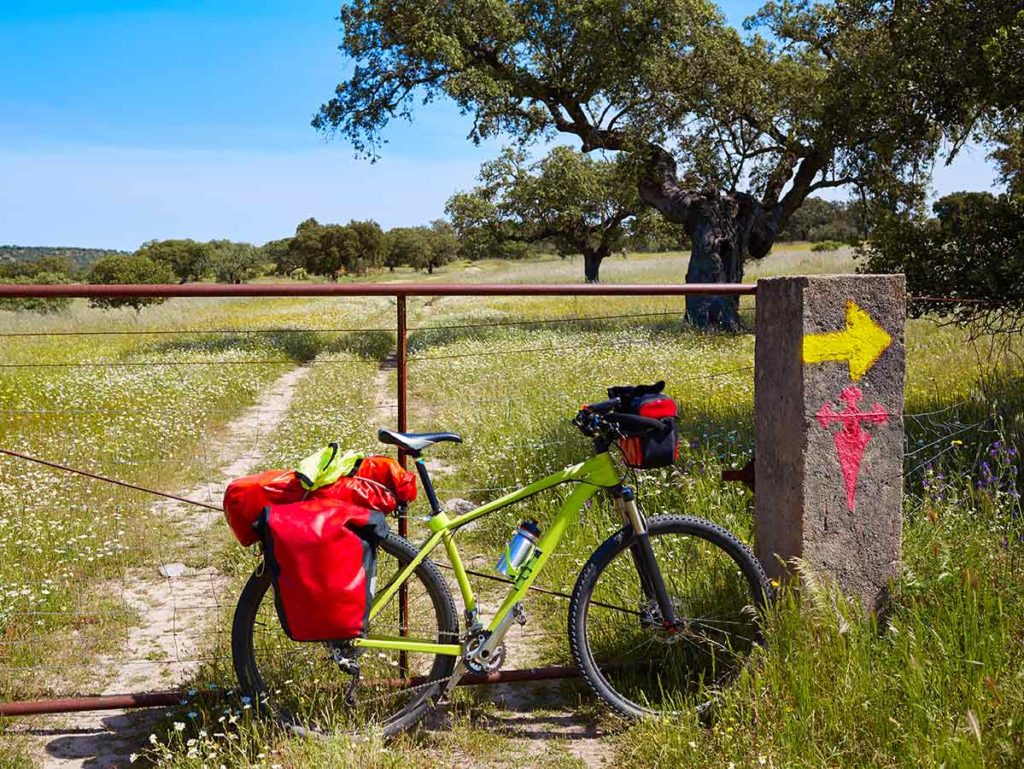 What's the Waymarking Like?
All of the Caminos are marked with a mix of concrete bollards with arrows, painted arrows on walls and trees, wooden arrow signs, shell symbols embedded in walls or sidewalks, and even the occasional street art or sculpture.
If you choose secondary roads over the traditional trails, many of them are also waymarked.
Can I Do a Part Walk, Part Bike?
Yes. One of the most common options is to start in St. Jean Pied de Port and walk over the Pyrenees to Roncesvalles or Pamplona and then pick up a bike. Another other option is to walk most of the Francés but bike the Meseta section between Burgos and León (or Astorga).
If you choose to do this, give some consideration to how you'll deal with your backpack.
What Kind of Bike Do I Need?
This depends greatly on if you want to stick to the conventional trails or follow along on parallel roads. If the former, a mountain bike with low gearing and suspension would be best. If the latter, a road bike or hybrid bike might work for you.
Your own comfort and experience with different types of bikes matters as well.
Do eBikes Count?
There are indeed pilgrims who bring or rent ebikes. Some do so because they're older or have foot issues, and others because they require help with navigating the hills. The Pilgrim's Office in Santiago has not stated an opinion on the matter. It's sort of like using a luggage transfer service . . . the choice is entirely yours.
Bring a Bike or Rent One?
Bringing your own bike pros/cons:
Pros: You know, love and can fix your own gear. Not a big deal if you have experience shipping your own bike on previous trips.
Cons: Transport can be expensive and damage-prone. Figuring out train and bus logistics to your start point can be tricky. You're on your own for repairs.
Renting a bike pros/cons:
Pros: No transport hassle, they will deliver it to your start point. You have a local person to call if you run into repair issues and they can help you communicate with local repair shops. It can cost the same (or not much more) than shipping your own bike. Most of the rental services offer a variety of bike styles to choose from.
Cons: It's not economically feasible to rent a bike in France and ride it to Santiago de Compostela. You have no control over the condition of your bike.
If you choose to rent, here are a few of the more popular services.
Are There Cycling-Specific Guidebooks?
Not many. Cicerone, which also produces Camino walking guides, does have a cycling guidebook for the Camino Francés. It's available on Amazon and other outlets. Many bicycling pilgrims also use the regular Camino guides and apps and modify the routing for their purposes.
Check out our Camino guidebooks page for more information.
Are Cyclists Welcome in Albergues?
It's said that walking pilgrims have priority over cycling pilgrims. The thinking is that if the albergue is full, a walker would have a harder time getting to another place than a biker. We've heard anecdotally that bikers do not encounter this issue very often.
If you are unsure, you can always call or message ahead to an albergue at your chosen destination and ask about their policy.
Do I Need to Wear a Helmet in Spain?
Yes, it's the law.
What Else Should I Pack?
Be sure to pack a toolkit, along with bike shorts, reflective clothing and the aforementioned helmet.
Other than that, your kit will be very similar to that of walking pilgrims. Most bring 2-3 days of clothing, warm layering options, a waterproof jacket (or poncho), a modest toiletry kit and medications, phone charger, small first aid kit, a sleeping bag or sleep sack, and sport sandals or flip flops.
You may find yourself pushing your bike on steep segments, so consider bringing shoes you are comfortable walking in when this happens.
If you are renting a bike, for a small additional fee you can also rent panniers.
Where Can I Get Bike Repairs on the Camino?
All major cities and some larger towns have bike shops that can offer repairs, including Pamplona, Estella, Burgos, León and Ponferrada. Ask your bike rental company for a list or do some research in advance so you don't get stuck. It's also helpful to learn some bike Spanish. See our PDF with some Spanish cycling vocabulary.
More Biking Resources
Join the American Pilgrims Facebook cycling group for conversation and Q&A with other experienced and would-be pilgrim cyclists.
There is a cycling-specific thread on the Camino de Santiago forum that provides useful answers to questions.
General Camino Resources
Request your pilgrim credential from us in advance of your Camino.
Be sure to check out our planning your Camino FAQ and what to expect while on the trail. If you want some inspiration, check out our list of books, movies and podcasts which feature folks sharing their experiences.
Join the community by becoming a member of American Pilgrims on the Camino, engaging with a local chapter or joining our general American Pilgrims Facebook group.
---
Rev 04/07/2023