Why are statistics important?
You likely have many questions about the Camino: how crowded will it be, which month is busiest, which routes are busiest, where everyone is from, and what's the best way to travel? Some statistics may help you decide when to make your Camino and which route might be best for you.
What was COVID-19's impact on the number of pilgrims on the Camino?
Both 2020 and 2021 were unusual years for the Camino due to COVID-19. The Pilgrim's Office issued just 53,905 Compostelas in 2020, as compared to 347,578 in 2019. The next year, 2021, was a Holy Year and 178,912 Compostelas were issued. Due to the pandemic, the 2021 Holy Year was extended through December 31, 2022.
The 2022 Holy Year was a record year on the Camino!
The extended Holy Year brought the highest number of pilgrims ever to Santiago de Compostela (travel restrictions were dropped in most countries). A record 438,182 Compostelas were issued by the Pilgrim's Office!
American Pilgrims' Credential Requests
American Pilgrims on the Camino is the only American provider of credentials authorized by the Pilgrim's Office in Santiago de Compostela.
In support of our mission, we fill credential requests at no charge. We gratefully accept donations for this service. Donations and membership dues help fund our Camino programs including our hospitalero training and award-winning grants programs, and support our nearly 60 local chapters.
In 2022 we received 7,414 requests for a credential and 1,545 requests in 2021.
You can request your credential here.
American Pilgrims' credentials issued

by year

, 2007 through 2020.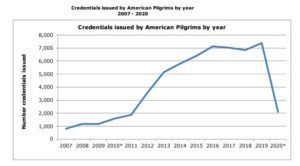 Questions about the Camino?
Do you wonder how many people each year complete a pilgrimage to Santiago and receive a Compostela? Perhaps you want to know which country has the most pilgrims on the Camino? Or which month the most pilgrims arrive in Santiago? How about what percentage of pilgrims are women vs men, or how many pilgrims arrive in Santiago on foot, bicycle, or on horseback?
A wealth of statistical information is available from the Pilgrim's Office in Santiago de Compostela. Follow this link to the Oficina de Acogida de Peregrinos to explore all the available statistics including
Compostelas issued by month,

Compostelas issued by year,

Compostelas issued by sex,

Compostela issued by route taken,

Compostela issued by mode of transport taken (foot, bicycle or horseback),

Compostelas issued to U.S. passport holders,

U.S. percentage of total Compostelas,

Age of recipient of Compostela, and

Profession of Compostela recipient
How many people walked the Camino in 2022 and how did they travel?
In 2022, a record 438,182 Compostelas were issued!
Walking is the most popular way to complete the pilgrimage to Santiago de Compostela. In 2022, 414,340 pilgrims walked the Camino. There were 22,863 pilgrims who completed the Camino on a bicycle, followed by 545 on horseback.  Rounding out the modes of travel were 448 who sailed and 127 who completed the Camino in a wheelchair. You can truly go your own way!
Which country has the most pilgrims on the Camino?
As you would expect, in 2022 pilgrims from Spain (239,417) were the most common, followed by Italy (27,078). Americans ranked third in 2022 with 26,000 pilgrims!
What's the ratio of males to females?
In 2018, for the first time in recorded history, more women than men received Compostelas and the trend continued even stronger in 2019. The COVID-19 years of 2020 and 2021 reversed that trend for two years. In the Holy Year of 2022, the trend reversed again and more women (231,462) than men (206,861) received Compostelas in 2022.