Are you considering doing the Camino Francés? This route overview for the popular Camino Francés will give you some information on where it starts (and ends), distances, key towns, when to go and some tips on how to get there.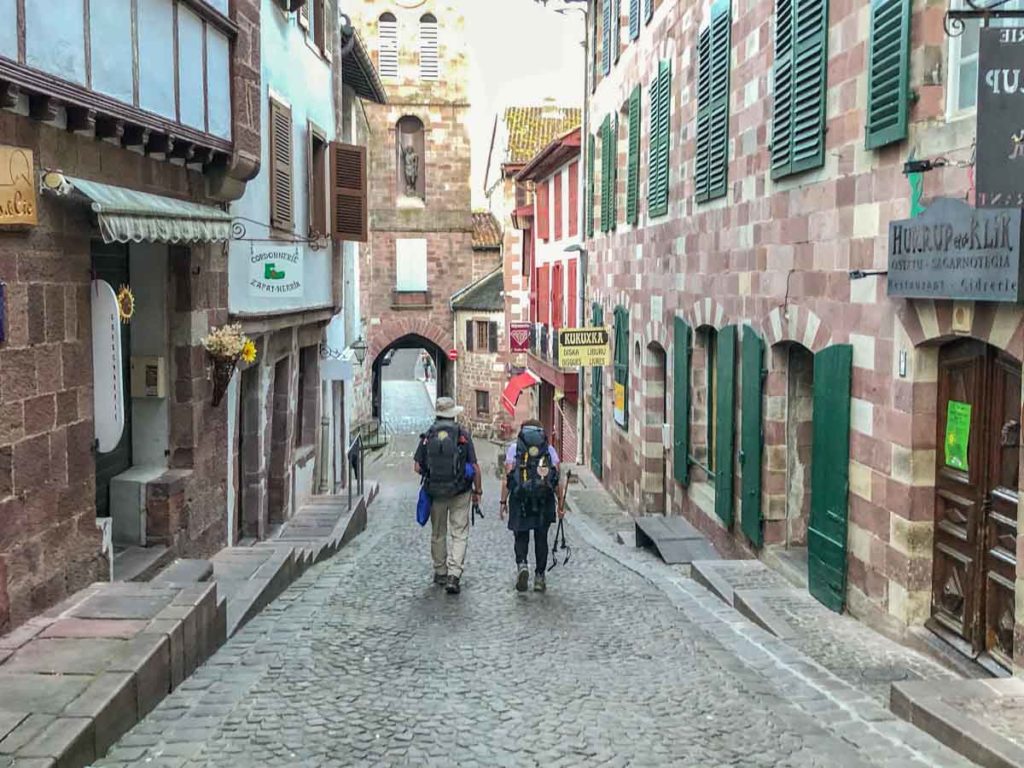 About the Camino Francés
The Camino Francés (French route) is far and away the best-known and most traveled of the many routes to Santiago de Compostela. Three of the main routes through France feed into the Camino Francés north of the Pyrenees and a number of the routes in Spain join the Francés at various points along its length.
The route starts in St. Jean Pied de Port, France, and continues approximately 790 kilometers (490 miles) to Santiago de Compostela The Camino Francés travels through the cities of Pamplona, Puente de la Reina, Logroño, Burgos, León, Astorga, Ponferrada and Sarria to Santiago.
The Camino Francés is hands down the most traveled of all the routes. This could be a positive or a negative depending on the time of year and your desire to be with other pilgrims. In the summer months and especially in the period leading up to and following Santiago's Feast Day on July 25th, accommodations will be quite busy. You'll also find it especially crowded the last 100 kilometers from Sarria.
Interesting Things to See on the Camino Francés
All of the routes of the Camino de Santiago are UNESCO-designated. So simply walking along the Way steeps you in history.
Here are just a few highlights: Puente la Reina boasts a lovely medieval bridge, Santo Domingo de la Calzada has miraculous chickens, Burgos has an ornate UNESCO-protected cathedral, León's gothic cathedral is striking, Astorga has a Gaudí-designed palace, the Cruz de Ferro is an ancient Christian/pagan cross, and Ponferrada has a castle of the Knights Templar.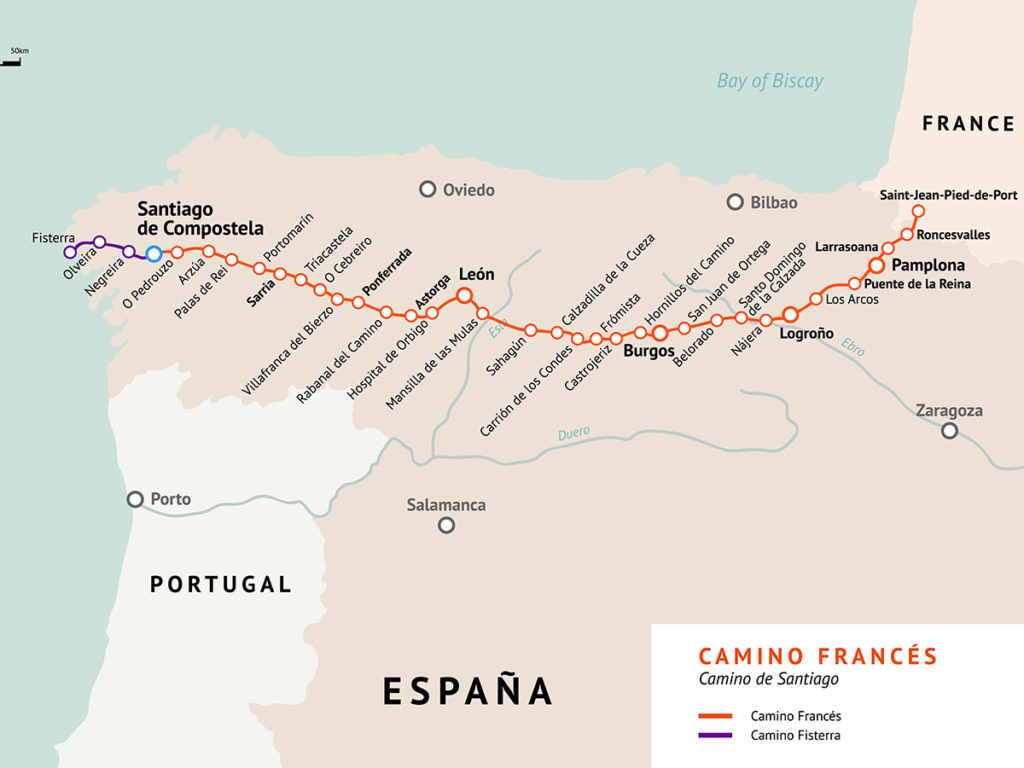 Popular Starting Points on the Camino Francés
The Camino Francés is a long route and not everyone has the time or interest in the entire trip from St. Jean Pied de Port. According to the Pilgrim's Office in Santiago, the following are the five most popular starting points for the Francés.
Sarria: 116 kilometers, 5-6 days
St. Jean Pied de Port: 788 kilometers, 30-40 days
León: 318 kilometers, 13-16 days
O'Cebreiro: 163 kilometers, 6-8 days
Ponferrada: 214 kilometers, 9-11 days
You can start anywhere, and Burgos and Pamplona can also be good starting points because they have ample transportation infrastructure.
How to Get Onto the Camino Francés
However you get there, it's a feat to get to the Camino Francés from North America. The most popular international gateways for the Francés are Paris, Madrid, Barcelona or Porto.
Regardless of your European arrival airport, plan to spend the better part of one day with multiple transfers to get to your starting point. In addition to the advice below, you can use the Rome2Rio website to help you figure out on-the-ground logistics.
How to Get to St. Jean Pied de Port, France
From Paris: Fly to Biarritz, then shuttle to St. Jean--OR--train to Bayonne, then train to St. Jean.
From Barcelona: Train to Pamplona, then bus or shared taxi to St. Jean.
From Madrid airport: Fly, train or bus to Pamplona, then bus or shared taxi to St. Jean.
From Madrid downtown: Train from Atocha station to Pamplona, then bus or shared taxi to St. Jean.
How to Get to Sarria
From Madrid airport: Fly to Santiago de Compostela, bus to Sarria.
From Madrid downtown: High-speed train from Chamartín station to Ourense, then train to Sarria.
From Barcelona: Fly to Santiago de Compostela, bus to Sarria.
From Porto: Bus to Santiago de Compostela, then bus to Sarria.
How to Get to León
From Madrid airport or downtown: Train from Atocha or Chamartín stations to León.
From Barcelona: Fly to Leon.
Similar advice also works for O'Cebreiro and Ponferrada.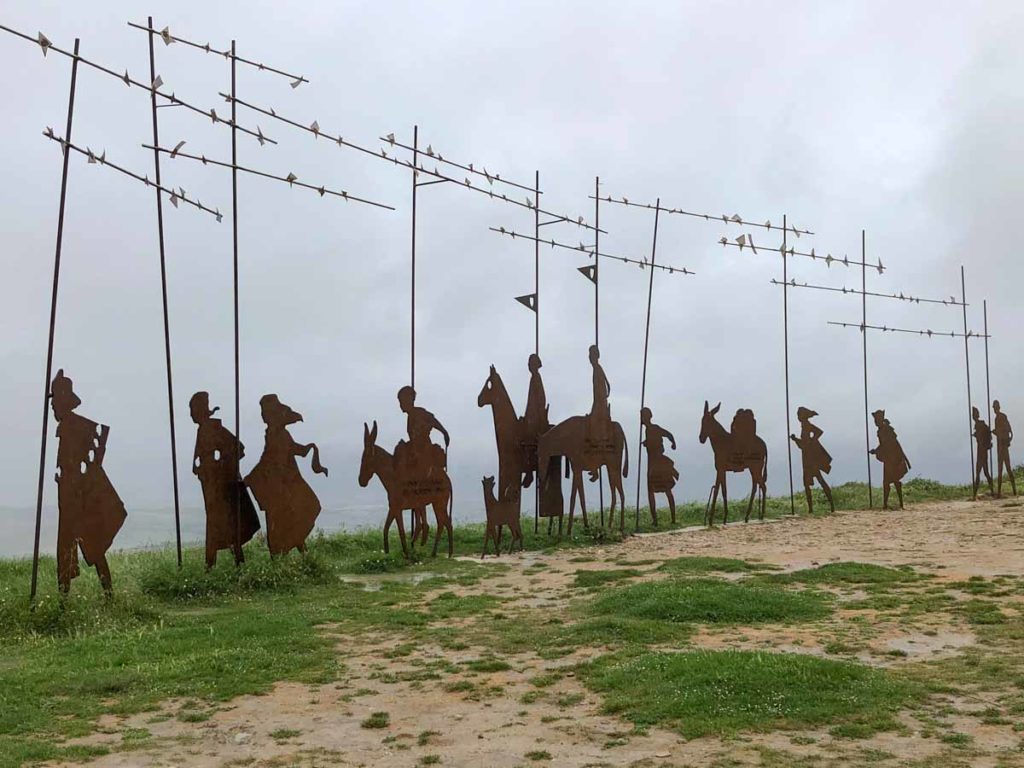 Camino Francés Waymarking
The route is extremely well marked with painted yellow arrows, trail bollards, plaques and signposts, the latter usually with stylized scallop shell symbols. As long as you are paying attention, it's hard to get profoundly lost on any of the major Camino routes.
If you want backup, we recommend downloading a Camino app. There are several with excellent maps that you can download for offline use. The physical guidebooks also provide mapping.
Terrain on the Camino Francés
The terrain is quite varied beginning with the ascent/descent through the Pyrenees, then passing through the rich vineyards of La Rioja, the vast flat Meseta between Burgos and León, then into the Montes de León before crossing the high pass of O'Cebreiro into the province of Galicia.
Expect farmlands, woods, mountain passes, small villages and large cities. Underfoot you'll find a mix of dirt trails, gravel farm roads, sidewalks and paved roads.
When to Do the Camino Francés
The route can be traversed at all times of the year and there are at least minimal services available year-round. There are two routes across the Pyrenees to Roncesvalles: The Napoleon (high) and Valcarlos (low). The Napoleon route is closed from November 1st to March 31st. You're likely to see snow in the winter months and early spring in the Pyrenees, the Montes de Oca (east of Burgos), the Montes de León, and in Galicia.
You will find full services from April into early November. The most popular months are mid-June to mid-September, which is also when it's hotter.
Accommodation on the Camino Francés
Among all the routes, the Camino Francés has without question the most highly-developed infrastructure with plentiful sleeping accommodations of all types— pilgrim albergues, hostales, small hotels and several high-end hotels in the Spanish government's Paradores system.
That said, because the Francés is popular, if you go during the busy months, it can sometimes be a challenge to find lodging. You can avoid issues by using one of the following three strategies:
Call or WhatsApp message ahead. The day before or the day of usually works fine. Many private albergues will hold a bed on your word.
Use municipal albergues. They do not accept reservations, which means that they don't fill up right away. And they'll usually work hard to try to help you.
Stay off stage. Many pilgrims stick to the recommended stages in the guidebooks. This causes predictable choke points on the trail. If you walk a bit less (or farther) and stay off-stage, you'll usually avoid a "bed race."
Food & Drink on the Camino Francés
Food options are plentiful and facilities are only rarely farther than 10 kilometers (six miles) apart.
Camino Francés Guidebooks
Preparing for the Camino Francés (pdf) by longtime Camino luminary Johnnie Walker. Download this special edition created especially for our members and friends.
There are numerous guidebooks on the Camino Francés that range from practical planning guides to personal accounts. Check out our guidebook page for an exhaustive list.
More Camino Resources
Request your pilgrim credential from us in advance of your Camino.
Explore other Camino routes.
Be sure to check out our FAQs on planning your Camino and what to expect while on the trail. If you want some inspiration, check out our list of books, movies and podcasts which feature folks sharing their experiences.
If you have more questions, be sure to join a local American Pilgrims chapter or join us in our Facebook group.
---
Rev 4/07/2023