Camino Route Overviews: Camino del Norte
Are you considering the Camino del Norte? This route overview for the popular Camino del Norte will give you some information on where it starts (and ends), routing options, distances, key towns, when to go and some tips on how to get there.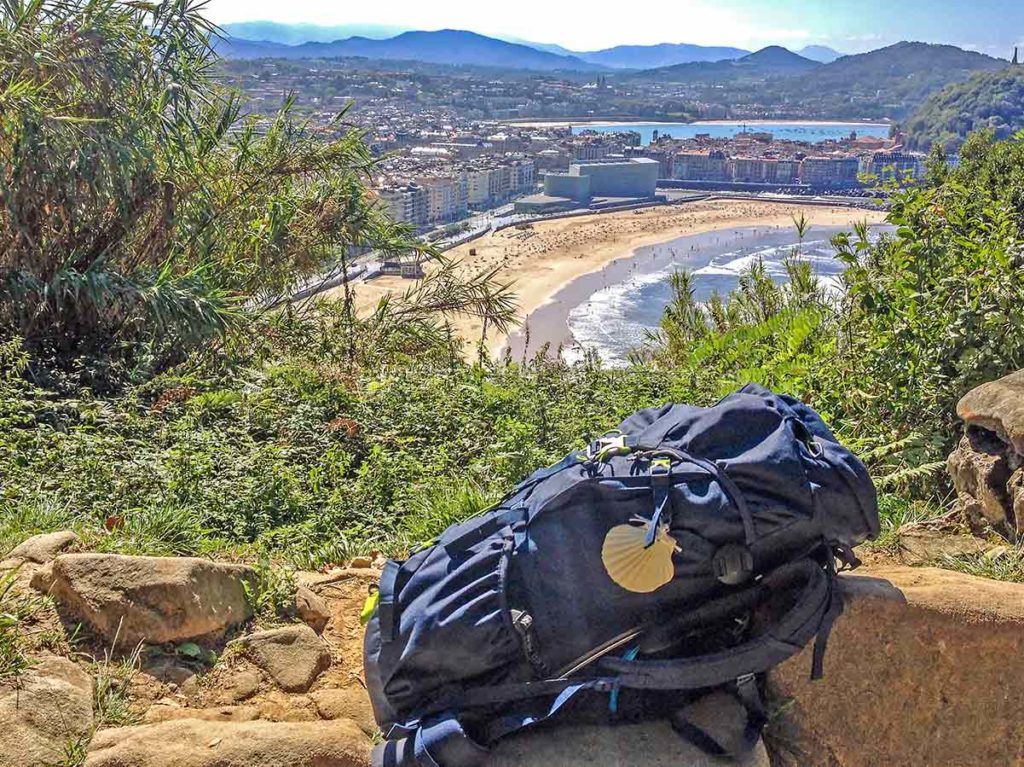 About the Camino de Norte
The Camino del Norte (also known as la Ruta de la Costa, the Coastal Route, or the Norte), runs 825 kilometers along some of Spain's most dramatic coastline. The route originated when Muslim occupation of Spain extended northward sufficiently to threaten the traditional Francés route.
The route starts in Irun, which is on the French-Spanish border. It then travels through the coastal towns of San Sebastían (Donostia), Bilbao, Santander, Gijón, and Ribadeo before turning southwest away from the coast. The Norte then transits Mondoñedo to Arzúa, where it joins the Camino Francés and continues to Santiago de Compostela.
While there are a number of historic sites along the route, many pilgrims choose it for the natural beauty.
Interesting Things to Do Along the Norte
The Peace Museum in Guernica offers information on Basque history and culture. Bilbao offers up the stunning Guggenheim museum and an old town with a strong pintxos scene (they're good in San Sebastian, too). The Vizcaya Bridge just west of Bilbao is a UNESCO heritage site. It's worth visiting the rare hexagonal San Miguel church near Markina-Xemein. And there are many lovely coastal towns . . . like Llanes and Santilliana del Mar.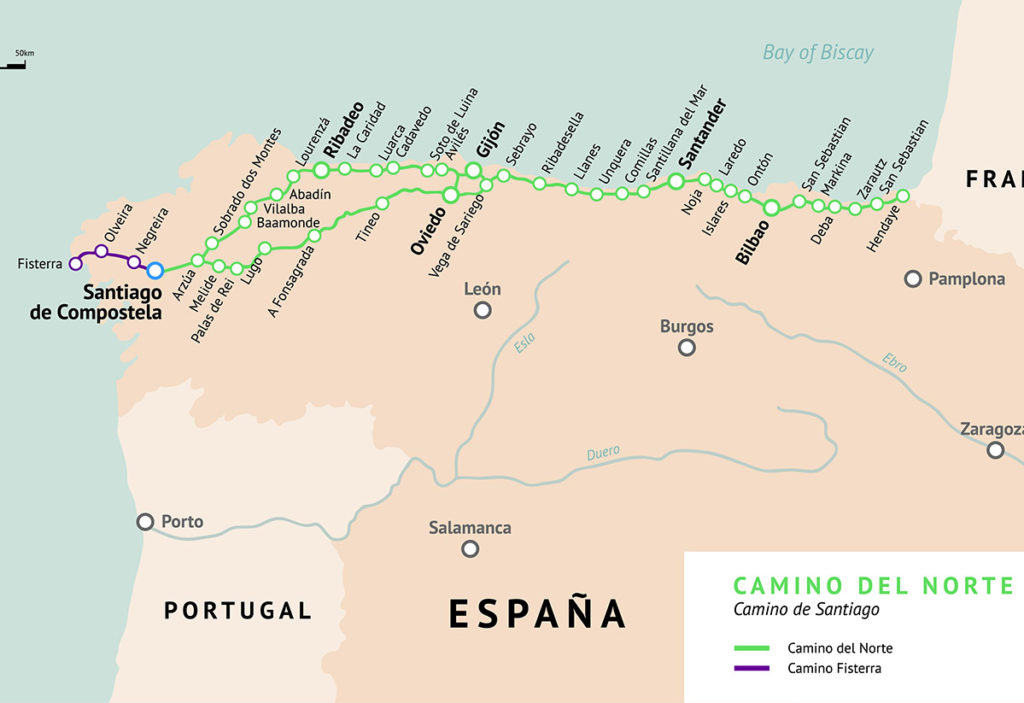 Popular Starting Points on the Norte
The traditional starting point for the Norte is in Irún, which sits right on the border with France. Gronze places the starting point 45 kilometers further east in Bayonne. Some pilgrims choose to start in Donostia-San Sebastían, Bilbao or Santander. All of them offer good transportation access.
From Irún, the Norte is typically completed in 34-42 stages. Here are some distances and stages for the various starting points:
Bayonne: 897 kilometers, 35-44 days
Irún: 853 kilometers, 34-42 days
San Sebastían: 826 kilometers, 33-41 days
Bilbao: 699 kilometers, 28-35 days
Santander: 572 kilometers, 23-29 days
How to Get Onto the Norte
To start in Bayonne, there is an airport in nearby Biarritz. It's well-served by major Northern European cities, but you can't get there from Spanish airports. From Spain, you could use the San Sebastían airport and take a train to the starting point.
The quickest way to get to Irún is to fly to San Sebastían (the airport is actually in Irún). Flights connect from international gateways such as Madrid, London, and Barcelona. You can also catch a train or bus from Madrid, Barcelona or Bayonne, France.
If you want to start in Bilbao or Santander, each city has its own airport and they are both well-served from all over Europe. And, like Irún, they're also well-served by bus and train service.
Routing Alternatives
Many pilgrims choose to mix the Norte with the Camino Primitivo. To do so, you'll head south at Villaviciosa (which is before Gijón) to Oviedo. Use our Camino Primitivo route guide for more info.
A lesser-known option is to stay on the coast after Ribadeo and walk to Ferrol. This section is called the Ruta del Mar. After Ferrol, you can take the Inglés route south to Santiago. You can use our Camino Inglés guide for more detail. Finding info for the Ruta del Mar is more difficult, but this thread on the Camino.me community provides a good overview.
Camino del Norte Waymarking
The Confraternity of Saint James says that- "Overall it is very good, especially in Galicia and the Basque country, but occasionally confusing in Cantabria and Asturias. Alternative routes for cyclists are often marked as 'bici'. On some coastal sections, the usual yellow arrows may be found alongside the red and white bars of a GR Route (Sendero de Gran Recorrido). Some areas are very good and include the ceramic EEC type scallop shell on a small concrete post."
Terrain on the Coastal Route
The Camino del Norte has many ascents and descents as it crosses the rivers that drain northward toward the northern Spanish coast. All of this makes the Norte more difficult than some of the other Camino routes. Although there are often impressive views of the sea, in many places the route is not within sight of the water. The route has more sidewalk and pavement walking than some of the other routes, but the portion of the Camino del Norte in Galicia is very tranquil.
When to do the Camino del Norte
Along the coast, it's unusual to encounter the fiercely hot summer conditions you would likely find on the Meseta section of the Francés. Rather, you should expect cooler, occasionally wet weather. The low(er) season for rain is May-October.
Accommodations
Unlike on the Francés, where there can be multiple albergues in a small-ish town, on the Norte you are more likely to find one albergue and a mix of other lodging choices. There are plenty of places to stay, and even plenty of hostels, but they may not be specifically serving pilgrims.
Do your research in the guidebooks and apps before you go and plan to spend a bit more on lodging than you might on some of the other routes. And consider booking ahead in the beach towns if you are traveling during the high summer vacation season.
Camino del Norte Guidebooks
There are numerous guidebooks on the Camino del Norte, ranging from practical planning guides to personal accounts. Check out our guidebook page for an exhaustive list.
The Galician Xunta (government) has good resources for albergues in that region for the Galician sections of the Norte. The regional border is at Ribideo.
More Camino Resources
Get your pilgrim credential from us in advance of your Camino.
Explore other Camino routes.
Be sure to check out our FAQs on planning your Camino and what to expect while on the trail. If you want some inspiration, check out our list of books, movies and podcasts which feature folks sharing their experiences.
If you have more questions, be sure to join a local American Pilgrims chapter or join us in the Facebook group.
---
Rev 04/07/2023