Are you planning to do the Camino de Santiago? Congratulations! Part of our mission is to provide information that helps pilgrims find inspiration, plan and execute their pilgrimage.
The purpose of this page is to help you plan your Camino. Below you'll find information to help you choose a route, expectations around timing and distances, guidebook options, guidance on training and how to obtain your pilgrim credential.
Once you've planned your route and timing, be sure to check out our "what to expect on the Camino" FAQ. That page covers topics like what to pack, how accommodations work, getting mobile access, food and other on-the-ground info.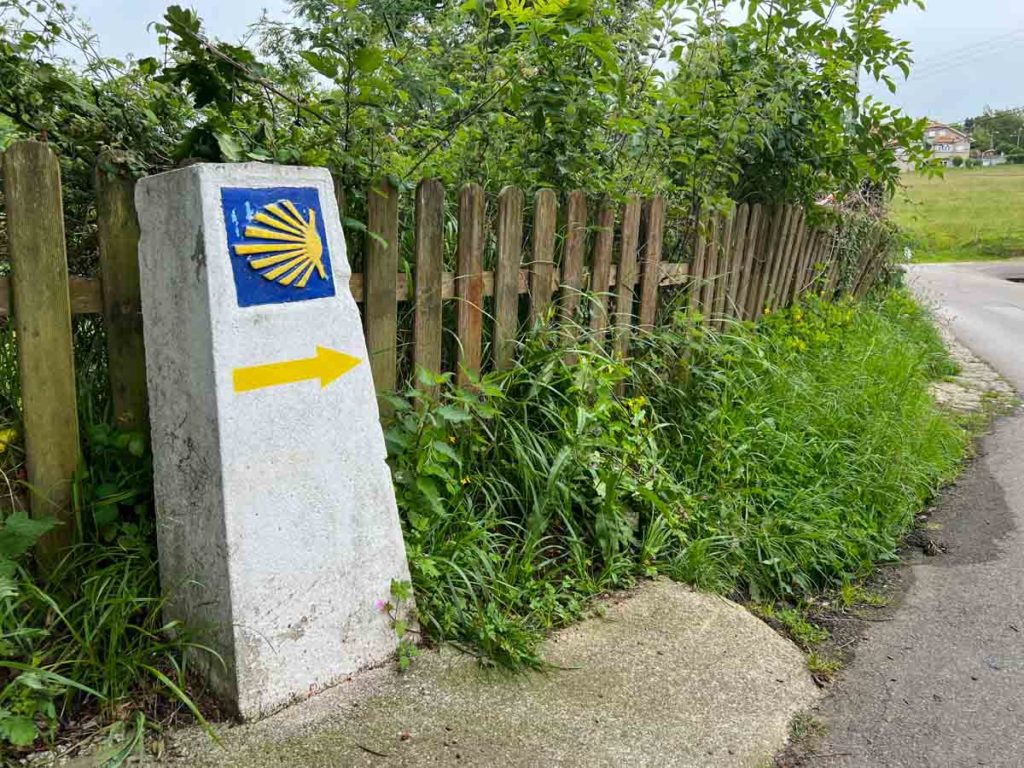 Camino Planning Table of Contents
Here's your FAQ on how to plan your Camino:
About the Camino de Santiago
What is the Camino de Santiago?
The Camino de Santiago (the Way of St. James) is a large network of ancient pilgrim routes stretching across Europe and coming together at the tomb of St. James (or Santiago in Spanish) in Santiago de Compostela. Santiago de Compostela is located in the region of Galicia, in northwestern Spain.
If you'd like more history on this thousand-year-old pilgrimage route, check out our history page.
How Many People Walk the Camino Every Year?
In 2019, 347,578 people received a Compostela. Both 2020 and 2021 were unusual years for the Camino due to COVID-19. Due to the pandemic, the 2021 Holy Year was extended through December 31, 2022. The extended Holy Year brought the highest number of pilgrims ever to Santiago de Compostela. A record 438,182 Compostelas were issued by the Pilgrim's Office!
These numbers don't include people who arrive in Santiago but don't request a Compostela, nor people who walk various parts of the Camino and never arrive in Santiago at all. The total number might be double those cited.
Is there more than one Camino de Santiago?
The Camino Francés is the most traveled route but there are additional routes throughout Spain and all of Europe. Historically, pilgrims walked out their front door and walked until they reached Santiago and then walked home.
How Do I Choose a Route for the Camino?
The most popular route by far is the Camino Francés, particularly for first-time pilgrims. But there is a constellation of routes that end in Santiago. We have loads of information on starting/ending points and distances for all of the major (and even some of the lesser-known) Camino routes.
Your starting and ending points on your selected route will depend on your answers to three principal questions:
How long do you have to walk?
This question matters only if you have a set amount of time for walking. If you want to do a full route in that time, you'll need to choose one of the appropriate distance. Keep in mind any of the routes to Santiago can be done in sections over time (even over several years).
Is it important for you to arrive in Santiago?
For many pilgrims arriving in Santiago is an important part of their spiritual and physical journey. If this is the case for you, then choose a route that will end there. Determine how many days you have for walking and work backward from Santiago to determine your starting point.
Do You wish to receive a Compostela?
If so, you'll need to walk at least the last 100 kilometers to Santiago and receive two sellos (stamps) each day. Routes fitting this description are the Inglés (from Ferrol), the Primitivo (from Lugo), the Francés (from Sarria), the Norte (from Baamonde), and the Portgués (from Tui).
I Only Have So Much Time, How Far Can I Walk?
This is a difficult question to answer as it depends greatly upon your personal fitness and how much time you'd like to spend exploring the Camino's many cathedrals, museums and historical sites. You may also be affected by weather, or the pacing of the friends that you meet along the Way.
Most people walk between 20-30 kilometers (12.5-18.5 miles) per day. If you have two weeks on the ground, you should be able to cover 280-378 kilometers (174-234 miles). If you walk a longer route, such as the full 790-kilometer Camino Francés, you may want to plan for some rest days, or at least a few shorter days.
What is a Compostela?
The Compostela is a certificate provided by the Cathedral certifying completion of one's pilgrimage to Santiago de Compostela. For most pilgrims, it signifies more than that. It serves as a a symbol of their spirituality, devotion or personal growth and a reminder of their achievement.
The Cathedral has a few requirements:
You must make the pilgrimage for religious or spiritual reasons, or go with an attitude of seeking.
You must do the last 100 kilometers on foot or horseback or the last 200 kilometers by bike.
You must collect sellos (stamps) along the way in your credential. And for the last 100 kilometers, all pilgrims, regardless of starting point, need to collect two stamps per day.
What is a Credential?
While walking the Camino de Santiago, pilgrims carry a credential (credencial), a small document in which the pilgrim records his or her progress by obtaining stamps along the way. Sellos can be obtained from many sources including bars, cafes, hotels, town halls, museums and churches, and from all albergues and most other lodgings.
When registering at an albergue, you will be asked to present your credential to verify you are walking or cycling the Way. Upon arrival in Santiago de Compostela, you present your credential at the Pilgrim's Office. They'll confirm you've walked at least the last 100 kilometers or cycled at least the last 200 kilometers, which permits you to receive a Compostela.
Pilgrim credentials can be obtained before setting out on the Camino — from us, or from locations such as cathedrals, albergues and tourism offices along the various Camino routes.
Want to receive a personalized credential from American Pilgrims on the Camino? You can request one on our request a credential page. The credentials are free, but we appreciate donations.
What Time of Year Should I Go?
Spain has a moderate, Mediterranean climate, not unlike California. They typically have warm-to-hot summers and cool winters. The region of Galicia, where Santiago de Compostela is located, is known for its rainy weather year-round. Some of the higher elevations, particularly right out of St. Jean on the Camino Francés, get snow.
April through October are good times to do the Camino for the best weather and it's also when themost number of albergues are open. Mid-June to mid-September are the busiest times. If you like winter walking, be aware that you will have fewer lodging choices.
When you pack for the Camino, assume a mix of warm/hot days, cool mornings and at least some days with rain.
Can I Bike the Camino?
About 15% of pilgrims who arrive in Santiago do so by bicycle. Cyclists are eligible to receive a Compostela if they document they have ridden the final 200 kilometers to Santiago, essentially from Ponferrada on the Camino Francés. American Pilgrims recommends cyclists interested in the Francés consider early or late season travel, as the Francés is the most popular route and can be crowded with walking pilgrims. We strongly encourage cyclists to consider other routes, such as the Via de la Plata, during the busy season.
Check out our guide for cycling the Camino and we encourage you to join our American Pilgrims Cycling Facebook group.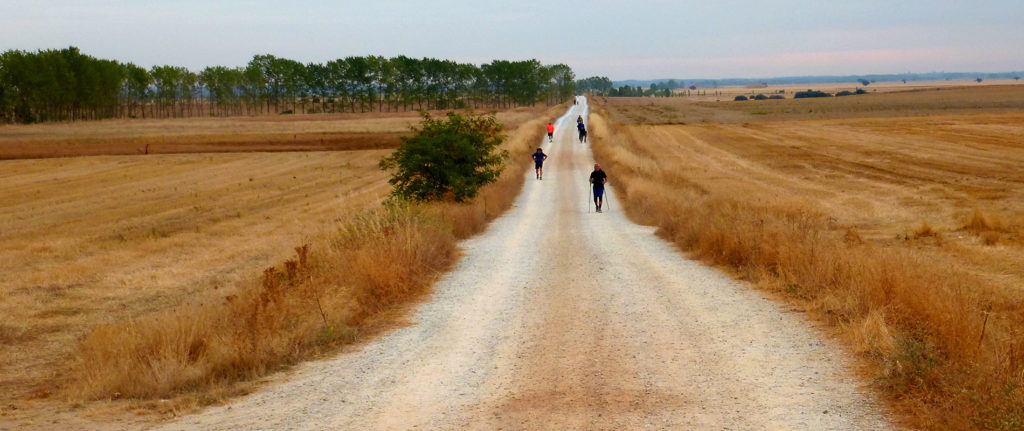 How Do I Train for the Camino?
You'll want to train so that your body is prepared to handle not just one 20-kilometer day, but day after day of hiking. Start by simply going out walking. You may want to try walking an hour or more several times during the week with a longer walk on the weekend.
We recommend you gradually increase your distances, doing long walks at least a few times a week. Closer to your Camino, take some some trial runs with your full backpack. This will help you get your core and shoulders acclimated to the weight of your backpack. This has the added benefit of helping you cull unnecessary items from your pack and lighten your pack's weight.
We strongly encourage you to join one of our more than 55 local chapters. Chapters organize local hikes and providing mentoring by experienced pilgrims who can answer your questions.
Do I Need a Guidebook or App?
The Camino de Santiago is very well signposted, especially on the more popular routes. You probably don't need a guidebook or app to keep you on the trail. But, they can have useful recommendations on how to pack, stages, accommodations, spotlighting historic or cultural sites, and spiritual resources.
We have an extensive list of options on our guidebooks page.
The Camino apps offer less cultural and historical context, but they do a good job providing offline maps, stage planning and accommodation listings.
How Do I Get to My Starting Location?
If you are coming from North America, plan for two days and multiple transfers to get to your starting point. Spain has a very good bus and train system as well as airports in many cities. Some combination of those will get you from the nearest international airport (such as Madrid, Barcelona, Paris or Porto) to your starting point.
Figure out the best routing for you using the Rome2Rio website, ask questions in our Facebook group, or at a local chapter meeting.
Do I Need a Visa?
Strictly speaking, U.S. citizens traveling to Europe do not need a visa – but there are some subtleties that U.S. citizens need to be aware of. Spain is part of the European Union and a member of the Schengen Area, which governs visa rules for all EU countries (and a few non-EU places). Your stay in the Schengen zone is limited to 90 days inside a rolling 180-day interval. Most visitors stay fewer than 90 days.
However, there is an important change coming. U.S. citizens traveling to Europe will soon need to apply for an ETIAS (European Travel Information and Authorization System) visa waiver which is a new travel authorization for Europe that will likely go into effect in November of 2023. An ETIAS is valid for three years and permits multiple entries, per the 90-day limit noted above. Here is more ETIAS information for Americans.
More Camino Planning Resources
For starters, be sure to join our American Pilgrims on the Camino Facebook group. You can search the group for specific questions and ask your own questions. Or find fascinating interviews on our YouTube channel.
If you are looking for Camino inspiration, please check out our list of Camino books, movies and podcasts.
---
Rev 04/08/2023