Annual Gathering of Pilgrims
---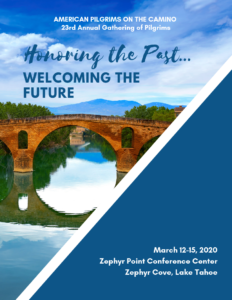 American Pilgrims on the Camino hosts an annual Gathering of Pilgrims in a different location each year.
The Gathering is an opportunity to share experiences, to support one another and to learn more about the Camino and pilgrimage experience.
Mark your calendars!
The 23rd Annual Gathering of Pilgrims
Honoring the Past… Welcoming the Future
Thursday, March 12 - Sunday, March 15, 2020
Zephyr Point Presbyterian Conference Center
Zephyr Cove (Lake Tahoe), Nevada
---
The Gathering will run from late afternoon Thursday through noon on Sunday. We're planning many interesting and helpful presentations on different routes, pilgrim first aid, history, a shell ceremony and singing of "Ultreia" for pilgrims walking their first Camino this year, movies and entertainment and of course, our popular silent auction and raffle. 
Registration will open mid-winter and details emailed to all members. Stay tuned.
Hope to see you there!
You can always email the Gatherings Chair for information about American Pilgrims annual Gatherings.
---
Average maximum and minimum temperatures for Lake Tahoe in March are about 45°F and 20°F. Lake Tahoe receives about 35" of snow in March. Pack your boots and warm clothes and plan accordingly. We'll supply plenty of the warm Camino spirit!
---
In April 2019, American Pilgrims on the Camino celebrated its 22nd Annual Gathering of Pilgrims at the YMCA Blue Ridge Assembly in Black Mountain, NC. Nearly 300 pilgrims came together for a memorable weekend spent "Cultivating Camino Connections."

---
Hospitalero Training by

American Pilgrims
As usual, the 2020 Gathering will be preceded by a hospitalero training session, Tuesday, March 10th through Thursday, March 12th. Registration will open for this session mid-winter. There are always other training opportunities throughout the year. See the Hospitaleros page for upcoming sessions.
Consider giving back to the Camino!. Those who have gone on from walking the Camino to serving as hospitaleros say that this experience often is even more rewarding than the walking Camino. For some insight into the sense of fulfillment, watch this interesting YouTube video about service with snippets of interviews with the late Don José María of San Juan de Ortega, Don Jesús Jato of the Ave Fenix albergue and the Confraternity's Marion Marples.
For more information, see our Hospitaleros page.
In addition to the training offered by American Pilgrims, weekend courses are offered in Canada several times each year. Our Canadian friends or anyone who cannot make it to training offered by American Pilgrims might consider this alternative. See the blog Canadian Hospitaleros for information.
---
Rev 04/23/19