Annual Gathering of Pilgrims
American Pilgrims on the Camino hosts an annual Gathering of Pilgrims in a different location each year.
The Gathering is an opportunity to share experiences, to support one another and learn more about the Camino and the pilgrimage experience.
We want to thank everyone who helped make the 26th Annual Gathering of Pilgrims possible!
Mark your calendars, pilgrims! 
The 27th Annual Gathering of Pilgrims will be held from Thursday, March 7 to Sunday, March 10, 2024 at Mo-Ranch Presbyterian Assembly in Hunt, TX (about 90 miles northwest of San Antonio). The theme of the next Gathering is Rhythms of the Way: Lighten Your Load. The planning team is already hard at work and it's sure to be another fantastic weekend. We look forward to seeing you at the 2024 Gathering of Pilgrims!
How do I register?
Registration will open in November 2023. More information will be posted here as it's available. Stay tuned!
Members of American Pilgrims receive advance notice and a $100 discount on registration fees. If you aren't a member, join or renew today to find out when registration opens!
What's included?
Full registration includes all plenary and breakout sessions, entertainment, receptions, three nights' lodging, and eight meals (Thursday dinner through Sunday breakfast). Commuter registration does not include lodging or breakfast but does include lunch and dinner. There's always a wonderful program planned with something for everyone!
What's it cost?
Costs for 2024 haven't yet been determined.
What are the accommodations?
Accommodations will be double occupancy (shared room). A same-sex roommate will be assigned if you do not have one at the time of registration. A limited number of single rooms (an additional cost) will be available for those who prefer not to have a roommate. Bedding and towels are provided; bring your own toiletries, PJs and hairdryer (if needed).
What's on the program?
Our program for 2024 includes presentations for everyone from first-time pilgrims to veterans with multiple Caminos logged. We're actively seeking speakers. If you or someone you know would be interested in speaking, please send an email to gatherings@americanpilgrims.org. Past speakers have included Lynn Talbot, Maryjane Dunn, George Greenia, Anne Born, Ann Sieben, Kathy Kehe, Adam Wells, Daniel De Kay, Sharenda Barlar, Martin Pena, and Shawn Norris. We hope have a walk to our own Cruz de Ferro and a reunion of the Merry Band of Pilgrims!
Follow this link to the 2023 program.
Silent Auction and Raffle
We plan to hold both a raffle and online silent auction again in 2024 and would appreciate your donations of items. All monies raised from the raffle and silent auction help fund our Camino programs, including our Grants, Ribadiso and Hospitalero Training programs. Check back for more information on how to donate an item to either the raffle or the auction.
Will there be a shirt or sweatshirt again in 2024?

Yes! We will have limited-edition 2024 Gathering t-shirts and long-sleeved t-shirts, and crewneck and hoodie sweatshirts available in a rainbow of colors. We're currently accepting designs for the 2024 sello/logo. If you'd like to submit a design, please contact gatherings@americanpilgrims.org for design specifications.
Still want to order a sweatshirt or t-shirt from the 2023 Gathering? Click on this link to Order a 2023 Gathering Shirt or Sweatshirt.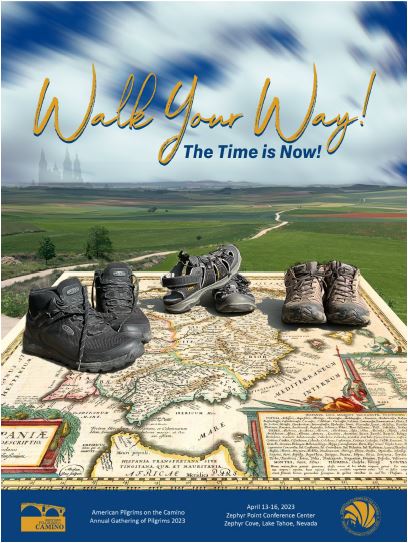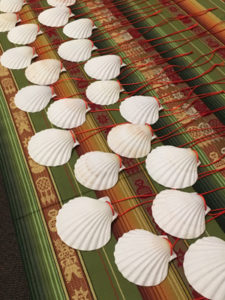 Hospitalero Training by

American Pilgrims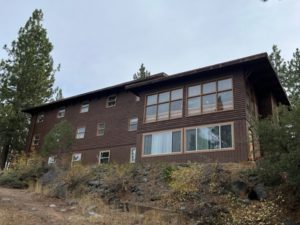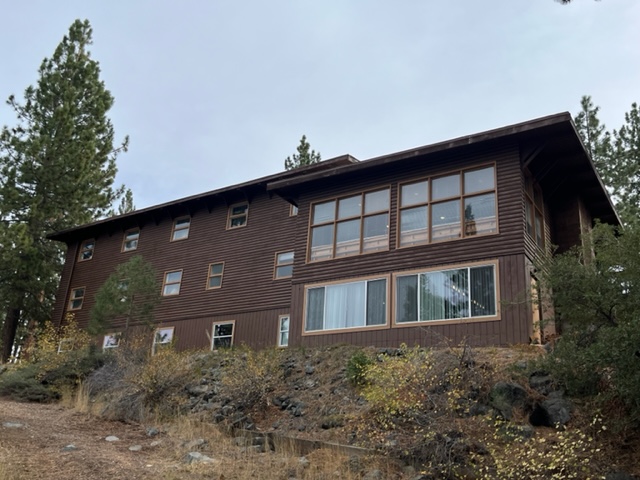 We will hold an hospitalero training session at Mo-Ranch immediately preceding the 2024 Gathering. 
There will be other training opportunities throughout the year. See the Hospitaleros page for more information on upcoming sessions.