Valley of the Sun Chapter
Contact Email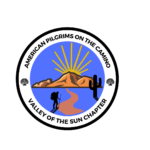 The Valley of the Sun Chapter of American Pilgrims covers the general area of central Arizona, centered on Phoenix.
The purpose of our local chapter is to keep members connected to the Camino and to introduce new people to it, by:
Supporting the goals of American Pilgrims on the Camino, and encouraging membership in the parent organization
Providing opportunities for pilgrims, past, present and future to gather and to hold events related to and promoting the Camino de Santiago
Mentoring future pilgrims
Serving as a local host for hospitalero training in central Arizona
Contact chapter coordinators Pruitt Layton, Kath Stoll and Tina Strickler at Phoenix@americanpilgrims.org for more information. You can also sign up for the chapter email list.
Follow this link to the Local Chapter video on the American Pilgrims YouTube channel.
---
Resources
2023
Click HERE for a PDF of the January 2023 chapter meeting.
Click HERE for a PDF of the Camino 101 Jan/Feb 2023 REI presentation.
Click HERE for a PDF of the March 2023 Camino 201 presentation
2022
Click HERE for a PDF of the January 2022 Camino 101 presentation.
Click HERE for a PDF of the February 2022 meeting presentation.
Click HERE for a PDF of the March 2022 Camino Portuguese.
2021
Online Resources
---
Events
The chapter will be hosting hikes, guest speakers, member presentations, pilgrim mentoring sessions, social get-togethers, and much more!
To see what we're doing, the best option is to join our mailing list and/or request to join our Facebook Group where you can check out the latest announcements. You can also visit the Local Chapter Events Calendar and select our chapter name in the "All Events Category" pull-down menu. This will filter to display only our chapter's events or just email us to find out what we're up to.
---
Are you interested in learning more about the Camino?
Consider joining the American Pilgrims on the Camino Facebook group for great dialogue, Q&A, photos, and a running commentary about the Camino from like-minded pilgrims.
Mentor Program
If you are thinking of walking the Camino and are interested in learning more, we can pair you with an experienced pilgrim who can answer your questions on how to prepare and what to expect. Just email us and ask to be connected with a mentor.