If you're looking for some Camino inspiration, be sure to check out some of the many feature films and videos about the Camino specifically and pilgrimage generally. Below you'll find some of the many films, documentaries and personal stories.
If you know of a feature film we should add to our list, please let us know! If you have YouTube videos you like, we are looking for the "best of the best."
We've also compiled a list of Camino guidebooks and another list that includes fiction and Camino memoirs.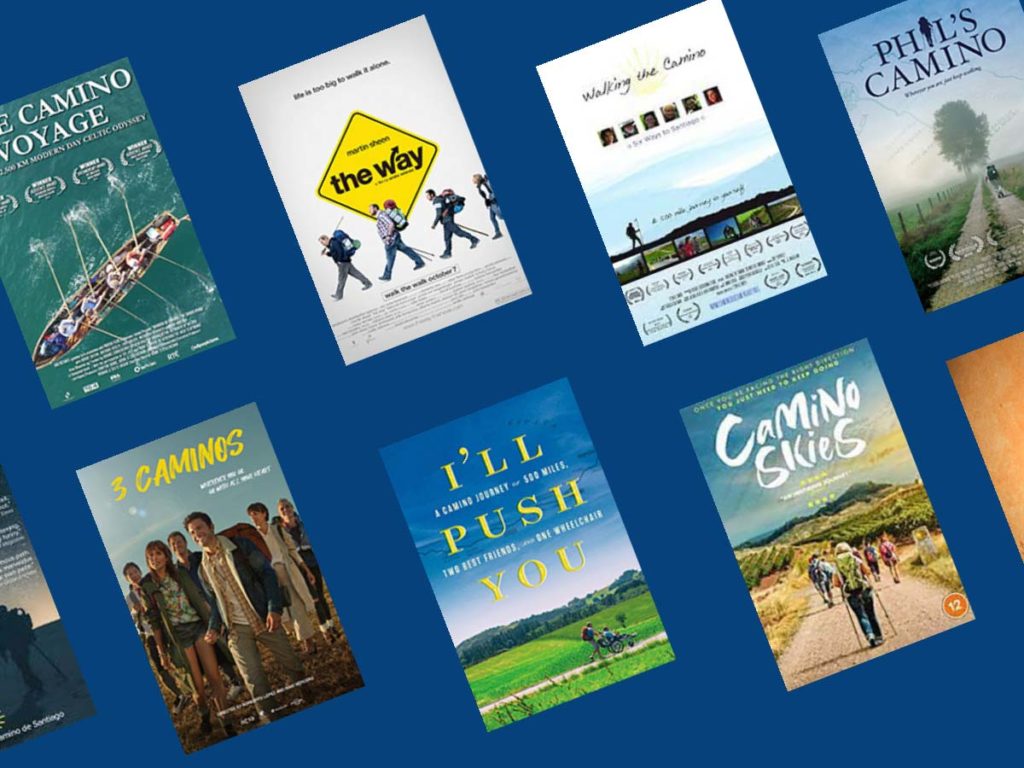 Feature Length Movies and Documentaries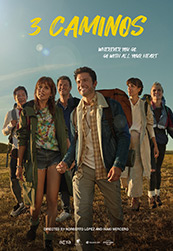 3 Caminos
2021, 8-episode series. Created by Alberto Macías, Carlos Molinero, and Juan Ramón Ruiz de Somavía.
This fictional series follows a group of five pilgrims on their journeys in 2000, 2006 and 2021 (as they age from their 20s to their 40s). All of them experience friendship and loss, jealousy and love, courage and despair, forgiveness, bliss and finding their own personal purpose in life. More at IMDB.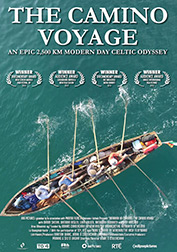 The Camino Voyage
2018, 1 h 34min, Documentary. Director: Donal O'Ceilleachair
An Irish crew including a writer, two musicians, an artist and a stonemason embark on the Camino by sea, in a traditional Irish rowboat that they built themselves. It's an inspiring, musical and dangerous, 2,500-kilometer modern-day Celtic odyssey all the way from Ireland to Northern Spain. More at IMDB.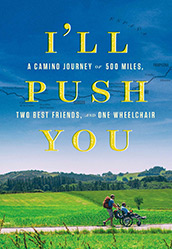 I'll Push You
2017, 1h 40min, Documentary. Directors: Chris Karcher and Terry Parish.
Friendship takes on new meaning in this true story of Justin and Patrick, born less than two days apart in the same hospital and best friends their whole lives. When Justin was diagnosed with a neuromuscular disease that robbed him of the use of his arms and legs, Patrick was there. Determined to live life to the fullest, the friends refused to give into despair or let physical limitations control what was possible for Justin.
When Justin heard about the Camino de Santiago, he wondered aloud to Patrick whether the two of them could ever do it. Patrick's immediate response was: "I'll push you." The movie covers the journey of these two friends, their grit, their grace and what it means to overcome limitations.
Learn more about their journey and the wheelchair-accessible trips they now lead on the Camino – Illpushyou.com. More at IMDB.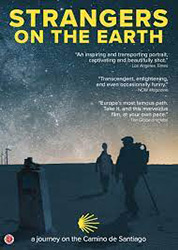 Strangers on the Earth
2017, 1h 30min, Documentary, Director: Tristan Cook.
Scores of pilgrims follow an ancient path in search of meaning and personal truth. One carries a cello, unraveling his relationship with music through performances of Bach. A tapestry of pilgrim narratives, Strangers on the Earth explores the physical, social and spiritual aspects of pilgrimage along the Camino. More at IMDB.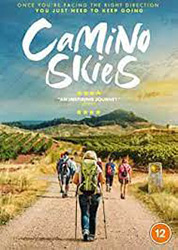 Camino Skies
2019, 1h 20min, Documentary. Directors: Fergus Grady and Noel Smyth.
Camino Skies documents the journey of six pilgrims from New Zealand and Australia who embark on the historic 800-kilometer Spanish pilgrimage. Camino Skies is an uplifting film about learning to live with grief. In the face of overwhelming odds, the Camino forces the group to defy their age and physical ability as they each come to terms with recent loss.
Heart-breaking and inspirational, Camino Skies is a story about everyday people doing the extraordinary. More at Caminoskies.com and at IMDB.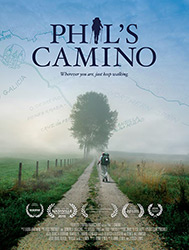 Phil's Camino
2016. 26min. Documentary. Director: Annie O'Neil.
O'Neil was a participant in the Six Ways to Santiago documentary (noted below) and when she heard of and met Phil, she wanted to document his journey. The film is an affecting short documentary about free-spirited Phil. He has Stage 4 cancer, but he really wants to walk the Camino de Santiago. Told he shouldn't, Phil builds his own Camino in the forest behind his home and ends up walking the same distance (about 500 miles).
You can access the film through Vimeo at PhilsCamino.com. You'll have the option to watch the shorter version of the film or the 55-minute Phil's Camino: So Far, So Good version from 2018. Trust us, go for the longer one. More at IMDB.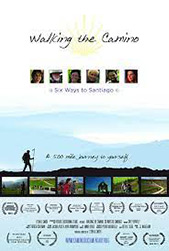 Walking the Camino: Six Ways to Santiago
2013, 1h 24min, Adventure, Documentary. Director and producer: Lydia Smith.
Walking the Camino: Six Ways to Santiago follows various pilgrims, from ages three to 73, as they attempt to walk the Camino with only a backpack, a pair of boots and an open mind. Driven by an inexplicable calling and a grand sense of adventure, each pilgrim commits heart and soul to the physical trek to Santiago, and most importantly, to their personal journey to themselves.
Whatever their motivation, no one can predict just how their paths will unfold, what personal demons or angels they will face or what transformations they will undergo by trail's end. Called "A brilliant documentary" by Martin Sheen. More info at Caminodocumentary.org. More at IMDB.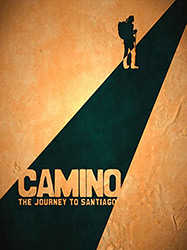 Camino: The Journey to Santiago
2012, 15min, Documentary, Adventure. Directors: Matthew Nothelfer and Alicia Wszelaki.
Described as "an impressionistic film that presents a casual narrative of the Spanish pilgrimage, and what it is like during its modern revival. If you've traveled the Camino Francés, or if you plan to explore the Way of St. James, this documentary short offers all pilgrims inspiration and encouragement." More at IMDB.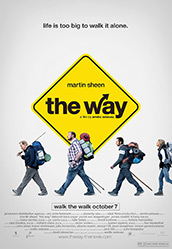 The Way
2010, 2h 3min, Adventure, Comedy, Drama. Director: Emilio Estevez.
Tom heads overseas to recover the body of his estranged son Daniel, who died while traveling the Camino de Santiago. At the last minute, Tom decides to walk the pilgrimage himself and finish what Daniel started. This is arguably the film that brought the Camino to the attention of many in the English-speaking world, contributing to the Camino's resurgence in popularity. More at IMDB.
YouTube and Vimeo Videos
American Pilgrims on the Camino YouTube Channel
Find videos of our National Events, speakers at our Annual Gathering, interviews with fascinating pilgrims and learn more about our local chapters, grants and the history of our organization. Find it on YouTube.
Planet Doc Camino de Santiago Documentary
A complete history of the entire Camino story filmed in 2015. It covers the history of the pilgrimages through to the recent state of the cathedral and Santiago. Find it on YouTube.
Timeline Documentary Series
A series of hour-long documentaries featuring pilgrimages to Canterbury Cathedral, Santiago and Rome, and Istanbul to the Holy Land.
Something Grand
2012, 26min, Documentary. Director: Matthew Anderson.
Matthew Anderson follows pilgrims setting out over the Pyrenees westward on the 800-kilometer trek from France toward Santiago de Compostela. Filmmaker Anderson simply asks them one question "Why are you doing this?" The answers – from soulful to skeptical – are as complex and colorful as the pilgrims themselves. Find it on Vimeo.
Looking for Infinity: El Camino
Looking For Infinity: El Camino is an emotionally-driven chronicle of a group of people all at turning points in their lives, relatable to anyone searching for their own path. Their physical journeys are accompanied by a completely original musical soundscape from Richard Melkonian, an award-winning London-based composer. Find it on YouTube.
The Camino Cafe Video and Podcast
Sharing Pilgrim stories about walking the Camino, sharing news about the Camino Frances along with all the other routes, and highlighting the sights of the beautiful destination city of Santiago de Compostela. Find it on YouTube.
Ivar from Santiago
Updates, predictions, statistics, current topics and Santiago walkabouts from the leader of the Camino Forum. Find Ivar on YouTube.
Johnnie Walker Santiago
Holiday greetings from Santiago, visual walks around Santiago and an archive of Camino stories. Find it on YouTube.
Sacred Music From Medieval Spain: The Llibre Vermell and The Cantigas de Santa Maria
A stunning 75-minute concert of the music of medieval Spain by the Musiciens de Saint Julien and the Maîtrise de Radio France (the choir school of Radio France).
The Llibre Vermell de Montserra ("Red Book of Montserrat") is a manuscript collection of devotional texts containing, among others, some late medieval songs. The 14th-century manuscript was compiled in and is still located at the monastery of Montserrat outside of Barcelona. The Cantigas de Santa Maria are 420 poems with musical notation, written in the medieval Galician-Portuguese language during the reign of Alfonso X of Castile El Sabio and often attributed to him.
Find it on YouTube.
Prepare for Your Camino
Go prepared and request your pilgrim credential from us before you depart.
---
Rev 04/07/2023