Walk to Galicia-Happy Xacobeo 2022!
No plans for New Year's Eve? Can't stay up late to welcome 2022? Want to start celebrating as early as you can on December 31st? Don't despair. You're cordially invited to join in the festivities in Plaza de la Quintana in Santiago de Compostela!
On Friday, December 31st, beginning at 12:15pm EST (6:15pm CET), tune in as the Asociacións de Amigos do Camiño de Santiago welcome the 2nd Xacobeo Year 2021-2022 with a video mapping show and performances by Carlos Nuñez and the Bagpipe Band of the province of Pontevedra.
You're invited to follow the 50-minute event live by connecting to the following link to access the broadcast: https://www.caminodesantiago.gal/es/feliz-xacobeo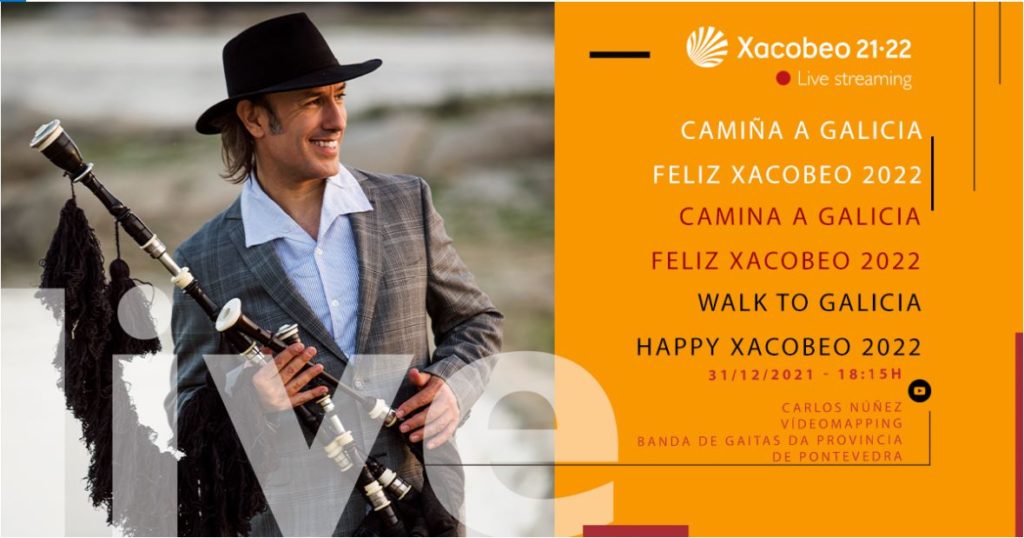 EVENT PROGRAM
(Note : Eastern Standard Time)
12:15pm Projection of the fragment of the video "COMIENZA EL XACOBEO 2021-2022" with a greeting to Galicia.
12:20pm Performance by Carlos Nuñez (3 pieces, 8 minutes, 40 seconds)
• Aninovo (with Xabier Díaz)
• Alborada de Veiga / Muiñeira de Chantada (with audio and video of Castrelos 2004 with the Chieftains)
• Aires de Pontevedra (with audio and video of the Obradoiro during the Xacobeo 2010 with the Chieftains and the Galician Symphony Orchestra)
12:30pm Video mapping show on the facade of the Holy Door.
• It will be based on a story about a pilgrim and his journey.
• The video mapping show will feature English subtitles.
12:38pm Performance of the Royal Band of Bagpipes of Pontevedra (3 pieces)
12:50pm End of event.