Welcome to La Concha, the quarterly publication of American Pilgrims on the Camino. You'll find interesting news about the national organization, activities that our chapters sponsor and updates about the Camino de Santiago. You'll also find member-submitted essays, photographs, art and poetry about their Camino experiences. We regularly publish book reviews, recipes and more. Each issue is emailed directly to members.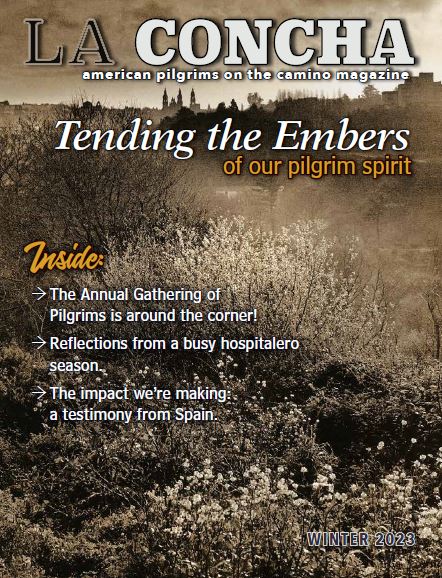 Like what you've read? Join American Pilgrims today and you'll receive new issues by email.
In 2023, our 26th year of gathering pilgrims together, we're focusing our La Concha themes on accessibility and inclusion on the Camino.
Our April 2023 issue's theme is Go Your Own Way . . . What makes a pilgrim?
In this issue, we will look at the varied ways (horseback, ship, bicycle, etc.) in which pilgrimages occur, with a special focus on how those with disability and mobility options navigate their Caminos. We will also run a feature that explores mainstream thoughts on "what defines" pilgrimage or constitutes a "pilgrim", with the goal of increasing our readers' tolerance of different mindsets on the matter.
Your contributions can take the form of:
Personal reflections, essays or poems,

Original artwork, 

Photographs, or

Personal interest stories on the events and people that have provided that spark you needed to deepen your engagement as a pilgrim.
Please limit essays to a maximum of 400 words.
The submission deadline for the Spring issue is Sunday, March 26, 2023.
Please use only our online submission form for your submissions and be sure to review our submission guidelines below before sending us your item. Click on the button above to submit your reflection or image.
La Concha includes as many submissions as possible in each issue, but we may defer some to future issues.
Members always receive direct email delivery of the latest issue. Please consider renewing or join and become a member today!
We are volunteer editors eager for your submissions to our publication. Please read these guidelines carefully to save yourself—and us—work:
What we accept:
1) Material from current members of American Pilgrims only. If you want to submit your work and your membership has lapsed, please renew.  Make sure you include your town/city and state of residence with your submission.
2) Work submitted via our online form as a Microsoft Word document. If you don't have access to Microsoft Word, please contact the editors by email for other options.
3) Articles with a 400-word maximum, with one exception: we may include one tightly written article of up to 800 words in each issue. If more than one submission meets that 800-word criteria, we will select one and hold others for future consideration.  
4) Links to a website or video with your submission only if these do not have commercial content.
5) Up to three photos with your article that follow these specifications. Please ensure that the photos are the correct size. We cannot run images that are too small.  
a) Format: 300 dpi, JPEG or TIFF image files. We cannot use PDF files or photos embedded in a Word document.
b) File sizes should be between 500 KB and 2 MB.
c) Photos should include the following information:
Photographer's name.

Photo location and date, even if you are only sure it was between places X and Y and, for example, in the spring of a certain year.

Identity of people in the photo (please specify "from left to right" or "from top to bottom"), unless it is a group photo. If that's the case, don't list all the names.
d) Photos that stand alone, without an accompanying article, are limited to two per submission. They must meet the size specifications listed above.
---
What we cannot accept:
Submissions that are promotions or advertisements.

More than two stand-alone photos in one submission.

Photos embedded in a Word document.

Submissions as PDF files.
If you have questions or feedback, please send an email to our editor.
Whether you are an oft-published author or will be seeing your writing and name in print for the first time, 
we want to hear from you!
Consider sharing
A poem, song or blessing reflecting a pilgrim's perspective

A special photograph or original artwork

A Camino recipe

A work of research or scholarly observation

A book, video or CD review

Camino-related activities in your part of the country

Money-saving tips and practical advice on packs, clothing or medical issues

Vignettes or nuggets of information, even if only a few sentences