In Memoriam: Gene McCullough
On behalf of the entire American Pilgrims team, it is with sadness we announce our community of pilgrims suffered a heartbreaking loss this past weekend.
Our colleague and friend Gene McCullough died on Sunday, September 5, 2021. He was doing what he loved—biking and exploring the neighborhoods of Denver, CO. At this time we do not know specifics about what happened; his family is still trying to sort out the circumstances of his death.
Gene had been active with American Pilgrims on the Camino since he and his wife Rosann attended the organization's 2006 National Gathering in Boulder, CO. After participating in the Gathering, Gene and Rosann jumped right into volunteering with us. They hand-processed our pilgrim credential requests until the requests grew in number to almost 7,000 requests a year. Even after it became automated Gene continued to be involved in the credential request process.
In addition to coordinating the credentialing process, Gene also helped build and maintain the American Pilgrims community at various levels of the organization. He and Rosann formed the Colorado Front Range Chapter of American Pilgrims on the Camino, and was the webmaster of the American Pilgrims website. He and Rosann also served as hospitaleros at Albergue Guacelmo in Rabanal del Camino several times, as well as at the Zamora Albergue and at the Pilgrims Office in Santiago. For their profound commitment to the pilgrim community, Gene and Rosann were awarded the American Pilgrims Lifetime Service Award at the National Gathering in 2017.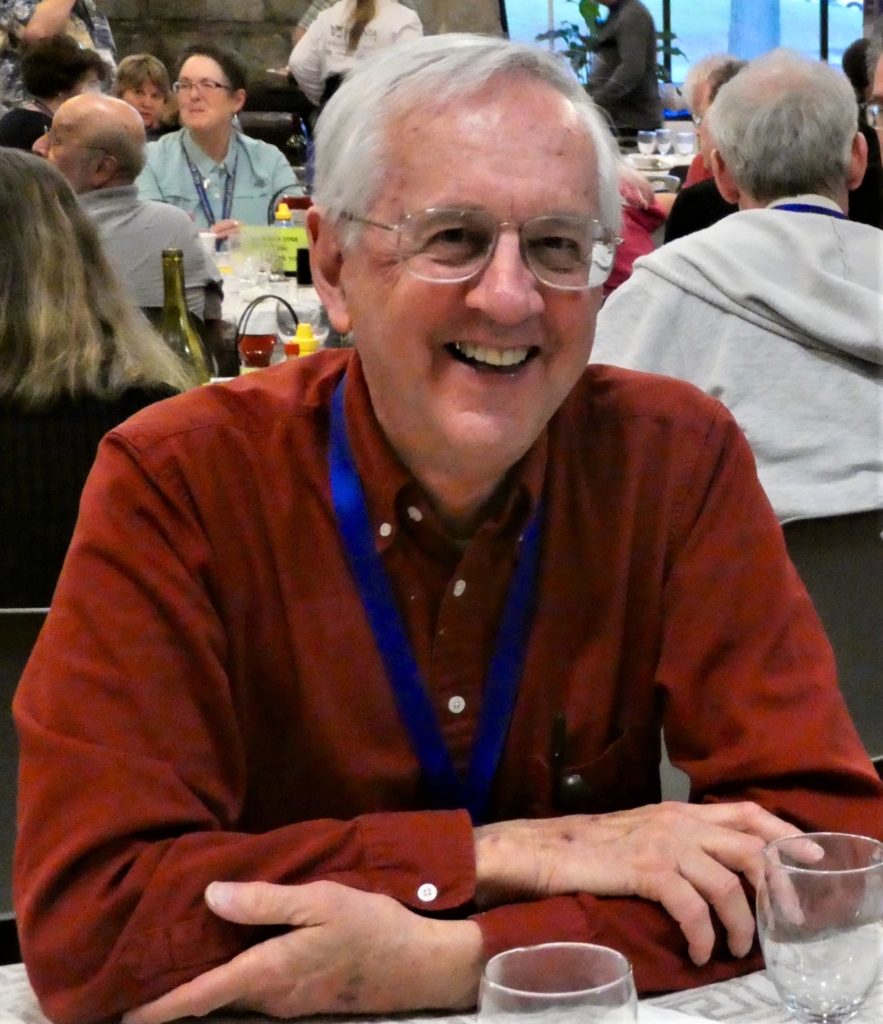 Many pilgrims associated with the Colorado Front Range Chapter also know Gene through all the wonderful things he has done for the chapter. Fellow chapter member Chris Petty describes Gene as "truly the heart and soul of our chapter, not to mention the brains and voice!" He loved to share his knowledge of the Camino with others and was passionate about coordinating chapter events such as the Spanish paella meal at his and Rosann's home, the formal Shell Ceremony the chapter held once a year, and the many informal Shell Ceremonies held on the chapter's hikes or St. James Day Picnic.
Beyond his commitments to American Pilgrims, Gene was also very involved in two other organizations. First, he served as a docent at the Denver Museum of Nature and Science (DMNS), where every week one could find him at the DMNS eagerly sharing his knowledge with visitors. Additionally, as an active member of St. Martin's Choir, Gene also developed a Camino performance.
Gene didn't really share his accomplishments—he was a humble and gentle person—a caring and gentle soul. He truly epitomized a pilgrim and hospitalero and will be missed by us all so very much.
At the request of Gene's family, memorial donations can be made in his name to: