Personal Accounts and Reflections

Alcorn, Susan (2006) Camino Chronicle: Walking to Santiago. Shepherd Canyon Books. ISBN-13: 978-0936034034. This award-winning book (Ben Franklin 2007 finalist for Best Travel Essay) takes readers along on the 500-mile Camino journey. A personal account interspersed with legends and historic info of the trail as well as essays on the food and culture.

Alcorn, Susan (2017) Healing Miles: Gifts from the Caminos Norte and Primitivo. Shepherd Canyon Books. ISBN-978-0936034065; Kindle ASIN: B0794XJ671. Although in part a guide for walking these two paths, Healing miles explores the experience and adventure of walking 750 miles across Spain on two important pilgrimage trails (the Norte and primitivo) while dealing with family health and aging issues both on the trail and back home.

Aviva, Elyn (2001) Following the Milky Way: A Pilgrimage on the Camino de Santiago. Pilgrims' Process. ISBN-13: 978-0971060906. Aviva's book is a vivid memoir of a life-changing adventure, chance encounters, unforeseen dangers, and unexpected pleasures. Spanish history, wine, food, literature, art, architecture, and legend share equal time with the stories of pilgrims that she meets along the way.

Bailey, Adam (2021) 

Where the Yellow Arrows Lead

. Independently published. ISBN-13: 979-8726176406 (paperback), 

ASIN :

B091FWLLWD (Kindle). Still looking for love in his thirties, a high school teacher asks God for some direction. He finds himself walking the Camino de Santiago, but the yellow arrows that mark the road aren't always as easy to follow as it appears. A lot can happen on a five-hundred-mile walk down the aisle on the way to get married.


Beahen, William (2012) Encounters on the Camino de Santiago: Natural, Human, and Divine. General Store Publishing House. ISBN-13: 978-1771230070. In 2008 author William Beahen reached a turning point in his life: retirement from a long, satisfying career, no clear idea of what the future would hold aside from a vague concept of wanting to help those of need in the community and, on the positive side, a pending marriage. On the suggestion of a friend he decided to walk the Camino and what took place over the thirty-two days of the journey led to a life transformation.

Blanchard, Jane V. (2012) Women of the Way: Embracing the Camino. CreateSpace. ISBN-13: 9781475247411, ASIN: B008G1VA2W. Ms. Blanchard takes you on her Camino and offers not only her viewpoint, but also the perspectives of other women travelers she meets along the way. She offers insight into the worries and concerns most of us would have if we were to trek along the same adventure. Ms. Blanchard has written a book that is part journal, part introspective narrative, part practical guide.

Boers, Arthur Paul (2007) The Way Is Made by Walking: A Pilgrimage along the Camino de Santiago. InterVarsity Press. ISBN-10: 0-830835075. Arthur Paul Boers opens to us his incredible story of renewed spirituality springing from an old, old path walked by millions before him. It is a story of learning to pray in new ways, embracing simplicity, forming community, living each day centered and focused, and of depending on God to provide.

Boorsma, Bas (2005) Dreaming Santiago: Perspectives on a Pilgrimage. Digitalis. ISBN-13: 978-9077713037. Bas describes typical Camino tales, reproduces his share of 'Camino baddies,' puts a scrutinizing focus on some of his fellow peregrino's, lets other pilgrims do the talking, describes what albergue dormitories do for you, and more. He also provides a personal perspective on what kind of seed is being sown when walking the ancient trail.

Burk, Julie and Neville Tencer (2010) An Italian Odyssey: One Couple's Culinary and Cultural Pilgrimage. Verdera Media. ISBN-978-0986588709. An Italian Odyssey is a story about a midlife couple who embarks on a great adventure—walking 1,000 km on the Via Francigena, an ancient, elusive medieval pilgrim trail through the heart of Italy. Their initial plan was to walk and eat their way through Italy using their own homemade guide and map books. But their adventure takes on a life of its own as they face unexpected challenges.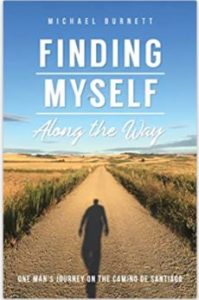 Burnett, Michael (2021) Finding Myself Along the Way:  One Man's Journey on the Camino de Santiago. Annecy Press. ISBN-978-1737817505. After finding the courage to upend a life of convention and security, author Michael Burnett leaves literally everything behind. At age fifty, he embarks on a voyage of self-discovery and adventure in his search to uncover what his life can be. You'll meet the people he encounters and learn how his connections with fellow pilgrims allow him to open up, both with others and himself.

Caanen, Leona Françoise (2021) On My Way: 800 Kilometres to Destination Self. Independently published. Paperback ISBN-13: 979-8502278607. Kindle ASIN: B0942PL26F. Meeting yourself anew can be daunting, but doing so while hiking 800 kilometres across Northern Spain can be life-changing. Aged 19, Leona grabbed her backpack and headed to St. Jean Pied-de-Port, in southern France, and commenced her 35-day trek. The road filled itself with beautiful nature and small towns, blisters and bruises, meaningful conversations with travellers from all over the world, and the endless opportunity of meeting oneself over and over again. Each moment of laughter, joy, doubt, frustration and perseverance leading not just to the grand arrival in Santiago de Compostela, but also to the revelation that you are the creator of your own life. Experience the Camino through the eyes of Leona. From making the decision to travel, to spending nights in rooms with strangers, to returning to life's daily rhythm. The Camino is not just about enjoying a fantastic travel experience, but about discovering your own path in life."

Camp, Sophronia (2002) A Pilgrim's Journal: Walking El Camino de Santiago. A memorable, personal account of the author's journey along the Camino de Santiago. Illustrations by Thyra Heder. Available at www.partnersvillagestore.com.

Camp, Sophronia (2008) A Pilgrim's Journal II: Walking la Vía de la Plata. An account of a 1,000-km pilgrimage from Sevilla to Santiago, following the Vía de la Plata, sometimes in the company of the odd pilgrim companion or family member, but often solo with the transitory company of pigs, sheep, goats and the occasional shepherd. The Chaucerian camaraderie of the Camino francés is replaced by solitary meditation, long, dry distances and a plunge into an interior experience. A lone, but never lonely trek, as different as it could possibly be from the francés, but every bit as rewarding. Illustrations by Henry McMahon. Contact www.partnersvillagestore.com.

Casatejada, José (2015) Vía Compostela, Des Monts du Velay to the Costa da Morte. Books On Demand. ISBN-13: 978-2322013050. Parti seul à pied du Puy-en-Velay jusqu'à Santiago de Compostela, puis au Cabo Fisterra en Galice, l'auteur raconte son Chemin de Saint-Jacques. D'étape en étape, il décrit : ses émotions, ses petits miracles du jour, sa solitude parfois, ses moments d'exaltation, ses doutes aussi, ses rencontres inopinées, son rendez-vous avec l'amitié, son arrivée devant la cathédrale mythique, son parcours jusqu'à la Costa da Morte, puis son retour. Sur la Via Podiensis, en France, et sur El Camino, en Espagne, ce chemin d'itinérance, tracé par les Hommes pour les Hommes depuis la nuit des temps, se déroule tantôt docile, parfois réfractaire, toujours merveilleux. Est-il magique à ce point que chacun deviendrait meilleur après l'avoir parcouru? Partant marcheur, en revient-on pèlerin? Légendes ou réalités? Ce récit ambitionne de raviver les souvenirs de celui qui a déjà marché jusqu'à Saint-Jacques, d'inviter celui qui a commencé le périple à le poursuivre jusqu'au bout, d'inciter celui qui ne l'a pas encore imaginé, à oser Compostelle. (French)

Cheney, Phil and Manuela (2015) Half a Million Steps: 

True Inspirational Stories from a Pilgrimage in Spain

. Advantage Publishing. ISBN-13: 978-1519398161. Half a Million Steps is a collection of true life stories taken from encounters along the Camino in 2015. Authors Phil and Manuela Cheney offer inspirational inspirational stories about people from 15 countries across the world sharing their humanity. The people who met for the first time on the trail share their own journeys both before and during their adventure into northern Spain. This is not a travelogue, but is a travel encounter with real people and spiritual synchronicity.
Chimenti, Wayne (2006) El Camino de Santiago: Rites of Passage. Trafford Publishing. ISBN-13: 978-1412056380. El Camino de Santiago: Rites of Passage is about the Chimenti family's travels on a 500-mile walking pilgrimage. It started as Nahja, their 12-year old daughter's "rite of passage". It turned out to be a test for everyone.
Christmas, Jane. (2007) What the Psychic Told the Pilgrim: A Midlife Misadventure on Spain's Camino de Santiago. Greystone Books. ISBN-13: 978-1553652403. To celebrate her 50th birthday and face the challenges of mid-life, Jane Christmas joins 14 women to hike the Camino. Despite a psychic's warning of catfights, death and a sexy, fair-haired man, Christmas soldiers on. After a week of squabbles, the group splinters and the real adventure begins. In witty style, she recounts her battles with loneliness, hallucinations of being joined by Steve Martin, as well as picturesque villages and even the fair-haired man.
Clem, Jim & Eleanor Clem (2004) Buen Camino: Hiking the Camino de Santiago. Pagefree Publishing. ISBN-13: 978-1589613423.
Codd, Kevin A. (2008) To the Field of Stars: A Pilgrim's Journey to Santiago de Compostela. Wm. B. Eerdmans Publishing Company. ISBN-13: 978-0802825926. Seeking to take stock of his life, Catholic priest Kevin Codd set out in July 2003 on a pilgrimage that would change his life. To the Field of Stars tells the story of his unusual spiritual and physical journey. Each brief chapter chronicling Codd's thirty-five-day trek is dedicated to one or two days on the road. The author shares tales of other pilgrims, his own changes of perspective and his challenges and triumphs along the way.

Cooper, Steve (2008) Six Months Walking the Wilds (Of Western Europe): The Long Way to Santiago. PublishAmerica. ISBN-13: 978-1451244052. Part comedy, part travelogue; part meditations on life, love and pasta. Six Months Walking is a journal of the author's two-thousand-mile walk through Italy, France and Spain, tracing routes leading to Santiago de Compostela. Six months of the author's twists, turns and trials mingle with the stories of his fellow peregrinos.

Cousineau, Phil (2000) The Art of Pilgrimage: The Seeker's Guide to Making Travel Sacred. Paperback ISBN-13: 978-1573245098. Cousineau's The Art of Pilgrimage is directed toward the modern-day pilgrim looking for inspiration and a few spiritual tools for the road combining as it does stories, myths, parables and quotes from famous travelers of the past to help them focus on the purpose and intention at every stage of their journey.

Cowels, Ashlee (2019) 

Wisdom for the Way: A Camino de Santiago Guidebook for the Pilgrim's Soul

. Independently published. ASIN: B07N6C2R1Y (Kindle e-book). It helps to have a practical guidebook with maps and places to stay along the way, but what about the person in search of a transformational experience? What's the best guide for the pilgrim's soul? Wisdom for the Way calls itself is a "soul guide" that will help you understand your pilgrimage as a Hero's Journey. Wisdom for the Way offers introspective tools you'll need to go deeper while walking The Way.

Day, Christy (2016) 

Walking from Here to There: Finding My Way on El Camino

. Seacoast Press. ISBN-13 978-0997861280. This book is equal parts reflection, part factual account of the challenges and joys of the Pilgrimage, and part practical advice for preparing for it and making it the best experience possible. If you like first-person accounts full of facts and reflection, you will like Walking from Here to There.

 Dennett, Laurie (2019) 

A Hug for the Apostle: 

On Foot

from

Chartres

to

Santiago

de

Compostela

. Words Indeed Publishing. ISBN-13 978-1989243015. A Hug for the Apostle is the 1987 memoir by Laurie Dunnett of her solo pilgrimage for MS from Chartres to Santiago de Compostela. When it was originally published, h

er account was noted for its direct style, cultural and historical insights, and depiction of the hospitality, kindnesses and simple pleasures of life on the Camino. This 2019 edition an updated, lightly revised, lavishly illustrated version of the 1987 original.
Inspired by the book, publisher John Parry and designer Anne Vellone have 
savored
  through Laurie's account, the Camino's joys, adventures, happenstances and abundant treasures. Whether you've walked the route or not, these evocative words and images will take you there.

Drane, Jonathan (2007) The Way of a Thousand Arrows. Greenshoot Investments. ISBN-13 978-0980424706. An Australian family's journey along the Camino de Santiago. With no plan and just thousands of arrows to show the way, the family learns about life and the strange and mystical lessons of the Camino. The lessons as seen through the eyes of a modern family, all members of the human race, the same race that walked the path centuries earlier.
Dryden, Iian (2016) Camino Voices. Beret Books. ISBN-13: 978-0993486708. Author and illustrator has matched sketches of the Camino with the words of hundreds whom he encountered along the Way. Available through the author's website.
Egan, Kerry (2006) Fumbling: A Pilgrimage Tale of Love, Grief, and Spiritual Renewal on the Camino de Santiago. Broadway. ISBN-13: 978-0385507660.

Ennor, Evelyn (2002) Holding Hands with the World: My Personal Pilgrimage along the Camino de Santiago. E-book. Author Evelyn Ennor has written a light, easy read, a charming and inspirational narrative about people and places, interwoven with personal insights about the journey of life, about lending a helping hand, keeping our minds and hearts clear, about passion, about healing and moving forward, about the power of the present moment and spirit. Free electronic copy is available HERE. 

Fainberg, Denise (2015) Walking Through Sunflowers: Through Deepest France On the Road to Compostela. Lulu Publishing. ISBN-13: 978-1312971974 paperback. ASIN: B00VQLHXJS Kindle. ePub through lulu.com. Teacher and travel writer Denise Fainberg and companion Patrick Roberts undertook to walk one of the ancient pilgrimage routes running across France toward Santiago. Their path led from the Auvergne to the limestone plateaus and river valleys of Quercy; to jewels of Romanesque architecture at the many traditional shrines along the way; through the vineyards and farmland of Aquitaine; and over the Pyrenees into Spain. The parade of modern pilgrims, the thousand-year history of the path and its artistic and spiritual heritage combine with the seductive environment of southern France to leave an impression on body and soul.

Fellner, Horst D. (2011) He and I We Arrived: The interior aspect of my spiritual pilgrimage has come to its conclusion (Volume 1). CreateSpace. Paperback ISBN-13: 978-1456340544. Two broke and burnt-out humans, two horses and a dog set out from Le Puy-en-Velay to follow the 1600 kilometers of the Camino to Santiago de Compostela. The author simply says, "The interior aspect of my spiritual pilgrimage - walking the Camino de Santiago de Compostela, the old pilgrimage route, also known in English as The Way of St James - has come to its conclusion. I am at peace about the remainder of my life-journey."

France, Robert Lawrence. (2014) Along the Way: Pilgrimage Scenes from the Camino Francés to Santiago de Compostela. Libri Publishing. ISBN-13: 978978-1907471278. Along the Way is unique among contemporary Camino publications in that it is part travelogue, part literary review and part cultural commentary. Readers can follow Robert France's own pilgrimage through succinct excerpts from his journal that are accompanied by numerous photographs. The book also provides the first interpretation of the prevalent themes—adventure, joy, contact and contemplation—covered in the published literature of modern Camino accounts. Finally, the book undertakes the first illumination of the modern cultural phenomena of the Camino.

France, Robert, ed. (2007) Ultreia! Onward! Progress of the Pilgrim. Green Frigate Books. ISBN-13: 978-0-971746855. Spiritual pilgrims navigating the Camino de Santiago are offered motivational support in this compilation of passages culled from contemporary pilgrims' travel diaries. Sequentially arranged and meant to be read during specific points of each day's journey, the more than 200 entries provide an emotional boost for those traversing the European path but are equally enjoyable for those unable to travel, as they extol the beauty of the French and Spanish countryside and provide a perfect introduction to the process of religious pilgrimage in a modern, secular world.

Gabarain, Antxon (Bolitx) González (Rebekah Scott, trans.) (2017). The Great Westward Walk: From the Front Door to the End of the Earth. Publisher: Antonio Maria González Saragüeta. ISBN-13: 978-8461792870. The Great Westward Walk is the long-awaited English translation of El Gran Caminante, the best-selling contemporary Spanish narrative of the Camino. The tale is told by "Bolitx," a Basque pilgrim who walked in 2008 from his hometown on the Cantabrian Sea. Along the Way to Santiago he spins tales of family life in a Basque village: ghost trains, kindly nuns and card-shark grannies; as well as his daily dealings with pilgrims: the pot-smokers, saints, liars and scholars who share his journey. Peppered with Camino history never before seen in English; it's a view into the character of a witty soul both Spaniard and Basque. The Great Westward Walk was this young author's final work: he finished the written journey three days before ALS ended his life at age 41.

Gale, Kari (2015)
The Art of Walking: An Illustrated Journey on the Camino de Santiago
. ISBN-13: 978-1507555002. In the spring of 2013, Kari Gale walked the Camino de Santiago. During the 500-mile journey, she documented each day in her journal with ink and paints, resulting in over forty watercolor illustrations. The simple prose and sketches found in The Art of Walking provide an intimate perspective that captures the sweeping landscape of Spain, the beauty of ordinary moments, and the profound simplicity and delight of walking. Available through karigale.com/product/the-art-of-walking-an-illustrated-journey-on-the-camino-de-santiago. 

Gallard, Babette (2006) Riding the Milky Way. The Long Riders' Guild Press. ISBN-13: 978-1590480540. It was a motley crew of two humans, two horses and a dog that left Le Puy-en-Velay to follow the 1,600 kilometers of the Way of Saint James to Santiago de Compostela. The humans were broke, burnt-out and vaguely hoping that early retirement would save their health and sanity. The horses picked off the French equine scrap-heap and the dog was trying to understand what he was doing he was there, astride a horse.

Gallard, Babette (2007) Riding the Roman Way. Pilgrimage Publications. ISBN-13: 978-2917183007. Equestrians and authors Paul Chinn and Babette Gallard ride out again, this time 2,000 kilometers in search of the Vía Francigena, the ancient road from Canterbury to Rome.
García Miquel, Josepe (2014) ¡Buen camino! . Plataforma Editorial. ASIN: B00HYC7KHI. ¡Buen camino! es por fin un relato que viene a llenar el poderoso vacío que existía en la narrativa en lengua española sobre la experiencia transformadora que supone la ruta a Santiago, y consigue rápidamente que el lector se identifique con el protagonista y se vea partícipe de los cambios que este experimenta. A los que son peregrinos les hará revivir muchos momentos transformadores, y a los que no lo son les dotará de excelentes ideas para una vida mejor y de las ganas de probar esta experiencia única. (Spanish)

Geoffrion, Tim (2008) One Step at a Time: A Pilgrim's Guide to Spirit-Led Living. The Alban Institute. ISBN-13: 978-1566993692. Author Tim Geoffrion writes in One Step at a Time not about his own journey but about how God works in those who seek to be led by the Spirit. Using pilgrimage as a metaphor for the Spirit-led life, he offers his experiences, thoughts and reflections as a catalyst for the reader's own spiritual pilgrimage. Geoffrion has written so that readers can learn to recognize God's activity in our lives, to live more fully in God's love, to follow Jesus Christ according to our unique calling and purpose, and to let the Holy Spirit fill and lead us in every aspect of the journey.

Gray, Patrick and Justin Skeesuck (2017) I'll Push You. Tyndale House Publishers, Inc. Paperback ISBN-13: 978-1496421708. Hardcover ISBN-13: 978-1496421692. Kindle ASIN: B01MTIX6H0. Friendship takes on new meaning in this true story of Justin and Patrick, born less than two days apart in the same hospital. Best friends their whole lives, when Justin was diagnosed with a neuromuscular disease that robbed him of the use of his arms and legs, Patrick was there. Determined to live life to the fullest, the friends refused to give into despair or let physical limitations control what was possible for Justin.

Greenwood, Mike (2012) The Old Poverty Road to Santiago Part 1: from Arles to Toulouse. PocketBookEnglish.net. Kindle ASIN: B0092PLD46. An old man's pilgrimage to Santiago de Compostela, seeking to reconcile the old with the new, and wealth with poverty.

Harman, Lesley D. (2009) We Are Never Alone: Healing Lessons from the Camino. Ursus Press. ISBN-13: 978-0986497001. Sociology meets New Age Mysticism. The author weaves a tale of the connections between embodiment, material attachment, community, fear, family, faith, time, nature, altered states of consciousness and healing. The journey progresses from the physical and material into another space, a mystical horizon of time traveling, spiritual transformation and healing.

Harrison, Kathryn (2003) Road to Santiago. National Geographic. ISBN-13: 978-0792237457. More memoir than travelogue, Harrison's contribution to National Geographic's Directions series is reflective and deeply personal, yet still manages to recreate a physical place in all its rugged, peaceful glory. On the first night of their pilgrimage to Santiago de Compostela in northwestern Spain, Harrison and her daughter checked into a picturesque hotel. Overcome by the scenic beauty, Harrison threw open the hotel-room window shutters and exclaimed, "Look at the mountains!" From behind her, 12-year-old Sarah ecstatically waved the television's remote control and shouted, "French MTV!"
Hitt, Jack (2005) Off the Road: A Modern-Day Walk down the Pilgrim's Route into Spain. Simon & Schuster. ISBN-13: 978-0743261111.

Hlavsa, David (2015) Walking Distance: Pilgrimage, Parenthood, Grief and Home Repairs. Michigan State University Press. ISBN-13: 978-1611861860. In the summer of 2000, David Hlavsa and his wife embarked on a pilgrimage. After trying for three years to conceive a child and suffering through the monthly cycle of hope and disappointment, they decided to walk the Camino, a joint enterprise—and an act of faith—they hoped would strengthen their marriage and prepare them for parenthood. Though walking across the north of Spain turned out to be more difficult than they had anticipated, after a series of misadventures, including a brief stay in a Spanish hospital, they arrived in Santiago. Shortly after their return home, Lisa became pregnant, and the hardships of the Camino were no comparison to what followed: the stillbirth of their first son and Lisa's harrowing second pregnancy.

Homan, Dianne (2016) Walk Your Own Camino: Themes and Variations along the Camino de Santiago. CreateSpace Independent Publishing Platform. ISBN-13: 978-1537683027. The idea for Walk Your Own Camino came to the author on her second day of her very first Camino. It struck her as a unique way to organize and share a flood of information and impressions. Homan writes about the Rock Camino, The Quirky Camino, The Musical Camino, The Meditation Camino, The Life and Death Camino and more. The stories range from funny to thoughtful to moving. As well, they provide the reader with advice and practical knowledge about the Camino.

Jenkins, Kathleen E. (2021) 

Walking the Way Together: How Families Connect on the Camino de Santiago
. Oxford University Press. Paperback:

ISBN-13:

978-0197553053. Kindle: ASIN B08XQWSBVB. Hardcover: 

ISBN-13:

978-0197553046. 

In

Walking the Way Together

, Kathleen Jenkins offers an up-close study of parents and their adult children who walk the Camino de Santiago together. While it explores pilgrimage and its transformative effects, it also freshly analyzes pilgrims' intentions, preparations and family structures. The book is full of intriguing and compelling stories of pilgrims who traveled with adult family members as they traveled in search of the 'Camino promise. It covers a spectrum of pilgrim studies that has so far been largely neglected by pilgrimage scholars — the effects of pilgrimage on family relationships.

Johnston, Dean (2013) Behind the Albergue Door: Inspiration Agony Adventure on the Camino de Santiago. Barefoot Holdings Ltd. Kindle ASIN: B00EURR89A. Behind the Albergue Door is a seriously tongue-in-cheek starting place for anyone considering hiking the Camino, sure to bring back memories, both good and not so good for those who have already traveled it, and a riotous travel chronicle for everyone else.

Jusino, Beth (2018) 

Walking to the End of the World: A Thousand Miles on the Camino De Santiago

. Mountaineers Books. 

ISBN-13:

978-1680512038 (paperback),

 ASIN: 168051203X (Kindle). In April 2015, Beth and Eric Jusino walked out of a cathedral in the village of Le Puy, France, down a cobblestone street and turned west. Seventy-nine days, a thousand miles, two countries, two mountain ranges and three pairs of shoes later, they reached the Atlantic Ocean. Beth's story is that a boundary-stretching adventure is accessible to even the most unlikely of us. It turned out to be harder that she thought. Walking to the End of the World is a warm-hearted and engaging story about an average couple going on an adventure together, tracing ancient paths, paths that continue to reveal surprises to us today.


Kay, Susanita (2013) Pilgrims and Fairies. Susanita Kay, pub. Kindle ASIN: B00CG3T6ZO. Author Susanita Kay writes: "Growing up I was told a story about men who wore long brown dresses and walked with long sticks while carrying sea-shells in their pockets. The sea-shells, was said to be so that they could hold them against their ears and hear when someone was in trouble and needed their help. They would then just point the long sticks that they were walking with in the direction of the trouble and all would be well. I hope that this book about my Camino will let you look at those tucked away dreams with the intention of letting them out in the light. This book is also about gratitude for everything expected and unexpected, and for long forgotten memories that surfaced in strange and memorable places, with a glass of red wine or a warm cup of coffee in hand."

Keller, Rosanne (2006) Pilgrim in Time: Mindful Journeys to Encounter the Sacred. Liturgical Press. ISBN-13: 978-0814630334. Author Rosanne Keller considers pilgrimage to be a mindful journey to encounter, explore and become aware of the sacred. Keller's emphasis on sacred, altered time is a distinctive feature of "Pilgrim in Time". In this book, she takes us to pilgrimage sites as well as to sacred places close at hand. In the introduction she states: "This book is about pilgrim's spirit, discovered in the act of pilgrimage." While she covers pilgrimages to such places as the Grand Canyon, Jerusalem, Canterbury and a frozen field behind her home, the experience of Camino occupies a prominent place in the book.

Kenney, Sue (2007) Confessions of a Pilgrim. White Knight Publications. ISBN-10: 05-95427901. Pilgrim, inspirational speaker, documentary filmmaker and Canadian author Sue Kenney returns to the Camino to walk some 500 kilometers alone on the Portuguese Route. Prior to leaving, she is entrusted with a sacred Eagle Feather that is given to her by a Native friend as a result of a vivid dream. Her pilgrimage turns into a mystical quest when she is confronted with the challenge of finding a worthy recipient for this great honor before returning back home.

Kenney, Sue (2004) Sue Kenney's My Camino. White Knight Publications. ISBN-10: 09-7341863X. The true story of a woman confronting her deepest fear. Suddenly downsized from her corporate career, Canadian pilgrim Sue Kenney decided to embark on this journey to discover her life purpose. Sue left the familiar world of her family, rowing and career to walk 780 km on the Camino, alone in the winter
Kevin, Tony (2009) Walking the Camino: A Modern Pilgrimage to Santiago. Scribe Publications Pty Ltd. ISBN-13: 978-1416553878. Filled with fascinating observations and anecdotes about the nature of contemporary Spain, author Tony Kevin, an overweight 63-year-old former diplomat, relates his eight-week trek across Spain. Rich with the history, politics, and culture of the region, this travel narrative follows his travel on the Camino mozárabe and the Vía de la Plata. Capturing the flavor of both the past and present experiences of walking the Camino, this chronicle depicts the concept of pilgrimage as not only having the potential to unlock hidden memory and conscience but also as a meditation on the nature of modern life. In addition to cultural and spiritual discussions, this diverse exploration also offers practical advice for would-be pilgrims—from packing and training to walking techniques and navigation.

Kerkeling, Hape (2009) I'm Off Then: Losing and Finding Myself on the Camino de Santiago. Free Press. ISBN-13: 978-1921372339. Hape Kerkeling is possibly the best-known entertainer in Germany. In 2001, in a spontaneous reaction to a severe mid-life crisis he more or less simply picked up and headed out on the Camino. This book is the product of his experience. Determined to avoid devout pilgrims — because, he writes, they would be no different at the end of the journey than they were at the start — Mr. Kerkeling instead encounters an array of tourists, oddballs and adventurers, eventually making what will probably prove to be lifelong connections with a few.

Kirkpatrick, Julie (2010) The Camino Letters. Pyxis Press. ISBN-13: 978-0986513404. When Canadian lawyer and writer Julie Kirkpatrick went for a long walk in Spain with her teenaged daughter, she asked her friends to supply 26 tasks for the pilgrimage. The tasks came as unexpected gifts, and what began as a light-hearted diversion became a journey into the labyrinth of her life. Available through Pyxis Press.

Kiser, Karin (2019) After the Camino: Your Pocket Guide to Integrating the Camino de Santiago into Your Daily Life. Camino Chronicles Press. ISBN-13: 978-1733575928 (paperback), ASIN: B07P9TLSNQ (Kindle). The real Camino begins after you arrive in Santiago, when you take your experience home. How will you keep the spirit of the Camino alive in your daily life? After the Camino will help you avoid returning to the habits and routines of your pre-Camino life. You'll discover how to simplify and live the pilgrim way at home.

Kiser, Karin (2019)
Después del Camino: Tu guía de 
bolsillo para integrar el Camino de Santiago en tu vida diaria.
Camino Chronicles Press. ISBN-13: 978-1733575911 (paperback), ASIN: B07P8VNTPP (Kindle).
El verdadero Camino comienza después de que llegas a Santiago, cuando te llevas contigo tu experiencia a casa.
¿Cómo conservarás vivo el espíritu del camino en tu vida cotidiana?
Después del Camino
te ayudará a evitar volver a los viejos hábitos, esquemas y rutinas de tu vida previa al Camino.
Descubrirás cómo simplificar tu vida y vivir el Camino del peregrino en tu quehacer cotidiano.

Kiser, Karin (2019) El Camino hacia tu interior: Tu guía de bolsillo para la inspiración y la transformación a través del Camino de Santiago. Camino Chronicles Press. ISBN-13: 978-1733575911 (paperback), ASIN: B07P8VNTPP (Kindle).

Algunos recorren el Camino de Santiago tomándolo como una aventura o un reto para ejercitarse físicamente.

se requiere algo más para convertirlo en una peregrinación. Y ese algo más es el viaje interno.

Con El camino hacia tu interior,

descubrirás cómo

l

iberarte de los pensamientos, las creencias y las conductas que limitan tu crecimiento y tu felicidad

.

Úsalo para inspirarte a lo largo del camino.

Así descubrirás que andar el camino es una oportunidad única en la vida para hacer borrón y cuenta nueva, y empezar de cero.

Kiser, Karin (2019) Your Inner Camino: Your Pocket Guide to Inspiration and Transformation Along the Camino de Santiago. Camino Chronicles Press. ISBN-13: 978-1733575904 (paperback), ASIN: B07P6MHWLC (Kindle).
Some walk the Camino as an adventure or physical challenge. To make it a pilgrimage requires something more – the inner journey. With Your Inner Camino, you'll discover how to let go of the thoughts and behaviors that limit your growth and happiness. Use it to inspire yourself along the way. You'll discover how walking the Camino is a once-in-a-lifetime opportunity to clean the slate and start anew.

Koontz, Kurt (2013) A Million Steps. Kurt Koontz publisher. Paperback ISBN-13: 978-0615852928; Kindle ASIN: B00ERE7TS6. Author Kurt Koontz thought he was well prepared for his walking trip on the Camino. But all of his preparation did not begin to encompass the scope of his external or internal adventure. Part diary, part travelogue, in A Million Steps Koontz navigates through his personal history of addiction, recovery and love. He describes embracing the beauty of the countryside and connections with other pilgrims from around the world.

Larson, Luke (2014) Keeping Company with Saint Ignatius: Walking the Camino de Santiago de Compostela. Paraclete Press. Paperback ISBN-13: 978-1612615196. When author Larson and his wife Evie embarked on a 500-mile pilgrimage across northern Spain, their purpose was to experience walking as a way of keeping company with Jesus and his companions, of both earth and heaven, such as Saint Ignatius of Loyola. Keeping Company is filled with personal, candid and often amusing stories of the couple's experiences along the Way of Saint James. Larson invites you to step off the treadmill of self-effort in your quest to experience God more intimately through the spiritual practice of walking, literally, with God.
Lash, Jennifer (1998) On Pilgrimage. Bloomsbury USA. ISBN-13: 978-1582340128.

Lauran, Maureen (2011) Carrying Grace to Santiago: A Daughter's Journey. CreateSpace. ISBN-13: 978-1466451391. Author Maureen Lauran planned to sketch her way along the Camino de Santiago. On break from her duties as art teacher, she set out to walk the 500-mile trek hoping for great vistas, delicious wines and crusty breads, and conviviality with other travelers. Drawing her way through quaint villages, beautiful cathedrals, along meandering rivers and across ancient bridges she encountered all of those things… and something more.
Lawson, Jennifer & Patricia Lennon (2017) Walking in Watercolor: An Artist's Pilgrimage on the Camino de Santiago. SoPo Press. ISBN-13: 978-0692860618.  Every year, more than a quarter million pilgrims from all over the world walk the Camino de Santiago. This book chronicles the author's journey on this ancient path. Her daily musings and watercolor sketches capture her experiences—the villages, the food, the wines, the friendships and the sights and sounds of northern Spain. Over 200 original watercolors.

Lewis-Kraus, Gideon (2012) A Sense of Direction: Pilgrimage for the Restless and the Hopeful. Riverhead Hardcover. ISBN-13: 978-1594487255. Described as being irreverent, moving, hilarious and thought-provoking, A Sense of Direction is Lewis-Kraus's take on the perpetual war between discipline and desire, and its attendant casualties. Across three pilgrimages and many hundreds of miles - the Camino de Santiago, a solo circuit of the eighty-eight Buddhist temples in Japan, and, together with his father and brother, an annual mass migration to the tomb of a famous Hasidic mystic in the Ukraine - he completes an idiosyncratic odyssey to the heart of a family mystery and a human dilemma.

Maddox, Jeff (2012) Meeting My Guardian Angel on the El Camino de Santiago. CreateSpace Independent Publishing Platform. Kindle ASIN: B00NLRAK3G; paperback ISBN-13: 978-1479382781. This story is about one man's spiritual journey; experiences during just one single day of what was planned to be a 31-day pilgrimage trek. He meets his Guardian Angel more than once during that day.

Mahony, Rosemary (2004) The Singular Pilgrim: Travels on Sacred Ground. Hardback Houghton Mifflin Harcourt, paperback Mariner Books. Hardcover ISBN-13: 978-0618022625, paperback ISBN-13: 978-0618446650. In this reflection on her experiences in Christian and Hindu holy places, author Rosemary Mahony travels to some of the world's great pilgrimage sites: Ireland's Croagh Patrick, Lourdes, Santiago de Compostela, Canterbury, the banks of the Ganges. As she encounters anti-Catholic protesters in Walsingham, England, or shares trail chat and blisters with an impressive multinational array of eccentric comrades on the way to Santiago de Compostela, Mahoney's stated objective is both to understand the nature of belief and to grapple with the remnants of her own Irish Catholic heritage.

Maloney, Julie (2011) Oliisms: The Wit & Wisdom of Oliver Schroer & Friends. Studio22 Idea Manufactory. ISBN-13: 978-0981105246. For those who know of the music of Oliver Schroer, for the Camino community especially his CD of solo violin - he would have said 'fiddle' - music recorded on the Camino, this small book will be an especial delight. Julie Maloney has assembled sayings taken from Schroer's newsletter and inspirational quotes from other sources and has assembled them into a small book written in hand-lettered calligraphy.

Markey, Greg J. (2011) Discovering the Camino de Santiago. Roman Catholic Books. ISBN-13: 978-1934888209. Priest-pastor Fr. Greg Markey chronicles the month-long life and times of a pilgrim on the Camino. His journey — Web-free, phone-free and TV-free — generated an array of spiritual reflections. Fr. Markey chose to wear the traditional Roman collar on his journey and, perhaps unsurprisingly, his resulting conversations with other pilgrims were serious, reflective and practical.
Melville, Marilyn (2002) Peregrina: A Woman's Journey on the Camino. Reed Press. ISBN-10: 0-9697399-1-5.

Moore, Tim (Hardcover 2005, paperback 2006) Travels with My Donkey: One Man and his Ass on the Pilgrim Way to Santiago. St. Martin's Press. Hardcover ISBN-10: 0-312320825, paperback ISBN-10: 0-312320833. Moore entertains with his snappy one-liners and skewed views of the locals, his fellow pilgrims and his own reasons for undertaking the camino. Against advice to the contrary, he pursues his search for a donkey to accompany him, which "upgraded his camino from a big walk to a revelatory voyage of self-examination."

Moylan, Paul (2011) Camino de Santiago: Fingerprints of God. Tate Publishing, ISBN-13: 978-1617772030 (paperback), ASIN: B005UQLXAA (Kindle e-book). The author walked the Camino in 2003 and was so affected that he returned several years later to do it again. He has written a reflection on the personal, emotional and spiritual experience of pilgrimage in the 21st century. "The resulting unconscious transformative nature was and still is emotionally and spiritually uplifting. Pilgrimage is a way of being."

Mullen, Robert (2010) Call of the Camino: Myth and Meaning on the Road to Compostela.

Findhorn Press, ISBN-13: 978-1844095100. The author brings to his narrative a life-long interest in myths, storytelling and healing. An account of his own first Camino is interwoven with the "lore" which continues to give meaning to the pilgrimage experience and which today includes the life stories of fellow pilgrims — those stories which we tell ourselves about ourselves. This work is addressed not only to pilgrims but also to those who have never walked the Camino and perhaps never will, but who would like to know why others do.

Myers, Paul (2009) Rooster in the Cathedral: Reflections of a Pilgrims While Walking to Santiago. Shoreline Press. ISBN 978-1-896754-78-9. Canadian Presbyterian minister and author Paul Myers shares his pilgrimage from Le-Puy-En-Velay, France, to the cathedral at Santiago with us—the good and the bad. What does it mean to be a pilgrim—to walk in these modern times over an ancient route? Myers shares his thoughts about material possessions, planning for the unknown and reconnecting with amazing primitive sides of life. The book contains numerous color photographs.

Nooteboom, Cees (Hardcover English trans 1997, paperback 2000) Roads to Santiago: Detours and Riddles in the Lands and History of Spain. ISBN-13: 978-0151001972 (hardcover); ISBN-13: 978-0156011587 (paperback). The author does not encourage the reader to follow his footsteps in search of the "good spots" as much as he causes the reader to develop the desire to understand a place. In this delightful tale of his wanderings along the back roads of Spain, Dutch author Cees Nooteboom seeks out the soul and spirit of the country in a way that suggests a journey of self-discovery as much as an actual expedition. Although the stated goal is to reach Santiago de Compostela, Nooteboom takes nearly every detour available to get there.
 Norris, Patricia (2003) Buen Camino: Memories of the Road to Compostela. 1st Books. ISBN-10: 1-4140-1261-6 paperback, ISBN-10: 1-4140-1260-8 e-book). A very personal record of one pilgrim's Camino from equipment selection and training through the walk and on to the epilogue.

Paluzzi, Jo (2014) One Pilgrim's Progress: Lessons from the Camino. ISBN-13: 978-1503362444 (paperback). Part personal memoir, part travelogue, with myths, legends, historical anecdotes and architectural highlights from along the Way, this is an account of a journey along the Camino from the first disastrous day when the trip almost ended to the final glance back at the Cathedral of Santiago from the bus heading for the airport. "Ultimately, it is a testimony to the healing power of living in the moment.'

Petitti, Alda (2011) Camino Português: A Pilgrim's Journey. Balboa Press. ISBN-13: 978-1452541730 (hardcover); ISBN-13: 978-1452541747 (paperback); ASIN: B006W6MVMQ (Kindle). Ready for an adventure and a break from the everyday routine of her life, author Alda Petitti embarks on a 10 day pilgrimage where she walks 150 miles from Porto, Portugal to Santiago, Spain. At the age of 57, she walks solo during the day encountering challenges and meeting other pilgrims along the route. While walking the Camino she relearns some life lessons through meaningful and heartfelt experiences.

Porras, Susana (2021) To Compostela and Beyond!: A Poet's Chronicle of the Camino de Santiago. Resource Publications. ISBN-13: 978-1725287594 (hardcover); ISBN-13: 978-1725287600 (paperback); ASIN: B08W9W5XPR (Kindle). Susana Porras's journey over the Camino de Santiago with her father was a life-changing journey filled with awe-inspiring scenery, spiritual awakening and lots of café con leche. Come with them as Susana's sonnets take you metaphorically, physically, spiritually and historically along the Camino.

Pratt, John H. (2007) Walking the Camino in an Age of Anxiety: The Search for the Medieval Pilgrim. BookSurge Publishing. ISBN-13: 978-1419669316 (paperback).The book retraces the steps of the Camino through the author's personal journey in the fall of 2001, in the shadow of the 9-11 attacks. Through the use of primary sources as well as the experience of walking the route, the book brings to life the world of the medieval Camino. It is also a book about life on the Camino today, especially life for the author, his wife and a good friend, who made the journey together, and the many interesting walking companions they met along the way.

Prince, Victor (2017) 
The Camino Way: Lessons in Leadership from a Walk Across Spain
. AMACOM. ISBN-13: 978-0814438244 (hard cover). Business coach and former COO Victor Prince began his 500-mile trek on the Camino as one person--driven, work-focused, and highly competitive--and he finished it a completely different one--more balanced, caring and present in the moment. As he made his way on foot through the countryside and medieval towns, the life-altering journey allowed him to reflect, test his will and join a community of strangers on a shared mission. In The Camino Way, Prince shares the lessons he learned while on his pilgrimage and guides readers on their own Camino. 

Privratsky, Kathy & Ken Privratsky. (2018) 

Every Step Together On the Camino De Santiago
. BookBaby. ISBN-13: 978-1543947571 (paperback). In Every Step Together on the Camino de Santiago, Ken and Kathy Privratsky detail their experience in walking the Camino francés. They took on this challenge to celebrate their 70th birthdays, knowing that they would be among the oldest on the trail and could confront additional obstacles. They take the reader with them during their daily walks, first 500 miles to Santiago and then another 60 miles to the Atlantic coast, where they spread ashes of loved ones onto the ocean. The authors provide a map of where they walked with a chart of distances and hundreds of pictures. They conclude with suggestions for those interested in their own pilgrimage. Their commitment to each other over this journey was simple: "to take every step together."

Rada, Blaine A. (2019) 

From Sore Soles to a Soaring Soul: Changing My Life One Step at a Time on the Camino De Santiago
. A few days into his Camino, author Rada was asked by a fellow pilgrim, "Do you like going for long walks?" Actually, he doesn't. The physical, mental, and spiritual journey that is the Camino is profoundly personal yet universally transformational. The greatest challenge is staying transformed when you get off the trail and go back home to your normal life. Walk with Blaine as he shares his daily diary filled with insights, humor and his quest for meaning. All profits from the sale of this book will be donated to charities that support the Camino.

Rafferty, John, ed. (2016) Camino to Santiago: A Spiritual Companion. Redemptorist Publications. ISBN-13: 978-0852314586. In this little booklet (less than 80 pages) 31 pilgrims from across the world share their reflections on their pilgrimage to inspire and inform other pilgrims and those interested in the pilgrimage. Their stories may help in preparation for the journey or in accompanying pilgrims on their way.

Reta, Cathay. (2021) Camino to Santiago: A Spiritual Companion. Redemptorist Publications. ISBN-13: 978-1098340506 (paperback), 
ASIN:

B08NFLKND5 (Kindle)
. Keep Walking is the story of a modern-day pilgrimage, a spiritual journey, a physical feat. Author Cathy had entered a third phase of her life. In phase one she had been single for 29 years. Phase two followed with 33 years of marriage. Now widowed, she was looking for direction for her next 30 years. Her question was answered when a fellow pilgrim said to her, "You're here [on the Camino] to learn to fall in love with yourself again."


Riggs, Phil (2015) My Camino Journey on the Roads to Santiago: Hiking the Spanish, Portuguese and French Caminos. CreateSpace. ISBN-13: 978-1511738750 (paperback); ASIN: B010Y9NYN6 (Kindle). Author Phil Riggs has assembled a collection of events that he experienced on the Camino. The book is about relationships, personal experiences, legends and stories of the Camino as well as personal musings that came to mind after encounters with interesting fellow pilgrims or with Mother Nature. Riggs includes advice on what to take and what not on your own Camino. Finally he offers commentary on the three routes he walked.

Rock, Eddie (2010) The Camino De Santiago, A Sinner's Guide. Rock Publishing. ISBN-13: 978-1445263892 (paperback), ASIN: B00B3I4HF2 (Kindle). Irish comedian Eddie Rock has written a unique, alternative account of one man's pilgrimage, an account which is enthralling, informative, entertain and above all highly amusing. Available at www.caminosantiago.co.uk.

Roussel, Landon (2015) On the Primitive Way. Communities Press. ISBN-13: 978-0996968102. On the Primitive Way recounts two Texan brothers' pilgrimage on the Camino. Starting in Oviedo, Spain, the author, the older brother, chronicles their journey through the mountains of Asturias that brought them together after over a decade of estrangement due to the younger brother's drug abuse, addiction and imprisonment. As they endure torrential rains, blindsiding blizzards and grueling climbs, the author comes to realize that the real challenge is not to survive the elements but to reconcile with his brother after a tumultuous past.
Rudolph, Conrad (2004) Pilgrimage to the End of the World: The Road to Santiago de Compostela. University Of Chicago Press. ISBN-13: 978-0226731278.

Rupp, Joyce (2005) Walk in a Relaxed Manner: Life lessons from the Camino. Orbis Books. ISBN-13: 978-1570756160. In this inspirational paperback, the author presents her adventures on the Camino de Santiago and their significance in her further life. At the age of 60, she took this arduous journey with Tom, a retired pastor and close friend. As an imaginative practitioner of spiritual literacy, Rupp has gathered together the many meanings of her experience so that fellow pilgrims can share in the lessons.

Samuilova, Ivinela (2015) The Camino from Leon to Santiago: Short, practical and inspiring travel notes for a two-week uplifting experience along The Way. ASIN: B0146DK2NG (Kindle). This little book offers a personal and practical guide to packing for, booking and walking the Camino francés from Leon to Santiago by way of one woman's experience. It will be especially useful for busy people who cannot afford to do the entire Camino experience (typically 40 days and 750 km), but who need a break from the pressure of their normal routine. The book offers practical tips and ideas, including photographs and a map of the route as well as thoughtful insights. This two-week travelogue is intended to help the reader along the first steps that might lead to the Camino. 

Scaperlanda, Maria Ruiz and Michael (2004) The Journey: A Guide For The Modern Pilgrim. Loyola Press. ISBN-13: 978-0829416176 paperback. A comprehensive guide to planning a Catholic pilgrimage (not only the Camino) and living a pilgrim's life. Rooted in the rich Catholic tradition of pilgrimage, The Journey combines a practical understanding of the challenge of physical pilgrimage and a holistic understanding of what it means to live a pilgrim's life. This book offers a fresh perspective, a wealth of firsthand stories, and advice and guidance for those seeking to live as pilgrims.
Schell, Donald, & Maria Schell (2001) My Father, My Daughter: Pilgrims on the Road to Santiago. Church Publishing. ISBN-13: 978-0898693393. In their evocative and complementary styles, father and daughter write of their physical trek across Spain, and of their spiritual journey of discovery of the self and of the other.

Schmidt, William S. (2012) Walking With Stones: A Spiritual Odyssey on the Pilgrimage to Santiago. Trafford. ISBN-13: 978-1935359296 paperback; ISBN: 146690934X Kindle. Walking over 500 miles from St. Jean to Santiago, author William Schmidt, himself a counselor for many couples, found himself in his own dissolving marriage. Walking these miles became an experience of self-awareness and self-transformation.  The "Camino pilgrimage" became furthermore a quest for the sacred, for a "holy longing" that lives inside every one of us.

Scott, Rebekah (2019) A Furnace Full of God: 

A Holy Year on the Camino de Santiago
. Peaceable Publishing. ISBN-13: 978-0985503222 paperback. Rebekah and Patrick, burned-out newspaper journalists from the U.S. and England, were captured by the generous spirit they found the Camino pilgrimage trail. So in 2006 they folded up their American lives and moved to Spain, to a tiny village of twenty farmers in the middle of the Camino francés. They did their best to catch the ancient rhythms of seedtime, harvest, pig-stickings and saints' days. Some stayed at Peaceable Kingdom, the farmhouse where the couple offered a night's food and lodging in exchange for whatever the pilgrim wanted to give. They were nuns, bums, Oxford dons, mystics, fugitives, hippies and lunatics, as well as greyhounds, barn cats, roosters and donkeys. Most moved on after a day or two, but some came to stay. A Furnace Full of God is their story.

Sesto, Carl (2012) Walking Through Shadows: El Camino de Santiago de Compostela. CreateSpace Independent Publishing Platform. ISBN-13: 978-1475090826 paperback. Walking Through Shadows is the account of an out of shape American's pilgrimage to Santiago. The daily journal and photographs chronicle the physical, mental, and spiritual challenges encountered on this 36 day journey. The author is a photographer and book artist who undertook this life-changing pilgrimage while on a sabbatical from The School of the Museum of Fine Arts in Boston.

Shaver, Marcia (2010) The Artist's Journey: The Perfumed Pilgrim Tackles the Camino de Santiago. Book Publishers Network. ISBN-13: 978-1935359296 paperback. Trials, tribulations and testy travelers only spurred Marcia Shaver on in her journey across Spain, from St. Jean Pied de Port to Finisterre. Setting a practical pace that allows her time to draw, and soaking in the revitalizing countryside, the author rediscovers her physical strength—and more.

Sommer, Louise (2014) The Hidden Camino. The Sommer Institute. ASIN: B00RCKK68C Kindle; ISBN-13: 978-0994217004 paperback. At the beginning of 2010, author Louise Sommer was living a busy life, holding down a demanding full-time job as well as attending university part-time. She had heard about the Camino, but had no thoughts of undertaking the pilgrimage herself. One fateful night, however, Louise had a powerful dream, succeeded by others equally potent, that would steer her life in a direction beyond her wildest imagination. Louise started to see the hidden truths of the Camino stepping out from the shadows and reaching into the mysteries of ancient Europe, the devastating deceits of the church and the ignored origins of Mary Magdalene and The Virgin Mary.

Spittle, Reginald and Susan Spittle (Illustrator). (2018) Camino Sunrise: Walking With My Shadows. Reginald Spittle publisher. ISBN-13: 978-1732890916 paperback. Reg was a master of disguising a lifetime of debilitating anxiety that continually undermined his self-confidence. Recently retired, he was looking forward to expanding his travel horizons, never dreaming he'd soon find himself chasing distant boundaries across a foreign land, sleeping in dorm bunks, and sharing bathrooms as if he were a teenager experiencing his gap year. When tragedy strikes, Reg reluctantly accepts his wife's challenge to carry his red backpack on the Camino, confronting past fears and humiliations, while packing new worries.

 Stanton, Edward (1994) Road of Stars to Santiago. University Press of Kentucky. ISBN-13: 978-0813118710. Author Edward Stanton has written an engrossing account of his own pilgrimage. Road of Stars to Santiago is a personal story of his journey. Stanton says: "I undertook a five-hundred-mile walk along the ancient Camino de Santiago, from the French Pyrenees to Santiago de Compostella in northwest Spain, the supposed burial site of the apostle St. James the Elder, and beyond to Finisterre, Land's End on the Atlantic coast. On my journey I followed the old road whenever possible, passing through mountains, medieval forests and remote villages, as well as modern towns and cities. I slept in fields, abandoned schools or wherever I could, on a thirty-day trip that brought me into contact with a whole cross-section of Spanish society, and with pilgrims from France, Belgium, Holland, Germany and England."
Starkie, Walter (New ed 2003) The Road to Santiago: Pilgrims of St. James. John Murray Travel Classics. ISBN-10: 0719563372. Originally published in 1957, this is one of the classic early accounts of the 'modern' Camino recounting the author's journey from Arles with his fiddle.

Talbot, Lynn K. & Andrew Talbot Squires (2011) Following the Yellow Arrow: Younger Pilgrims on the Camino. WingSpan Press. ISBN-13: 978-1595944023 hardback; ISBN-13: 978-1595944351 paperback. This collection presents the reflections of twenty-one young writers who share their adventures on the Camino, each looking for the revelation that has enriched their lives. As they hiked, they discovered answers to why they'd walked, what they'd learned, and how they'd changed. The contributors - all of whom were in their teens and twenties - reflect on the way the Camino allowed them to meet challenges, heal personal fractures, and connect with others. The essays they have written capture the spirit of the Camino with amazing fidelity.

Thatcher, Guy (2008) A Journey of Days: Relearning Life's Lessons on the Camino de Santiago. General Store Publishing House. ISBN-13: 978-1771230377. In 2007 Guy Thatcher walked the Camino hoping to discover the reason for the compulsion that drove him there. What he found instead was the timeless land of northern Spain, beauty, silence, mountains and plains, rain and relentless sun, snow in May, heartbreaking climbs, fatigue and injury; friendly and welcoming people, new friendships, despair, transcendental joy, birth and death and churros con chocolate.

Thatcher, Guy (2013) A Journey of Days Continues: Mud Mountains, and Mindfulness on the Camino de Saint-Jacques. General Store Publishing House. ISBN-13: 978-1897113998. A Journey of Days Continues is the story of Guy Thatcher's 800-kilometer trek across France on the ancient pilgrimage path, les Chemins de Saint-Jacques, and is a sequel to Thatcher's first book, A Journey of Days, in which he described his personal journey along Spain's Camino de Santiago. Thatcher decides that walking les Chemins de Saint-Jacques teaches an individual who he or she truly is. Read about this insightful walking experience and enjoy the descriptions of the ancient historical sites and landmarks along the way.
Tuggle, Bob (2000) On the Road to Santiago. Writers Club Press. ISBN-13: 978-0595139101.

Voyles, Bennett (2020) 

Onward, Backward!

. Dämmerungskollektiv. ISBN-13: 978-3982258003. OK, the full title is "Onward, Backward! -or- A Ramble to Santiago: Being a True Account of a heathen family's 1,500-kilometer pilgrimage to Santiago, together with many

 

Interesting

 

Stories

 

and

 

Occasionally Useful Facts

 

pertaining to Life along that ancient

 

Way". Long on confidence and short on common sense, two American expats decided to undertake an extended Camino. Inexperienced, underprepared, and with only the vaguest notion of the pilgrimage — and with three kids in tow — the family set off from Le-Puy-en-Velay, France. Part family memoir, part history, Onward, Backward! recounts their personal adventure. 

Walker, Bill (2011) The Best Way: El Camino de Santiago. CreateSpace Independent Publishing Platform. ISBN-13: 978-1467960229. Bill Walker decided to undertake the Camino in the 'Holy Year' of 2010. The Camino is supposed to be a religious-spiritual pilgrimage but Walker had also been told that it was "The European Divorcee Trail." At Walker's side was his 18 year-old nephew, Gavin, with his special brand of Fonzie-like charm. The two of them learn just how delightful the French really can be (except, of course, when they're being impossible), why the Germans are almost all model pilgrims, and the tragi-glorious roots of the Spanish national character.

Walker, Johnnie (2019) 

It's About Time: A call to the Camino de Santiago

. Redemptorist Publications (Paperback) and Amazon Digital Services LLC (Kindle). 

ISBN-13:

978-0852315552. 

ASIN: B07VF6FGBZ (Kindle). A pilgrim's journey to Santiago de Compostela often starts with a call long before they set out on the ancient holy road. At its heart, It's about Time is the story of a pilgrim who heard that call and what happened when he answered it. On his many pilgrimages on the Caminos, Johnnie Walker has met pilgrims with a wide variety of motives for taking to the trail, and has gathered personal accounts of their experiences. Here he shares their stories, along with his own, and gives practical advice and encouragement to those feeling drawn to take the first step. 

Wallis, Mary Victoria (2006) Among the Pilgrims: Journeys to Santiago de Compostela. Trafford Publishing. ISBN-13: 978-1412007962. Author Mary Wallis weaves accounts of bicycle and walking pilgrimages to Santiago de Compostela together with the thousand-year old history of the Camino. Compares modern pilgrimage with medieval religious traditions.

Wijesinha, Sanjiva (2014) Strangers on The Camino. Vijitha Yapa Publications. ISBN-13: 978-9556652291, Kindle ASIN: B00JO1ZC40. An account of a trek along Spain's ancient pilgrim trail - the Camino de Santiago. Filled with snippets and anecdotes about the ethnic, cultural, military and religious history of Spain, Strangers on The Camino is a readable book that gives the reader a insight and perspective of a journey by a father and son along the Camino. Strangers on the Camino will be of interest and of use to those who are thinking of setting off on their own Camino. Descriptions of The Way and of the refugios and other accommodation which Sanjiva and his son Shivantha used give a sense of their six week journey .

Wilson, Brandon (2008) Along the Templar Trail: Seven Million Steps for Peace. Pilgrim's Tales, Inc. ISBN-13: 978-0977053681. Author Brandon Wilson has explored nearly one hundred countries. In "Along the Templar Trail" he writes a travel diary of his experience walking the 2620 mile Templar Trail from France to Jerusalem. A true story that interweaves history, adventure, religion, mysticism and modern conflict. The book also includes a list of stages and distances and a suggested packing list.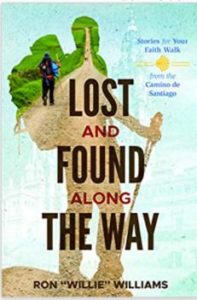 Williams, Ron "Willie" (2021) Lost and Found Along the Way: Stories for Your Faith Walk from the Camino de Santiago. Deep River Books LLC. ISBN-13: 978-1632695659. The Camino de Santiago is a five-hundred-mile, thirty-three-day walk across Spain's extreme conditions to reach the beloved Cathedral of Santiago. Ron "Willie" Williams walked The Way two and a half times, a total of twelve hundred miles. Why? It is less about what he gains, and more about what he loses along The Way―old behaviors, unforgiveness, and a tendency to play God.

Whyte, David (2012) Pilgrim. Many Rivers Press. ISBN-13: 978-1932887259. In his 7th volume of poetry, David Whyte looks at the great questions of human life through the eyes of the pilgrim: someone passing through relatively quickly, someone dependent on friendship, hospitality and help from friends and strangers alike, someone for whom the nature of the destination changes step by step as it approaches, and someone who is subject to the vagaries of wind and weather along the way. The poems in Pilgrim explore themes of departure, shelter, companionship, deep friendship and the necessary transformations of friendship, the struggles at crucial thresholds and the arrivals that always become further departures, offering companionship along the way.

Wyman, Mary O'Hara (2012) Grandma's on the Camino: Reflections on a 48-Day Pilgrimage Walk to Santiago. AuthorHouse. ISBN-13: 978-1477289235 paperback; ISBN-13: 978-1477289228 hardcover; ASIN: B00AEJGLWS Kindle. In Grandma's On the Camino, author Mary O'Hara Wyman, a 70-year-old grandmother from San Francisco, relates her adventures walking 500 miles alone as a pilgrim on the Camino. Through back-home reflections based on journal entries and postcards sent to her granddaughter, Mary describes engaging encounters with pilgrims of all ages and motivations and the daily trials of finding food and a bed each evening.