Texas Gulf Coast Chapter
Location
Houston, TX 77001
Contact Linda Shubert, David Eickhoff and Kathi White | Email
The regional chapter of American Pilgrims for the Texas Gulf Coast is centered on Houston, TX.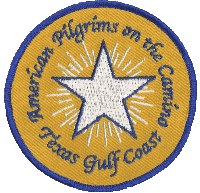 ---
Broadly stated, the purpose of this local chapter is to keep members connected to the Camino and to introduce new people to the phenomenon. We plan to accomplish this in a number of ways, such as social events, walks, mentoring future pilgrims and serving as a local host for hospitalero training through American Pilgrims.
To offer opportunities for local pilgrims to gather and hold events related to the Camino.
To mentor future pilgrims, promote the pilgrimage and American Pilgrims through social gatherings.
To serve as a local host for hospitalero training in the western Texas Gulf region.
---
The chapter will be scheduling walks, talks, potlucks and much more!
These may be listed here but you will want to check the Events calendar for other events that may be of interest.
Contact chapter coordinators Linda Shubert, David Eickhoff and Kathi White at TexasGulfCoast@americanpilgrims.org for more information or to be added to the chapter email list.
---
Events
Email us to find out what we're up to!
---
Are you interested in learning more about the Camino?
You can join the American Pilgrims on the Camino Facebook group for great dialogue, photos and a running commentary about the Camino from like-minded pilgrims.
Mentor Program
The Texas Gulf Coast Camino Mentor Program can pair individuals who have questions about anything from planning to packing with a nearby Camino veteran who can answer questions. Email usTfor details.
---
Rev 04/24/19