Colorado Front Range Chapter
Location
Colorado Front Range 80219
Contact Email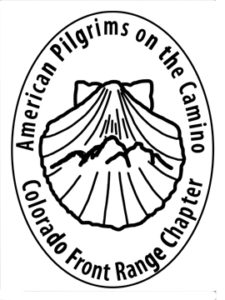 The Colorado Front Range chapter of American Pilgrims covers the area between Ft. Collins and Colorado Springs, Colorado centered on Denver and Boulder.

---
The purpose of local chapters is to keep members connected to the Camino and to introduce new people to the phenomenon. We plan to accomplish this in a number of ways, such as social events, walks, mentoring future pilgrims and serving as a local host for hospitalero training through American Pilgrims.
To offer opportunities for local pilgrims to gather and hold events related to the Camino.

To mentor future pilgrims, promote the pilgrimage and American Pilgrims through social gatherings.

To serve as a local host for hospitalero training in the Colorado Front Range region.
---
Contact chapter coordinators Kris Ashton, Chris Petty, Joyce deToni-Hill and Gene McCullough at ColoradoFrontRange@americanpilgrims.org for more information.
We invite you to sign up for the chapter's email list! And you might also think about joining the national American Pilgrims on the Camino. The local chapters exist because the national organization supports them. Why should you consider doing that? Check out this video!
Events
The Colorado Front Range Chapter schedules walks, talks, online events, potlucks and much more!
To see what we're doing, please visit the Local Chapter Events Calendar and select our chapter name in the "All Events Category" pull-down menu. This will filter to display only our chapter's events.
The Chapter coordinators are busy cooking up ways to keep all of us connected online and in person!
LEADVILLE, COLORADO, CO
Two-night hut trip
Thursday and Friday, September 16th and 17th
This trip has filled but if you'd like to be on the waitlist - or the can't commit now but would like to consider it later list - let us know.
The dates are in on Thursday, September 16th and exit on Saturday, September 18th.
 
The huts this year are being booked as a whole, not per person as is the normal practice. The cost is set for the entire hut, be it for one person or filled. Given the per night cost (fee and some taxes) of $483 ($966 for the 2-night stay) and that we are planning on 14 people, the cost will be $60pp. There will be additional incidental cost for (packed-in) food and transportation (gas money). We'll be organizing options for ride and meal sharing later.
The reality is that masks and social distancing will not be practical in this setting. The Chapter coordinators have an obligation to the attendees to pull the event off as safely as possible, so to that end, we have two non-negotiable requirements for appearing at the trailhead in September:
• Evidence of a completed COVID vaccine regimen at least 14 days prior to the trip and
• Evidence of a negative COVID test within the three days prior to the trip.
By "evidence" we mean a PDF or JPEG of the appropriate document.
 
Although the news about vaccine availability is looking better and better and the trip is more than six months away, it is possible that not everyone who signs on will be able to satisfy the first requirement by September. And rather obviously no one will be able to satisfy the latter. Should you be one of the lucky attendees and write us a check, we will not be in a position to reimburse you should you not be able to check off both of those requirements by the date of the trip. We will however get you in touch with any on the waitlist and, if needed, we will advertise the availability of the spot. This strict policy is necessary because we have paid for the reservation up front and issuing an individual reimbursement would then require asking for a further payment from the remaining participants to cover the difference. We don't want to get into that accounting nightmare.
   
This is complicated! Certainly if we've missed something, or if we've thoroughly confused you, do contact us!
Resources:
10th Mountain Division Hut Association
Uncle Bud's information
Topo map of the trailhead and hike in
Information document from the 2019 trip. Some content does not apply to the present trip. We'll be updating this.
Denver, Colorado
Third Sunday Tertulia
Sunday, September 19th, 3:00 PM
NOTICE, August 17th: As of mid-August we are not sure if the September tertulia will be an in-person event or a Zoom event. Things relative to COVID are unfortunately again in flux in a negative direction. Be looking for some guidance on this perhaps after Labor Day. Thank you for your understanding. We're all in this together!
¿Tertulia? "Un grupo informal de personas que se reúnen habitualmente para conversar o recrearse." "An informal meeting of people who gather regularly to talk about current affairs, arts, etc."
The third Sunday tertulia will convene again in September at Sienna Wine Bar & Small Plates. We hope to have past and future pilgrims. This will be a great chance for not-yet-veterans to ask questions of experienced pilgrims and for the experienced pilgrims to offer opinions. Maybe the current and future situation on the Camino. Or simply to talk about whatever comes up.
As Sienna is a rather small venue, we are asking for a "soft" RSVP so they will have some idea of how many we will be. "Soft RSVP" means that we'd like to know that you are planning on coming but if your plans change at the last minute, it's not a concern. And conversely, if you decide at the last minute to come, do come on! You can respond HERE. If you've already responded no need to register again!
What you need to know:
What: Tercer domingo tertulia
When: Sunday, September 19th, 3:00 PM (MDT)
Where: Sienna Wine Bar and Small Plates or Zoom online
3422 East 12th Avenue
Denver CO
Registration available later depending on whether it is an in-person or a Zoom event.
Cost: Whatever you order!
Mt. Evans, Colorado
Hike on the Resthouse Trail
Friday, September 24th, 9:00 AM at the trailhead (Rescheduled from August 19th)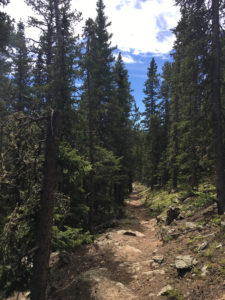 It has been three years since the Chapter did this outing - the Resthouse Trail on Mt. Evans! This true mountain hike for the end of the summer will take us through beautiful conifer forest starting near the base of the Mt. Evans road. The trail is almost completely in the trees and so is almost entirely in shade.
We're not organizing carpooling but we are proposing those interested meet at the upper end of the Wooly Mammoth parking lot (under post AA) at 8:00 AM to assemble carpooling and leave at 8:15. With no traffic (right!) it's about 45 minutes from there to the trailhead which would be about 9:00. If you wish to drive straight there, take I-70 to the Mt. Evans exit at Idaho Springs, then 14 miles to the Mt. Evans Road. Watch for cyclists! The trailhead parking lot is not huge so carpooling is suggested.
We'd like to get a general idea of how many are planning on doing the hike. To that end we're asking for a "soft" RSVP. (If you responded for the earlier cancelled Resthouse outing, we're starting a new list.)  If you're fairly sure you'll be there, let us know. If something comes up and you can't make it, not a problem. You don't need to let us know. And on the other hand, if you can show up at the last minute, come ahead. All of that will average out!
This is a lovely mountain hike but we must offer the following advisements: This will be a ~6-mile round trip yo-yo hike although turning around at any point is certainly an option. This is at moderately high altitude — The trailhead is at 10,700 ft and the high point of the route is 11,100 ft. The trail is a typical mountain trail, in good condition but there are rocky sections. If you use poles, you will want them! There are extended sections with a gradient of about 10%. Although we will cross several small streams, you should bring water for the day unless you plan on filtering water. Oh, and you might want to bring some insect repellant.
This is in the mountains and so the appropriate items should be in your pack: 
Map and compass; Sunglasses, sunscreen and hat; Extra clothing and rain gear; Headlamp/flashlight; First-aid supplies; Waterproof matches; Navigation tool (map or pre-loaded app); Food for the day; Water for the day.
If you have definite plans to walk or cycle on the Camino for the first time later in the year and would like to receive a scallop shell and a blessing, just let us know through ColoradoFrontRange@americanpilgrims.org.
Click HERE for the trailhead and parking. Click HERE for the trail topo. The AllTrails entry- although we won't be going to Lincoln Lake! Click HERE for a diagram of the Wooly Mammoth parking lot.
Any who are interested could convene at The Buffalo in Idaho Springs afterward to recover. We can sort that out on event day.
This is a rain or shine event — within reason! (If we decide to cancel there'll be an e–mail the day before.) Although not necessary, you may let us know that you'll be coming through ColoradoFrontRange@americanpilgrims.org. Event day contact will be Kris at 720-733-6750 or Gene at 303-999-5179. After about 8:30 that morning, phone coverage will be problematical.
What you need to know:
What: Hike on the Resthouse Trail
When: Friday, September 24th, 9:00 AM at the trailhead
See above for optional carpooling suggestion
Where: Trailhead near Echo Lake on Mt. Evans, at the base of the Mt. Evans Road
Register your
 "soft" RSVP HERE. (If you responded for the earlier cancelled Resthouse outing, we're starting a new list.)
Cost: Zip
Are you interested in learning more about the Camino?
Consider joining the American Pilgrims on the Camino Facebook group for great dialogue, Q&A, photos and a running commentary about the Camino from like-minded pilgrims.
Mentor Program
The Colorado Front Range Chapter Camino Mentor Program can pair individuals who have questions about their upcoming Camino with a nearby veteran who can answer questions. Contact ColoradoFrontRange@americanpilgrims.org for details.
Experienced Camino walkers and cyclists who would like to serve as mentors should contact us so that you can be added to our resource list. Potential mentors should provide us with your name, zip code and a brief rundown of your experience including walking or cycling, which route and when.
---
We invite you to sign up for the chapter's email list. Please email us for information about the chapter and its activities or about membership in American Pilgrims.