Charlotte Chapter
Location
Charlotte, NC 28203
Contact Email
The Charlotte, NC chapter of American Pilgrims south-central North Carolina and north-central South Carolina centered on Charlotte.
---
The purpose of local chapters is to keep members connected to the Camino and to introduce new people to the phenomenon. We plan to accomplish this in a number of ways, such as social events, walks, mentoring future pilgrims and serving as a local host for hospitalero training through American Pilgrims.
To offer opportunities for local pilgrims to gather and hold events related to the Camino.

To mentor future pilgrims, promote the pilgrimage and American Pilgrims through social gatherings.

To serve as a local host for hospitalero training in the south-central North Carolina region.
---
Contact chapter coordinators Martha Fry, Mike Gardner, John Kennedy and Vince Pratt via email for more information. Although we strongly recommend becoming a (dues-paying) member of the national American Pilgrims organization, it is not required to participate in local chapter events. The national organization provides significant financial and logistical support to the locals. You can learn more information about membership benefits or join on the website!
---
Welcome to the Charlotte Camino Pilgrims Group! Since March 2020 we have continued to have our weekly Camino tertulia, Thursday morning at 9:00 (Zoom or in-person) to discuss topics of interest for persons who have walked or are considering walking the Camino.
Please join our monthly mailing list or watch this page for announcements confirming meeting location and times.
September 3 (Thursday) 09:00 am - Camino Coffee Tertulia - Zoom

September 10 (Thursday) 09:15 am - Hike USN Whitewater Center in lieu of Zoom Camino Coffee Tertulia
September 15 (Tuesday) 10:00 am - North Charlotte Coffee Tertulia - Davidson Town Green  (in person)

September  15 (Tuesday) 6:00 pm - Monthly Chapter Evening Meeting via Zoom (details below)

September 17 (Thursday) 09:00 am - Camino Coffee Tertulia - Zoom

September 24 (Thursday) 09:00 am - Camino Coffee Tertulia - shaded area adjacent to Mugs (in person) Details to follow
September chapter monthly meeting:

Speaker Series
Tuesday September 15, 2020
6:00 pm via Zoom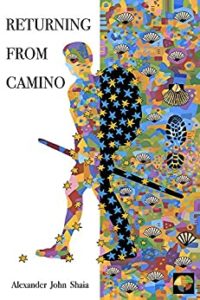 Alexander John Shaia is an internationally sought speaker, author and guide who annually mentors a small band of pilgrims walking the Camino. Several of us were privileged to hear him speak in 2019 at the Annual Gathering of Pilgrims in Black Mountain, N.C. We are delighted that he will be available to join us for our September Chapter meeting (via Zoom). In the meantime you may want to join us in reading his book-it is very thought provoking discussion of the inner journey of the Camino.  The book's chapters follow the journey, helping you build - step by step - toward a much easier homecoming and a rich integration of your walk into everyday life.
---
Check our chapter's Facebook group, Charlotte Camino Pilgrims, for specifics. Once you join our mailing list, you will receive monthly event notices by email.
---
Are you interested in learning more about the Camino?
Consider joining the American Pilgrims on the Camino Facebook group for great dialogue, Q&A, photos and a running commentary about the Camino from like-minded pilgrims.
Mentor Program
The Charlotte Chapter Camino Mentor Program can pair individuals who have questions about their upcoming Camino with a nearby veteran who can answer questions. Contact Charlotte@americanpilgrims.org for details.
Experienced Camino walkers and cyclists who would like to serve as mentors should contact us so that you can be added to our resource list. Potential mentors should provide us with your name, zip code and a brief rundown of your experience including walking or cycling, which route and when.
Also you can visit American Pilgrims on the Camino on Facebook for great dialogue, photos and a running commentary about the Camino from like-minded pilgrims.