Charlotte Chapter
Location
Charlotte, NC 28203
Contact Email
The Charlotte, NC chapter of American Pilgrims includes south-central North Carolina and north-central South Carolina and is centered on Charlotte.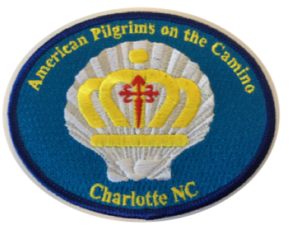 ---
The purpose of local chapters is to keep members connected to the Camino and to introduce new people to the phenomenon. We plan to accomplish this in a number of ways, such as social events, walks, mentoring future pilgrims and serving as a local host for hospitalero training through American Pilgrims.
To offer opportunities for local pilgrims to gather and hold events related to the Camino.

To mentor future pilgrims, promote the pilgrimage and American Pilgrims through social gatherings.

To serve as a local host for hospitalero training in the south-central North Carolina region.
---
Contact chapter coordinators Mike Gardner, John Kennedy, Vince Pratt, Tad Carter and Soraya Kaloudis via email for more information. Although we strongly recommend becoming a (dues-paying) member of the national American Pilgrims organization, it is not required to participate in local chapter events. The national organization provides significant financial and logistical support to the locals. You can learn more information about membership benefits or join on the website!
---
Announcements
Welcome to the Charlotte Camino Pilgrims Group! Since March 2020 we have continued to have our weekly Camino tertulia, Thursday morning at 9:00 (Zoom or in-person) to discuss topics of interest for persons who have walked or are considering walking the Camino.
Tertulia Schedule:
First Thursday - 9:00 am - Charlotte, NC - Park Road Park or nearby coffee shop
Second Thursday - 10:00 am - Davidson, NC - Village Green
Third Thursday - 6:30 pm - Fort Mill, SC - Kingsley Town Center - Ale House, Panera, or Lakefront
Fourth Thursday - 9:00 am - via Zoom - you can join us from anywhere
NOTE: For all outside gatherings please bring a lawn chair
Please join our monthly mailing list or watch this page for announcements confirming meeting location and times. Anyone living in the Greater Charlotte area who is interested in being on the chapter's e-mail list should contact us at Charlotte@americanpilgrims.org.
Events
The chapter schedules local hikes, talks, potluck, and much more!
Monthly Events
We typically have a scheduled hike or informational program each month and sometimes both.
In good weather, we often have unscheduled popup hikes with a few days' notice.
Find out what we are doing
Meeting and event notices and reminders are posted to our Facebook page and also sent to all on our mailing list.
To see what we're doing, please visit the Local Chapter Events Calendar and select our chapter name in the "All Events Category" pull-down menu. This will filter to display only our chapter's events.
To receive our monthly newsletter and event announcements join our mailing list by completing the registration form here.
Check our chapter's Facebook group, Charlotte Camino Pilgrims, for specifics. Once you join our mailing list, you will receive monthly event notices by email.
Follow this link to view the Local Chapters video on YouTube.
What did we do in 2021 - Video
Fun in 21 This is a short 2-minute video highlighting some of our recent adventures:
---
Are you interested in learning more about the Camino?
Consider joining the American Pilgrims on the Camino Facebook group for great dialogue, Q&A, photos and a running commentary about the Camino from like-minded pilgrims.
Mentor Program
The Charlotte Chapter Camino Mentor Program can pair individuals who have questions about their upcoming Camino with a nearby veteran who can answer questions. Contact Charlotte@americanpilgrims.org for details.
Experienced Camino walkers and cyclists who would like to serve as mentors should contact us so that you can be added to our resource list. Potential mentors should provide us with your name, zip code and a brief rundown of your experience including walking or cycling, which route and when.
Also you can visit American Pilgrims on the Camino on Facebook for great dialogue, photos and a running commentary about the Camino from like-minded pilgrims.