Capital Area Chapter
Location
Washington, DC 20011
Contact Email
The Capital Area Chapter of American Pilgrims serves the area including Virginia, Washington, DC and Maryland.
---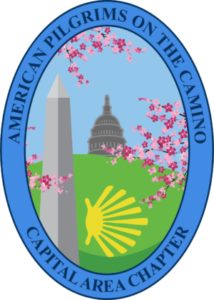 The purpose of local chapters is to keep members connected to the Camino and to introduce new people to the phenomenon. We plan to accomplish this in a number of ways, such as social events, walks, mentoring future pilgrims and serving as a local host for hospitalero training through American Pilgrims.
To offer opportunities for local pilgrims to gather and hold events related to the Camino.
To mentor future pilgrims, promote the pilgrimage and American Pilgrims through social gatherings.
To serve as a local host for hospitalero training in the Capital area/Mid-Atlantic region.
---
Contact chapter coordinators Don Shaw, Jim Larocco, Lisa Frederick, and Angela Amos at CapitalArea@americanpilgrims.org with questions. If you would like to join our email list, please send an email to CapitalArea@americanpilgrims.org with the subject "Add to email list" and include your first name, last name, and zip code.
---
Events
The chapter schedules walks, talks, potlucks and much more!
To see what we're doing, please visit the Local Chapter Events Calendar and select our chapter name in the "All Events Category" pull-down menu. This will filter to display only our chapter's events.
Follow this link to view the Local Chapters video on YouTube.
These may be listed here but you may also want to check the Events calendar for events that may be of interest.
---
Are you interested in learning more about the Camino?
The Capital Area Chapter welcomes new members to connect with aspiring and returned pilgrims in our region to share experiences and continue the spirit of the Camino at home. The best way to learn about the Camino is to connect with returned pilgrims at one of our monthly chapter events. Events are posted here on our page on the American Pilgrims website, and are also sent out via our email list.
You can subscribe to our email list. You will know you've subscribed because you will receive a welcome email in your inbox shortly after completing the subscription process. Be sure to add our email address (CapitalArea@americanpilgrims.org) to your address book so our emails do not end up in your spam folder.
Consider joining the American Pilgrims on the Camino Facebook group for great dialogue, Q&A, photos and a running commentary about the Camino from like-minded pilgrims.
Mentor Program
We also offer a Mentor Program where returned pilgrims offer to serve as one-on-one mentors to aspiring pilgrims. You can find out which Chapter members are in our mentor program by subscribing to our email list. After you subscribe, you will receive a welcome email with links to the list of mentors and other information about our chapter.
---
Another way to connect with returned and other aspiring pilgrims is through our Capital Area Chapter Facebook group.
We hope to see you at a chapter event soon!
---
Rev 04/01/23