Mt. Evans, CO: Colorado Front Range Chapter, Hike on the Resthouse Trail
Sep 24, 2021 9:00AM
Location
Register through the REGISTER button above.
Cost $0. Plus whatever you order at The Buffalo if we convene there.
Event Contact Chapter coordinators | Email
Categories Colorado Front Range (Denver-Boulder)
Mt. Evans, Colorado
Hike on the Resthouse Trail
Friday, September 24th, 9:00 AM at the trailhead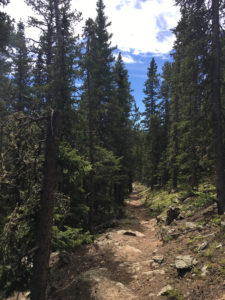 It's been three years since the Chapter did this outing – the Resthouse Trail on Mt. Evans! This true mountain hike for the end of the summer will take us through beautiful conifer forest starting near the base of the Mt. Evans road. The trail is almost completely in the trees and so is almost entirely in shade.
We're not organizing carpooling but we are proposing those interested meet at the upper end of the Wooly Mammoth parking lot (under post AA) at 8:00 AM to assemble carpooling and leave at 8:15. With no traffic (right!) it's about 45 minutes from there to the trailhead which would be about 9:00. If you wish to drive straight there, take I-70 to the Mt. Evans exit at Idaho Springs, then 14 miles to the Mt. Evans Road. Watch for cyclists! The trailhead parking lot is not huge so carpooling is suggested.
We'd like to get a general idea of how many are planning on doing the hike. To that end we're asking for a "soft" RSVP. (If you registered for the cancelled August 19th event, please register again.) If you're fairly sure you'll be there, let us know. If something comes up and you can't make it, not a problem. You don't need to let us know. And on the other hand, if you can show up at the last minute, come ahead. All of that will average out!
This is a lovely mountain hike but we must offer the following advisements: This will be a ~6-mile round trip yo-yo hike although turning around at any point is certainly an option. This is at moderately high altitude — The trailhead is at 10,700 ft and the high point of the route is 11,100 ft. The trail is a typical mountain trail, in good condition but there are rocky sections. If you use poles, you will want them! There are extended sections with a gradient of about 10%. Although we will cross several small streams, you should bring water for the day unless you plan on filtering water. Oh, and you might want to bring some insect repellant.
This is in the mountains and so the appropriate items should be in your pack: 
Map and compass; Sunglasses, sunscreen and hat; Extra clothing and rain gear; Headlamp/flashlight; First-aid supplies; Waterproof matches; Navigation tool (map or pre-loaded app); Food for the day; Water for the day.
If you have definite plans to walk or cycle on the Camino for the first time later in the year and would like to receive a scallop shell and a blessing, just let us know through ColoradoFrontRange@americanpilgrims.org.
Click HERE for the trailhead and parking. Click HERE for the trail topo. The AllTrails entry– although we won't be going to Lincoln Lake! Click HERE for a diagram of the Wooly Mammoth parking lot.
Any who are interested could convene at The Buffalo in Idaho Springs afterward to recover. We can sort that out on event day.
This is a rain or shine event — within reason! (If we decide to cancel there'll be an e–mail the day before.) Although not necessary, you may let us know that you'll be coming through ColoradoFrontRange@americanpilgrims.org. Event day contact will be Kris at 720-733-6750 or Gene at 303-999-5179. After about 8:30 that morning, phone coverage will be problematical.
What you need to know:
What: 
Hike on the Resthouse Trail
When: Friday, September 24th, 9:00 AM at the trailhead
See above for optional carpooling suggestion
Where: Trailhead near Echo Lake on Mt. Evans, at the base of the Mt. Evans Road
Register your "soft" RSVP
HERE
. (If you registered for the cancelled August 19th event, please register again.)
Cost: Zip