Western North Carolina Chapter
Location
Asheville, NC 22801
Contact Email
The Western North Carolina chapter of American Pilgrims is centered on Asheville, North Carolina.
---
The purpose of local chapters is to keep members connected to the Camino and to introduce new people to the phenomenon. We plan to accomplish this in a number of ways, such as social events, walks, mentoring future pilgrims and serving as a local host for hospitalero training through American Pilgrims.
To offer opportunities for local pilgrims to gather and hold events related to the Camino.

To mentor future pilgrims, promote the pilgrimage and American Pilgrims through social gatherings.

To serve as a local host for hospitalero training in the Asheville area.
---
Contact chapter coordinators Don Walton, Mark Cobb, Rebecca Weston (co-coordinator emeritus) and Bill Werme at WesternNorthCarolina@americanpilgrims.org for more information or to be added to the chapter email list.
And be sure to check out our Chapter Facebook group and the latest edition of the WNC NEWSLETTER!
---
Camino Reflections
Just like home in Orio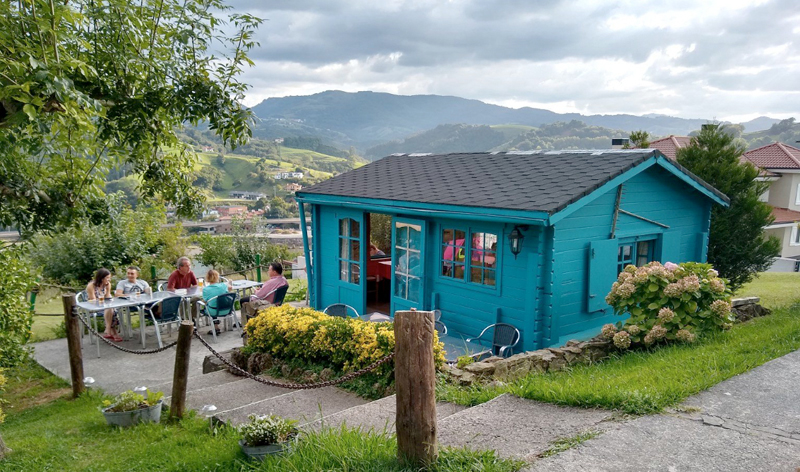 Many of us spent weeks and months at Tuesday Tertulias sharing tips and planning with Ted and Denise Vish as they planned their epic pilgrimage to hike the entire Camino del Norte. Every mountain peak, valley and river crossing - and lots of seashore too. Their talk at REI is going to be amazing and I can hardly wait. They posted hundreds of pictures on PolarSteps, each day as beautiful or dramatic as the next. I stuck a hand in the hat and pulled this one out, why? In Ted's words "The walk to Orio was so much like walking through the Blue Ridge Mountains that I didn't think to take many pictures. It was twisting and rough and through the woods. The old Roman roads are amazing works of stone. We had less scenery, but delightful conversation with two sisters from Denmark. They actually thanked us for talking with them! It made the hike so much richer. Today was a bit tiring so tomorrow we may cut it short. It appears the Danes and the Frenchman have the same idea. We'll see." Go Ted! Please share your Camino reflection or story with us.
---
Events
The chapter schedules walks, talks, potlucks, maintains a lending library of Camino-related books and much more!
To see what we're doing, please visit the Local Chapter Events Calendar and select our chapter name in the "All Events Category" pull-down menu. This will filter to display only our chapter's events.
Follow this link to view the Local Chapters video on YouTube.
You can always contact the Chapter via email to see what we're up to. And be sure to join our chapter Facebook group!
Ongoing Events
Tuesday Weekly Morning Tertulia
The Tertulia is Back!
When one door closes, usually another one opens, and the one to Home Ground 219 Amboy Road, Asheville, NC 28806. (place with the metal rooster) is open and welcoming us pilgrims, It's the perfect venue for aprés morning hike and a terrific breakfast burrito. Some of us have really gotten used to the Tuesday walk, so we are starting early (8:30 at the Home Ground parking lot) and walking the greenway to return at 10am to meet y'all that just wanted a coffee. So far, the turnout is growing every week and a lot of familiar faces have been turning up, as well as new ones! Walk with us at 8:30 or sit with us at 10am. It's time for tertulia again. 
Monthly Urban Walk on the Asheville Camino Trail
The Western North Carolina Chapter's walks are the second weekend of each month, alternating Saturday and Sunday. Saturdays in odd months and Sundays in even months. For more information, check out the Asheville Camino Facebook group or send us an email.
F
irst Monday of every month Group Presentation at REI
(Currently unavailable due to COVID restrictions)
Join the Western North Carolina Chapter the first Monday of every month to hear about the various experiences from pilgrims and others at the Asheville REI, 31 Schenck Parkway, Asheville, NC, 7:00 PM-8:30 PM.
Register on the store's calendar to guarantee a seat and to see their upcoming classes.
---
Are you interested in learning more about the Camino?
Consider joining the American Pilgrims on the Camino Facebook group for great dialogue, photos and a running commentary about the Camino from like-minded pilgrims.
Mentor Program
The Western North Carolina Chapter Camino Mentor Program can pair individuals who have questions about their upcoming Camino with a nearby veteran who can answer questions. Contact us for details.
Experienced Camino walkers and cyclists who would like to serve as mentors should contact us so that you can be added to our resource list.