Larkspur, CO: Colorado Front Range Chapter, Hike in Greenland Open Space
Oct 24, 2020 9:00AM
Location
Greenland Open Space Trailhead, 1532 E Noe Rd, Larkspur, CO 80118 NOTE: There is a lot of construction on I-25 in this area. Updates on exit availability will be sent to signed up participants.
Event Contact Chapter coordinators Kris and Gene | Email
Categories Colorado Front Range (Denver-Boulder)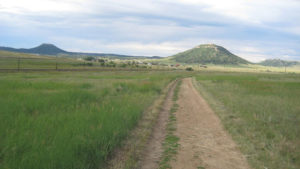 — EVENT CANCELLED DUE TO COVID RESTRICTIONS AND CONCERNS —
Join the Colorado Front Range Chapter for a hike of about 9 miles in the Greenland Open Space area: This lovely area is about halfway between Denver and Colorado Springs so it's something for you all down in the southern reaches of our area! This will be Saturday, October 24th 9:00 AM and the hike leaders will be Chapter coordinators Kris Ashton and Gene McCullough. As of Friday, October 16th, the two groups of 10 have filled. To allow us to oversee the group size, we're requiring an RSVP. Although the event has filled, we'll keep a waitlist in case someone cancels. Send us your RSVP with your name, how many people you're responding for and a mobile phone number. We'll be requiring masks when distancing can't be maintained. And a reminder that, due to restrictions in American Pilgrims' insurance policies, dogs are not allowed on Chapter events. This, like all outdoor events will be at the mercy of the weather!