Gathering 2023 – Walk Your Way – The Time is Now
Apr 13, 2023 3:30PM—Apr 16, 2023 9:00AM
Location
Zephyr Point Conference Center 660 Hwy 50 Zephyr Cove, NV,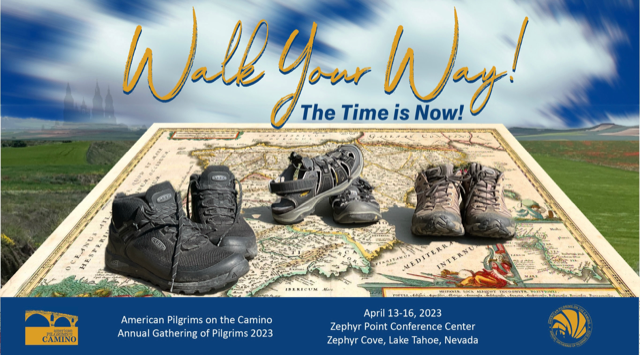 2023 Annual Gathering of Pilgrims
Walk Your Way – The Time is Now!
Thursday, April 13 – Sunday, April 16, 2023
Zephyr Point Conference Center – Lake Tahoe, NV
The Gathering runs from 5:00 pm on Thursday, April 13th, (check-in begins at 3:30 pm), through 12:00 pm on Sunday, April 16th, 2023.
Follow this link to the 2023 Program (DRAFT) to learn what's in store!
01/31/23 Notice–Full (onsite) registration is full but we are taking limited requests for the waitlist if there are any cancellations.
Commuter registrations are still available.
Member Prices
Commuter registration includes all meetings, breakout sessions, entertainment, and receptions, as well as three dinners and two lunches (Thursday-Saturday evening). Commuter registration does not include breakfast or lodging.
$225 – Includes all activities and five meals, but no lodging or breakfast.
Full registration includes all meetings, breakout sessions, entertainment, three nights accommodation (Thursday, Friday & Saturday), as well as all meals and receptions.
Non-member prices are $100 more.
Look for the blue "Click here to register online" button at the top of this information page.
As a member of American Pilgrims, you must log in to your account to receive the discounted member rate. On the registration page, be sure to click on the blue text Members: log in here to access your registration discount to log in and access your discount. Otherwise, you will only see the non-member rate.
Click on either of these links to renew your membership prior to registering for the 2023 Gathering.
The information you provide during registration is only for your Gathering registration and may differ from that in your American Pilgrims member profile. The exception is your email address which must be the same here and in your profile. If you want to change it, please go to "Update My Profile" in the menu system after logging in to your account. If you have a household membership, you can select others in your household as additional registrants during registration.
We understand your travel arrangements might require you to arrive a day early or stay over on Sunday night. We have a limited number of rooms available before and after the event for
an additional fee. An extra night's stay on Wednesday, April 12th includes dinner Wednesday night and breakfast and lunch on Thursday and costs an additional $120 (double occupancy) or $190 (single occupancy). Lodging on Sunday, April 16th does not include any meals and costs an additional $70 (double occupancy) or $140 (single occupancy). You can sign up for one or both extra nights via during registration.
We have designed a limited-edition 2023 Gathering t-shirt and sweatshirt! They are available in a rainbow of colors. You can see and order yours today by following this link to 2023 Gathering Shirts. Special thanks to Martin Pena for designing our 2023 sello.
COVID-19 Policy
All attendees must be able to provide proof of COVID-19 vaccination upon arrival (card or photograph of card). For the unvaccinated, proof of a negative COVID-19 test within 72hrs of check-in is required. Wearing face masks is recommended in public indoor spaces and encouraged in other locations, but is not required. This may change with short notice.
Follow this link for a Zephyr Point Conference Center Map
Questions should be directed to either the registration coordinator or the Gathering chair.
We look forward to seeing you at the Gathering!