Denver, CO: Colorado Front Range Chapter, <> "Wisdom Along The Way: Life Lessons From The Camino" with British (5,000 km) pilgrim and author Elaine Hopkins
Mar 31, 2020 7:00PM—9:00PM
Location
Eisenhower Chapel, 293 Roslyn St, Denver (Lowry Town Center)
Cost Free but we'll have a donativo box out for donations to cover the cost of the venue
Event Contact Chapter coordinators | Email
IMPORTANT NOTICE: Due to ongoing and developing issues surrounding the coronavirus, Elaine is putting off her trip to the U.S. indefinitely. We obviously hope that we will be able to reschedule her at some point in the future.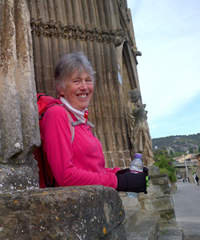 Join the Colorado Front Range Chapter for an entertaining (and extraordinary) presentation by Elaine Hopkins, an author and serial English pilgrim who's walked ten different Camino routes, including an epic 2,000+ km journey from her home in London to Santiago. The evening will be an interactive blend of story-telling and audience participation, based on Elaine's five years walking on various Caminos.
Elaine has had plenty of (mis)adventures along The Way, given that she suffers from dyspraxia, a neurological condition that means she struggles with balance, coordination, navigation and interpreting signs — all traits normally good to have while undertaking the Camino! However, Elaine is also a life coach, and her coaching skills have enabled her to turn her misadventures into adventures, and to become a more developed version of herself while walking the Camino.
Those who attended the 2019 American Pilgrims' national Gathering in Black Mountain, North Carolina will remember Elaine's standing-room-only presentation there. We are fortunate to have her here in Denver for this event!
We'd like a "soft" RSVP for this event. What we mean by that is if there's a good chance you'll attend, do respond. But if you realize that you can come at the last minute, do come. And if you have to renege, don't worry about it. Shoot us an email:
ColoradoFrontRange@americanpilgrims.org