Annual Gathering of Pilgrims
American Pilgrims on the Camino hosts an annual Gathering of Pilgrims in a different location each year.
The Gathering is an opportunity to share experiences, to support one another and to learn more about the Camino and the pilgrimage experience.
Planning is underway for the 2022 Annual Gathering of Pilgrims
Mark your calendars, pilgrims! The 2022 Gathering team is planning the 25th Anniversary Gathering of Pilgrims, set to take place Thursday, March 31 to Sunday, April 3, 2022. The Gathering will return to the YMCA Blue Ridge Assembly in Black Mountain NC (just outside Asheville), the site of the 2019 Gathering.
More information will be posted here as it becomes available, including tentative speakers/program and registration information.
We hope to see you in Black Mountain in 2022!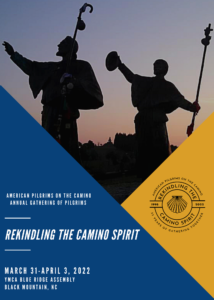 Hospitalero Training by

American Pilgrims
Gatherings are usually preceded by an hospitalero training session; however, there are other training opportunities throughout the year. See the Hospitaleros page for upcoming sessions.