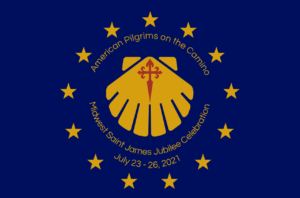 Regional St. James' Day Jubilee Celebration
July 23-26, 2021
Save the date!
A dedicated team of volunteers from the local Midwest chapters of American Pilgrims on the Camino are hard at work planning a St. James' Day celebration at Saint Mary's College in South Bend, IN. The dates of the celebration are July 23-26, 2021.
Registration costs will include eight meals, all beverages (including receptions), three nights' lodging in a single- or double-occupancy room and participation in all activities. Commuter registration will also be available.
The theme for the celebration is "Pilgrimage: A Circular Journey." Planned events will actively engage participants (while physically-distanced) in educational and social activities while building community with other pilgrims. We look forward to celebrating the Jubilee/Holy Year with local pilgrims and those in Santiago de Compostela, Spain. The Catholic Feast of St. James falls on a Sunday in 2021, but this is a secular event.
Pilgrims will arrive on Friday. Official programming begins on Saturday morning and continues until noon on Monday. This is slightly different than the schedule of our Annual Gathering of Pilgrims. While designed as a regional gathering, all are welcome to attend. Membership in American Pilgrims is not required to register, but members will receive a significant discount. Follow this link to learn more about American Pilgrims membership.
We are hopeful you'll be able to gather with us in South Bend. Check this page for updated information; we'll post it as it's available.
We anticipate registration will open in late April 2021. Plan to join us in South Bend!