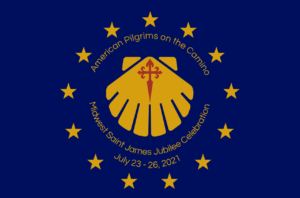 St. James's Day Celebration
Pilgrimage: A Circular Journey
Saint Mary's College, South Bend, IN
July 23-26, 2021
Calling all pilgrims!
Registration is now closed for the St. James's Day celebration hosted by volunteers from the local Midwest chapters of American Pilgrims on the Camino.
The team of volunteers has been working hard finalizing the program and the weekend will be a wonderful and inspiring time! We are excited you're coming to celebrate with us!
Follow this link to view the program.
As a reminder, your full registration includes 
Eight meals (Friday dinner through Monday breakfast)

All beverages (including receptions)

Three nights' lodging in Le Mans Hall in a dormitory room (shared bathrooms)

Participation in all activities

Musical entertainment
Couples will share double-occupancy accommodations; all other attendees will be single-occupancy (with no single supplement required). Bathrooms are shared and linens will be provided, but bring your own toiletries, hairdryer, and other personal items, including something to wear on your way to/from the showers.
Commuter registration does not include lodging or breakfast.
Check-in begins at 1:00 p.m. on Friday, July 23. The official program begins Friday at 5:00 p.m. and continues until noon on Monday. We've scheduled a walk at 3:00 p.m. for those arriving on Friday afternoon who want to stretch their legs after traveling and meet new people.
Planned activities include informative and inspiring presentations, morning walks (bring your walking shoes, hat, and sunscreen), and service and social activities while building community with other pilgrims. There will be several musical performances, presentations by George Greenia, Stacey Wittig, Annie O'Neil, Willie Williams, Kurt Koontz, Francesca Murphy and Erin Dooley, and enjoy a wine appreciation course.  We'll also be joined virtually by Johnnie Walker, Dave Whitson, Dan Mullins, Alexander John Shaia, Victor Prince and several others. Sunday afternoon we'll have a shell ceremony for first-time pilgrims, an optional Catholic Mass to celebrate the Feast of St. James and an evening of musical entertainment sponsored by Visit South Bend.
Attendees must provide proof of receiving the COVID-19 vaccination upon check-in (no exceptions) and comply with all COVID-19 protocols established by the CDC, the University, and the local health department (including masks and social distancing as appropriate) at the time of the event.
After you've registered, don't forget to join the private Celebration Facebook group where you can also find information on rideshare options. 
We look forward to gathering with you in South Bend and celebrating the 2021 Jubilee!
Helpful Travel Planning Links
---
Alternate Lodging Option
For those who prefer staying in a hotel, we have negotiated a rate of $100/night at the nearby Hilton Garden Inn (breakfast available for $12.95/person). This is in addition to the cost of commuter registration for the Celebration. Follow this link to make a hotel reservation or enter code APONC on the hotel's website. The rate is valid July 23-26, 2021. The hotel is less than a five-minute walk from Le Mans Hall.